Having recently acquired a very handsome lithograph by Romare Bearden, Mrs. T and I weren't planning to buy any more art any time soon. Sometimes, though, you can't say no, and when Milton Avery's Gray Sea came up for auction at a Detroit house, it struck me that his work might be sufficiently unfamiliar to local bidders to attract much attention. Hence I decided to place a ridiculously low bid (three figures, not high) and see what happened. What happened was that we are now the surprised but happy owners of an excellent copy of the last and best of Avery's eight lithographs.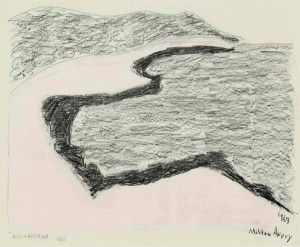 Published in 1963, two years before his death, in an edition of 118 copies, "Gray Sea" is a choice example of Avery's late, all-but-abstract style. Like so many of his later paintings, it's a marine landscape, colored with extreme subtlety, in which Avery took full advantage of the enforced simplicity of the medium (color transfer lithography on zinc). Just as he did in such better-known paintings of the same period as Black Sea and Sea Grasses and Blue Sea, Avery pared what he saw in his mind's eye down to its absolute essentials. The results are breathtaking in their economy of means.
Indisputably important though he is, Avery has never been fashionable, least of all now. The Museum of Modern Art, which owns "Sea Grasses and Blue Sea," hasn't hung it for years. (So far as I know, its copy of "Gray Sea" has never been exhibited.) But Mrs. T and I both love his work passionately, so much so that we already own one of his drypoints, March at a Table. We'll be proud to hang "Gray Sea" as a companion piece to that exquisite little portrait of the artist's daughter.