Today's Wall Street Journal drama column is devoted in its entirety to Westport Country Playhouse's revival of Alan Ayckbourn's Things We Do for Love. Here's an excerpt.
* * *
Alan Ayckbourn has no better institutional friend in America than Connecticut's Westport Country Playhouse, which has staged nine of his 78 plays to date. The latest one is the company's current production, "Things We Do for Love," a four-character comedy from 1997 that is rarely performed in this country and which I saw for the first time ever on Saturday. The reason why it doesn't get done much is obvious: "Things We Do for Love" calls for a three-story set, a feat of scenic trickery beyond the means of most regional troupes.
Fortunately, Westport Country Playhouse, whose 578-seat auditorium is handily equipped with an orchestra pit, is up to the challenge, and John Tillinger's production reveals "Things We Do for Love" to be a play of no small emotional complexity—cunningly disguised as a who's-been-sleeping-in-my-bed farce….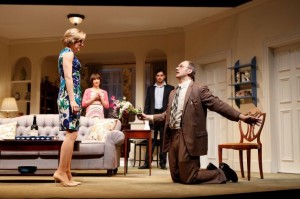 Let's start with the hijinks-encrusted plot. Barbara (Geneva Carr) rents out her basement and upstairs bedroom, the first to Gilbert (Michael Mastro), a wimpy, lower-middle-class handyman, and the second to Nikki (Sarah Manton), Barbara's younger friend and former classmate, and Hamish (Matthew Greer), Nikki's hunky fiancé. That'll give you an inkling of what happens next: Barbara and Hamish end up in the sack, much to the horror of Nikki and the dismay of Gilbert, who harbors a hopeless crush on his landlady.
The results are shriekingly funny—at first. But Mr. Ayckbourn's characters aren't stick figures, nor have they earned the abject humiliation that is the engine of traditional farce. Barbara is a fortyish spinster with a sharp tongue who lives alone and hates it, while Nikki is a cheery little twit who goes in for men who beat her up….
Mr. Tillinger, who has previously staged Mr. Ayckbourn's "How the Other Half Loves," "Relatively Speaking" and "Time of My Life" at Westport, knows well that his sad farces don't work unless they're played yardstick-straight. If you telegraph the comic punches, you'll end up with forced, uncomfortable laughter. That never happens in "Things We Do for Love." Ms. Carr's performance, in particular, is quite unusually subtle, far more than you'd expect in a play whose climax is a wild explosion of slapstick violence….
* * *
Read the whole thing here.