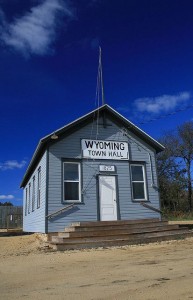 I spent last week in Spring Green, the tiny Wisconsin village that is home to American Players Theatre, Frank Lloyd Wright's Taliesin, Arcadia Books, and one of my best friends. I go there each summer for professional reasons—APT is the best classical theater company in America—but I'd very likely find an excuse to go even if there weren't any shows to see, for it's one of my favorite places. Whenever I drive through the cornfields, woodlands, and rolling hills that surround Spring Green, I find that other drivers on the road are constantly passing me by. It isn't hard to see why. They have places to go, but I don't, unless I happen to be on my way to the theater. All I ever want to do in Spring Green is be where I am.
I appreciated my visit all the more because the season just past was more than usually rough on me, gratifying and exhausting in like measure. A new opera, a new book, the off-Broadway transfer of my first play: these things alone would have been enough to wear me out without taking into further consideration my day job and the various other stresses of my life.
So I treated my trip to Spring Green as something of a working vacation. I filed two Wall Street Journal columns before I left for Wisconsin so that I wouldn't have to knock out any copy during my stay, and instead of bringing one of the various books about which I'm planning to write in the next couple of months, I packed a half-dozen undemanding novels. The trip, to be sure, was a bit of a slog, for it ended up taking me twelve hours to get from our place in Connecticut to the driveway of Spring Valley Inn, and I didn't fall into bed until well after midnight. But no sooner did I awake the next day than I felt my troubles slipping from my shoulders, and in between American Buffalo, The Doctor's Dilemma, The Seagull, and Travesties, I found more than enough time to unwind.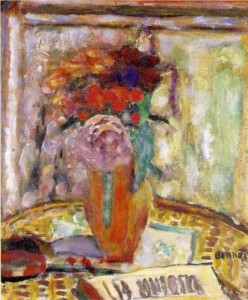 One of the books that I brought with me to Spring Green was William Haggard's Venetian Blind, a spy novel whose cast of characters includes a Bonnard-loving industrial magnate who doesn't know much about art but knows what he likes:
"I don't disapprove of avant garde. I can't, for I know nothing about it. But I confess I'm inclined to resent it."

"Resent it?"

"Yes. I suspect it of trying to teach me something—to convert me. And I don't want to be converted. I listen for relaxation, you know. Perhaps I'm not really a musical man. But I don't want struggle or significance or purpose. I want to be pleased."

Richard Wakeley, looking about the room, could agree….The walls were the palest of apple greens, the pilasters' capitals discreetly gilded. It was a lovely room, calm and assured, a room for leisure and for formal good manners. Outside it men wrestled with eternal problems: evil and beauty, sin and solipsism. Sometimes the greater the problem the smaller the man. Enormous, insoluble problems. And quite possibly meaningless. Yes, in this lovely room almost certainly without meaning.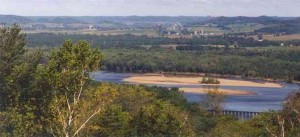 That's not quite me, but it came pretty close last week. Instead of wrestling with the eternal and insoluble problems that are my customary lot, I allowed myself to relax into the present. I'm back on the East Coast now, reunited with Mrs. T and more than happy to be. Hectic and harassing though it sometimes is, I love my life and am at all times grateful for the increasingly improbable good fortune that permits me to make a living writing about the arts. But man cannot live by work alone, no matter how much he loves it, and so it was both good and necessary for me to slip the traces and spend a few days under the bright blue skies of Wisconsin, enjoying the restorative pleasures of doing nothing in particular.
* * *
Mildred Bailey and the Delta Rhythm Boys sing Alec Wilder's "It's So Peaceful in the Country" in 1941: