Today's Wall Street Journal contains the first of two reports from Wisconsin's American Players Theatre. This week I review The Seagull and The Doctor's Dilemma. Here's an excerpt.
* * *
American Players Theatre, the finest classical repertory company in the U.S., is mounting Carol Rocamora's engagingly colloquial translation of "The Seagull" in its 1,147-seat rural open-air amphitheater. On paper that doesn't sound like an ideal site for so intensely personal a play, but John Langs and Nayna Ramey, the director and set designer, have taken sensitive advantage of APT's Up-the-Hill Theatre, whose long aisles allow the actors to make well-timed entrances and exits that cause the theater to seem much smaller than it is and whose woodsy surroundings are redolent of the Russian country estate where "The Seagull" takes place….
Even more important, Mr. Langs and his cast have found the right tone for "The Seagull." That's evident as early as the second line of the play, in which the lovesick Masha (Anne E. Thompson) proclaims just a bit too dolefully that she wears black because "I am in mourning for my life." And what happens at APT? The audience laughs! As well they should, since we don't yet know what's going to happen to Masha and the other characters. Yes, they're all in love with the wrong people, and that's funny—but sometimes unrequited love causes those whom it afflicts to do desperate things…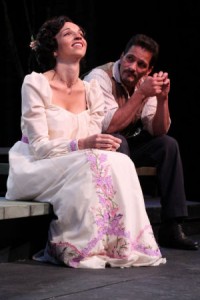 All of Mr. Langs' actors are as deft as Ms. Thompson. Tracy Michelle Arnold is sharp and haughty as Irina, the great actress who has no time for Konstantin (Christopher Sheard), her painfully earnest son, who longs in vain to become a playwright. Jim DeVita is glamorous and preoccupied as Trigorin, Irina's middle-aged lover, a not-quite-great writer who makes the devastating mistake of falling for Nina (Laura Rook), a hopeful young girl who, like Konstantin, burns with the dangerous urge to make art. As for Ms. Rook, a wide-eyed Chicago beauty who was extraordinarily fine in Writers' Theatre's 2013 production of David Ives' "The Liar," she's even finer here…
"The Doctor's Dilemma," George Bernard Shaw's 1906 play about a group of high-society London physicians, doesn't get done much these days, perhaps because the "dilemma" of the title seems at first glance to be a trifle schematic. If he has to choose between them, whom should the title character save: a poor but kind-hearted colleague who takes care of inner-city patients, or an indisputably great painter who's also an unscrupulous bum? But Shaw added a neat twist to the plot by causing his big-shot doctor to fall hopelessly in love with the painter's adoring wife, and the result is a comedy of ideas that takes the viewer on a moral roller-coaster ride…
Aaron Posner has prepared his own adaptation of the original five-act script for his American Players Theatre production, an abridged version in which the characters successively introduce themselves to the audience by reciting monologues carved out of Shaw's stage directions. I'm skeptical about the theatrical efficacy of the latter innovation. Shaw wrote his elaborate stage directions in order to make the published versions of his scripts easier to read. To perform them onstage is supererogatory if the performances are sufficiently well characterized…
Fortunately, Mr. Posner has staged "The Doctor's Dilemma" with a light and witty touch, and his well-calculated cuts help make the play more accessible to modern audiences….
* * *
To read my review of The Seagull, go here.
To read my review of The Doctor's Dilemma, go here.
An excerpt from Sidney Lumet's 1968 film of The Seagull, with James Mason as Trigorin, Kathleen Widdoes as Masha, and Vanessa Redgrave as Nina:
The trailer for Anthony Asquith's 1958 film of The Doctor's Dilemma, starring Dirk Bogarde and Leslie Caron: