In today's Wall Street Journal I file the second of two consecutive reports from Ontario's Shaw Festival, this one about a pair of important revivals, Edward Bond's The Sea and Philip Barry's The Philadelphia Story. Here's an excerpt.
* * *
Prolific and controversial in equal measure, Britain's Edward Bond is esteemed in France but rarely performed in his native land, much less on this side of the Atlantic. Hence Canada's Shaw Festival, which is best known for producing plays by George Bernard Shaw and his contemporaries, has done the English-speaking theater a signal service by reviving "The Sea," Mr. Bond's 1973 "comedy" (that's what he calls it, anyway) about a seaside village run by a rich, imperious old gorgon (Fiona Reid) whose high-handed behavior has turned one of the locals (Patrick Galligan) into a conspiracy theorist of the wilder-eyed variety—an Edwardian John Bircher, if you will, who hides his lunacy behind a village shopkeeper's cringing obsequiousness.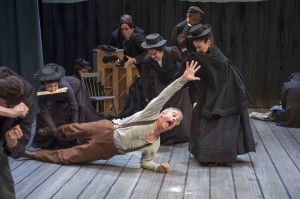 Mr. Bond, in the manner of most modern British playwrights, is a man of the left, and "The Sea," which dates from the dawning of the Age of Thatcher, can be read as a portrait of class warfare among the provincials. But like Shaw and Bertolt Brecht, his masters, Mr. Bond is too much the artist to content himself with coarse ideological parallels. Instead he turns his imagination loose, and the result is a midnight-black comedy that whipsaws the viewer between uproarious small-town satire and a stoicism so bleak and astringent ("The years go very quickly and you seem to be spared the minutes") that it makes your skin tingle.
Eda Holmes' staging is nothing short of remarkable, a small-scale presentation so tightly unified and subtly poetic as to recall David Cromer's landmark revival of "Our Town." As for Mr. Galligan, his acting is at once comically demented and utterly terrifying, a mixture that's guaranteed to chill you…
Philip Barry's sky-high comedies of white-shoe manners used to be box-office magic. But his reputation took a nosedive after his death in 1949, and not only have none of his plays received a major production in this country since 1995, but only two of them, "Holiday" and "The Philadelphia Story," have ever been revived on Broadway. I had to travel to Canada to finally see a Barry play: The Shaw Festival is giving "The Philadelphia Story" the deluxe treatment, with Moya O'Connell in the Katharine Hepburn-created part of Tracy Lord, the heiress-divorcée from Philadelphia's Main Line who finds herself torn between three suitors, one of them her ex-husband (Gray Powell), on the eve of her second marriage.
Does "The Philadelphia Story" work onstage? Absolutely, enough so that I came away even more eager to see Barry's other plays. What's more, Dennis Garnhum's staging is clear and confident, while William Schmuck's triple-turntable set is positively spectacular. The problem is that George Cukor's 1940 film version, in which Hepburn, Cary Grant and James Stewart were all in flawless form, is one of a handful of successful Hollywood adaptations of important American stage plays that closely track the scripts on which they're based. Yes, it's fascinating to see how well "The Philadelphia Story" plays in its original form, but you won't learn much about it that you didn't already know from having seen the movie….
* * *
To read my review of The Sea, go here.
To read my review of The Philadelphia Story, go here.