My entire Wall Street Journal drama column is devoted to the premiere of Bonnie J. Monte's new adaptation of Ben Jonson's The Alchemist. Here's an excerpt.
* * *
Ben Jonson, Shakespeare's great contemporary, is well remembered and frequently performed in England, but he's only a name—if that—to the average American theatergoer. "The Alchemist," by common consent the best of his verse comedies, doesn't seem to have received a major production over here since the Shakespeare Theatre Company of Washington, D.C., gave it a poorly received modern-dress revival in 2009. It's not hard to see why, either. Not only is an uncut performance of "The Alchemist" about four hours long, but Johnson's flamboyantly archaic diction ("Thou look'st like antichrist, in that lewd hat") is often more challenging to modern audiences than anything you're likely to stumble across in Shakespeare.
For these reasons, Bonnie J. Monte's brand-new adaptation of Jonson's 1610 tale of a trio of unscrupulous London conpersons, which is currently being performed by the Shakespeare Theatre of New Jersey, is of obvious interest. More on the text in a moment, but the bottom line is that it works, and that Ms. Monte, the company's artistic director, has treated "The Alchemist" to a staging whose frank bawdiness and knockabout comic vigor are tremendously appealing.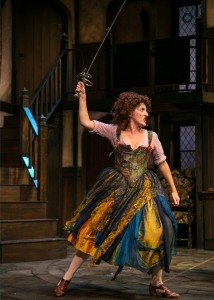 The title of "The Alchemist" refers to Subtle (Bruce Cromer), a phony scientist-magician who claims to have discovered the fabled "philosopher's stone" that will change base metals into gold. He sets up shop with Face (Jon Barker), an unscrupulous butler, and Dol Common (Aedin Moloney), a woman of more than usually easy virtue, in a vacant London townhouse wherein the trio endeavors to mulct a parade of pigeons out of all they've got….
The latter-day appeal of Jonson's plot needs no explaining, and Ms. Monte has made it more accessible not by updating "The Alchemist" but by cutting and compressing the text (this production runs for a bit more than two and a half hours) and modernizing the language without leaching away its period flavor….
Toffee-nosed purists will look askance at what Ms. Monte has done to "The Alchemist," but Elizabethan comedies are meant to be seen, not read, and unless you're already closely familiar with the play, I can't imagine that you'll have any serious objections to this full-blooded production, in which the laughs hurtle by like a runaway bullet train. Ms. Moloney, an accomplished stage comedienne whose pungent performance in the Irish Repertory Theatre's 2011 revival of Brian Friel's "Dancing at Lughnasa" caught my eye and ear, is no less memorable here as the hoydenish, rough-voiced Dol, whose charms are a function of her availability….
* * *
Read the whole thing here.