I've never been a celebrity hound, or even much of a celebrity spotter. I actually got through an entire performance by the Paul Taylor Dance Company without realizing that Joel Grey was sitting next to me. But I did see Lauren Bacall twice and spoke to her once, and both of those brief encounters are clearly etched in my memory.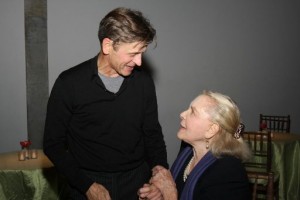 The first one took place in January of 1976, when I went with a group of college students from Missouri to see American Ballet Theatre at Broadway's Uris Theatre (now the Gershwin Theatre). It was my first trip to New York, as well as the first time I'd ever been to any kind of dance performance. Mikhail Baryshnikov, newly defected from Russia, was dancing in Fokine's Spectre of the Rose, and Bacall was sitting directly in front of me. I blush to admit that I spent more time looking at her than at him. Perhaps not surprisingly, though, I took both of their presences for granted, assuming that everyday life in New York was just like that, an uninterrupted succession of miracles. When, a quarter-century later, I covered the opening of Wicked for The Wall Street Journal, I was quietly amused by the fact that it was being performed in the same theater.
The second time I saw Bacall was a decade ago. I went to a cabaret performance by Amanda Green, whom I met in the lobby after the show. Bacall had also been in the audience, and Green introduced me to her. I somehow managed to stammer out something marginally appropriate, to which Bacall responded graciously in her famously low and throaty voice, and that was that. I remember thinking, My God, she looks just like herself! And so, of course, she did, very obviously older but still as beautiful and poised as ever.
By then I'd watched Baryshnikov dance countless times and even interviewed him, and I've seen him a few more times since then—but whenever I do, I always think of the long-ago night when I saw him step through a window on the stage of the Uris, simultaneously gaping at Lauren Bacall out of the corner of one of my star-struck eyes.
* * *
Mikhail Baryshnikov and Marianna Tcherkassky dance Michel Fokine's La Spectre de la Rose at Wolf Trap in 1976. The score is Carl Maria von Weber's Invitation to the Dance. This was Baryshnikov's American TV debut: