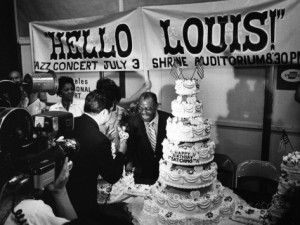 This is Louis Armstrong's one hundred and thirteenth birthday, and he remains as central to American life and culture today as he was when he died in 1971.
I've long since said my piece about Satchmo, most recently in Satchmo at the Waldorf and most extensively in Pops, my 2009 biography, which ends like this:
Faced with the terrible realities of the time and place into which he had been born, he did not repine, but returned love for hatred and sought salvation in work. Therein lay the ultimate meaning of his epic journey from squalor to immortality: his sunlit, hopeful art, brought into being by the labor of a lifetime, spoke to all men in all conditions and helped make them whole.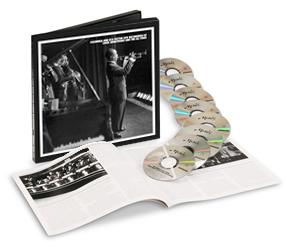 So instead of repeating myself for the umpteenth time, allow me instead to suggest that you spring for a copy of Mosaic Records' The Columbia and RCA Victor Live Recordings of Louis Armstrong and the All Stars, a nine-CD box set of performances taped between 1947 and 1958. Contrary to what used to be the critical common wisdom, Armstrong was very near the peak of his powers in the late Forties and Fifties, the years when he gave up his big band and started fronting a small, hand-picked combo of wholly compatible sidemen. This set, in which he can be heard playing and singing in the company of such giants of jazz as Barney Bigard, Sid Catlett, Bobby Hackett, Edmond Hall, Billy Kyle, Jack Teagarden, and Trummy Young, is a gloriously festive collection of live recordings from that decade that will leave you in no possible doubt of his enduring greatness. It was assembled, and the superlative liner notes written, by Ricky Riccardi, the well-known Armstrong blogger and biographer, and if it doesn't win him a Grammy Award, there is no justice in this world.
The Columbia and RCA Victor Live Recordings of Louis Armstrong and the All Stars costs $149. It's worth twice that, at least.
P.S. The Louis Armstrong House Museum in Queens, which is normally closed on Mondays, is open today in honor of the occasion. If you've never made a pilgrimage to the great man's home, you should hasten to do so. Go here to find out how to get there.
* * *
Louis Armstrong and the All Stars perform On the Sunny Side of the Street on CBS in 1958. This is my favorite film of Armstrong in performance: