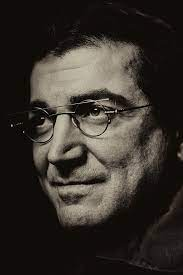 When I reminisce with pianists of my generation (born 1948), the perennial topic is Great Pianists of the Past. We tediously agree: in those days, famous pianists were great pianists – with their own sound, their own distinctive musical personality projecting into the far reaches of Carnegie Hall. No one could admire equally Arrau, Horowitz, Serkin, Michelangeli, Richter, Gilels, Rubinstein. But in every case: famous for a reason. The same conversation inevitably leads to grousing about today, when fame and stature do not correlate.
However – there is one pianist of my acquaintance who credibly insists that there are Great Pianists of the Present. They simply happen not to be Famous Pianists. Sergei Babayan is such a pianist. 
When I heard him in Tbilisi last June, he played the Bach/Busoni Chaconne followed by Bach's GoldbergVariations. At Zankel Hall recital tonight, his program included Liszt, Schubert/Liszt, Rachmaninoff, and Schumann.
Babayan in recital is an integrated whole. Physically, he somewhat resembles Arrau, Rubinstein, Gilels – big torso, big hands, short arms and legs. He is one with the piano; the instrument is part of him. He relies on arm and shoulder weight to deeply depress the keys. His sonority is full-bodied and dark. His whispered pianissimos retain body and shape. His fortissimos are plushly upholstered. He does not have to bang. His musical intelligence is probing and informative. He is fearlessly improvisatory.
Armenian born, he trained in Russia. His lineage includes Vladimir Sofronitzky, who taught Babayan's teacher Georgy Saradjev. Sofronitzky was a terrifying Scriabin specialist. His live recordings of Schubert songs in Liszt's transcriptions are memorably authentic. I perhaps detect the influence of Sofronitzky in the Schubert/Liszt set Babayan performed at Zankel. The transcriptions themselves are a phenomenal labor of love (Liszt was extolling songs as yet unknown) informed by love for the keyboard – a conversation between complementary geniuses. Liszt's retelling of these songs peaks where Schubert is visionary. Transcribing "Schwanengesang," he tellingly begins not amiably, with "Liebesbotschaft" (as in the published song cycle), but with "Die Stadt" – in which Heinrich Heine evokes a dank and morbid seascape. Liszt's mastery of the piano's resources here leads to extremities of virtuosity that the capacious song absorbs and fortifies. Babayan's rendition was a chilling exercise in musical and emotional imagination – as memorable as Sofronitzky's live recording.
Babayan's Rachmaninoff set began with the Etude-tableau in E-flat minor, Op. 39, No. 5 – commonly, a fat tune atop pounding chords. Babayan's reading was a study in texture and sonority – fresher and more spontaneous than his DG recording (which I just sampled on youtube).
The program also included a 1983 Fantasia, by Vladimir Ryabov, in memory of Maria Yudina. She, too, was a pianist who took no prisoners. In fact, every one of Babayan's readings at Zankel bristled with surprises. Nothing was predictable, save the mastery of his pianism.
I am grateful that he is not a brand name.