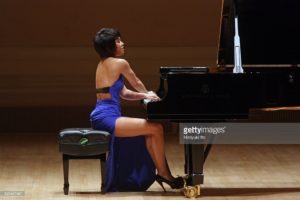 At my age – I somehow just turned seventy – it's considered normal to wax "sentimental" and yearn for better times. Nostalgia: a cliché.
But in the case of the world of classical music that I have long inhabited, there's nothing sentimental about fond retrospection. It's an art genre in decline. Orchestras are in decline, Singing is in decline. The piano is in decline. And – the most certain evidence of all – the repertoire is no longer being much replenished. (For some pertinent blogs in this space, click here for orchestras and here for singers; re: pianists, read on.)
And so last Thursday's event at Carnegie's Zankel Hall becomes a source of bewilderment. Two pianists took part. Sergei Babayan studied at the Moscow Conservatory – where, thanks in part to the Iron Curtain, traditions lingered longer. Danill Trifonov is a protégé of Sergei Babayan. At the age of 26, he has acquired a big international career without recourse to glamour or personal celebrity.
Babayan and Trifonov played three staples of the two-piano repertoire: the Mozart K. 448 Sonata, and the two suites of Rachmaninoff. The Mozart sonata was magical but in no way revelatory. The Rachmaninoff suites were something else – performances I would call not just fabulous, but important.
Rachmaninoff was a master of knitted keyboard texture; for him, two pianos created gloriously fresh opportunities to explore the coloristic potential of the Romantic keyboard. Babayan and Trifonov seized Rachmaninoff's achievement with an alacrity and thoroughness that knew no bounds.
The two performers are complementary. Trifonov is a dreamer whose tonal signature is liquidity. Babayan leverages his compact body to achieve tonal depth. The resulting symbiosis yields a kaleidoscopic array of timbre and tone sealed by a calibrated clarity of texture sustained at every dynamic.
But what is newest about these interpretations (at least in my experience) is their plasticity of phrase and pulse: a fluctuating range of tempo far more characteristic of Rachmaninoff's day than our own. I'm not suggesting that the Babyan/Trifonov performances are necessarily more "idiomatic" as a result – just that they are fresh and arresting at every point. What is idiomatic – what recalls Rachmaninoff's own recordings – is that the virtuosity at play is wholly incidental. The Babyan/Trifonov tempo for the Valse movement of the Second Suite, for instance, is the fastest possible Presto. But that's not the point.
I am grateful that Carnegie Hall booked this concert in its 600-seat undergroung hall, not the main 2,800-seat auditorium. The sound is a little dry, but the compensations were great both in terms of intimacy and of audience. The full house was rapt. Self-evidently, it was packed with Russians who knew these pieces – an osmosis of shared inheritance fortified performers and listeners alike. The standing ovation was not pro forma; rather, a storm of applause broke and continued unabated until the lights came up.
As it happened, I heard Yuja Wang perform Brahms' First Piano Concerto two nights later with the New York Philharmonic and its new music director, Jaap van Zweden. It was the first time I heard her live. I felt the need after the drubbing I received on facebook six months ago in response to a series of piano blogs in which I compared one of her recordings unfavorably to Benno Moiseiwitsch. I was told I am a sexist, a racist, and an elitist.
Undoubtedly Yuja Wang is a conscientious artist with fleet and accurate fingers. Her playing is not impersonal. Her repertoire is reasonably adventurous. But the Brahms D minor Concerto is not her piece. My impression is that she lacks a gift for sustained interior intensity. And there is a matter of piano sound. In this concerto, she oscillates between watercolor washes and stretches of piercing articulation. There is no consolidated sonic conception.
The paradigmatic approach to Brahms at the piano emphasizes breadth and depth – of tone, of phrase, of texture. In the D minor Concerto, a signature passage is the first movement's chordal second theme. The thick contrapuntal threads become three widely dispersed melodies gathering intensity and momentum while moving at different speeds. A great exponent of this passage – say, Claudio Arrau or Emil Gilels – can sustain a refulgent multiplicity of voices. (Here is Arrau with Rafael Kubelik in 1964 – go to 6:45.)
Yuja Wang foregoes the pianistic and expressive challenges posed by such heroic Brahmsian writing. She is happier where the piece is smaller — more mobile, less layered.
Her audience was as restless as the Zankel house was silent – coughing,  program-page-turning, random departures up the aisle. As I remained seated, I was able to study the standing ovation. It was sluggish – many stood because others had. I also noted that most upstairs listeners did not stand.
This report would be gratuitous were Yuja Wang not a classical music icon. She is also a point of entry for many neophytes. She matters.