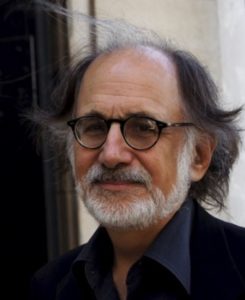 I pursue parallel careers as a scholar/writer and concert/producer. As Executive Director of the Brooklyn Philharmonic in the 1990s, I was a pioneering creator of humanities-infused public programming ("Dvorak and America," "The Russian Stravinsky," "American Transcendentalists," etc.). As curator of the Pacific Symphony's annual American Composers Festival, I've designed two-week festivals around Lou Harrison, William Bolcom, "Copland and Hollywood," Chinese-American composers, etc. My three-week New Jersey Symphony "Winter Festivals" included "American Roots" and "Dvorak and America." My current clients include the New York Philharmonic and the Pittsburgh Symphony.
My
Post-Classical Ensemble
, which I co-founded as Artistic Director in 2002, is a DC chamber orchestra specializing in the music of the Americas (Revueltas is the composer it has most performed). The orchestra maintains an "educational partnership" with Georgetown University, forging linkage across the curriculum. Our 2010-11 season includes a Lou Harrison festival (with George Washington University), a Stravinsky festival (with Georgetown University), a Gershwin festival (with the University of Maryland), and a Revueltas program with film at the Kennedy Center. As an advisor to Naxos's "American Classics" series, I've produced DVD versions of the films "The City," "The River," and "The Plow that Broke the Plains" with the soundtracks (Copland and Thomson) newly recorded. Of my eight books,
Understanding Toscanini
was a finalist for the National Book Critics Circle Award,
Wagner Nights: An American History
was named best book of the year by the Society of American Music, and
Classical Music in America
:
A History
and
Artists in Exile
were both named best books of the year in
The Economist
. My articles have appeared in Higher Educ
The New York Review of Books, 19th Century Music, Musical Quarterly, American Music, The American Scholar, Wagnerspectrum, The Magazine of History, Opera News, The Chronicle of Higher Education,
and
The Journal of
t
he Gilded Age and the Progressive Era
.
As a former
New York Times
music critic
, I've contributed more than 100 articles to the
Times'
"Arts and Leisure" section. I'm the author of "classical music" (among other articles) for both the
Oxford Companion to American History
and the
Encyclopedia of New York State.
My contributions to the
Grove Dictionary
, current and forthcoming, include entries on Anton Seidl, Theodore Thomas, Henry Higginson, Leopold Stokowski, Serge Koussevitzky, and Boston. I frequently writes concert and book reviews for the
Times Literary Supplement
(UK). As an advisor to Naxos's "American Classics," I've spearheaded recordings of little-known Copland, of Bolcom's
Songs of Innocence and of Experience
, etc. I've produced his "American Piano" and "Copland and the Cold War" projects on four university campuses apiece. I served as director of an NEH National Education Project on "Dvorak and America," resulting in a young readers book and an interactive DVD – materials that will be employed at an
NEH teacher-training workshop
I'll direct next summer, hosted by the Pittsburgh Symphony.
In all, I've mounted seven festivals exploring the topic of Dvorak's American sojourn, and am the recipient of a commendation from the Czech Parliament. He has also received a Guggenheim fellowship, two NEH fellowships, a Columbia University arts journalism fellowship, and two ASCAP/Deems Taylor awards. I annually serve as Artistic Director of the NEA's Music Critics Institute at Columbia University. I've taught at the New England Conservatory, the Eastman School, and Colorado College, among other institutions. For radio, I've produced programming on Dvorak in America, Ives and Transcendentalism, and the history of the American orchestra. I'm co-creator of a forthcoming conference at the University of Michigan exploring ways to connect the scholarly and symphonic communities – an endeavor I've long pursued. The
New York Times
has called me "a force in classical music today, a force and an agitator." I'm listed in
Marquis Who's Who in America
. My website is
www.josephhorowitz.com
.