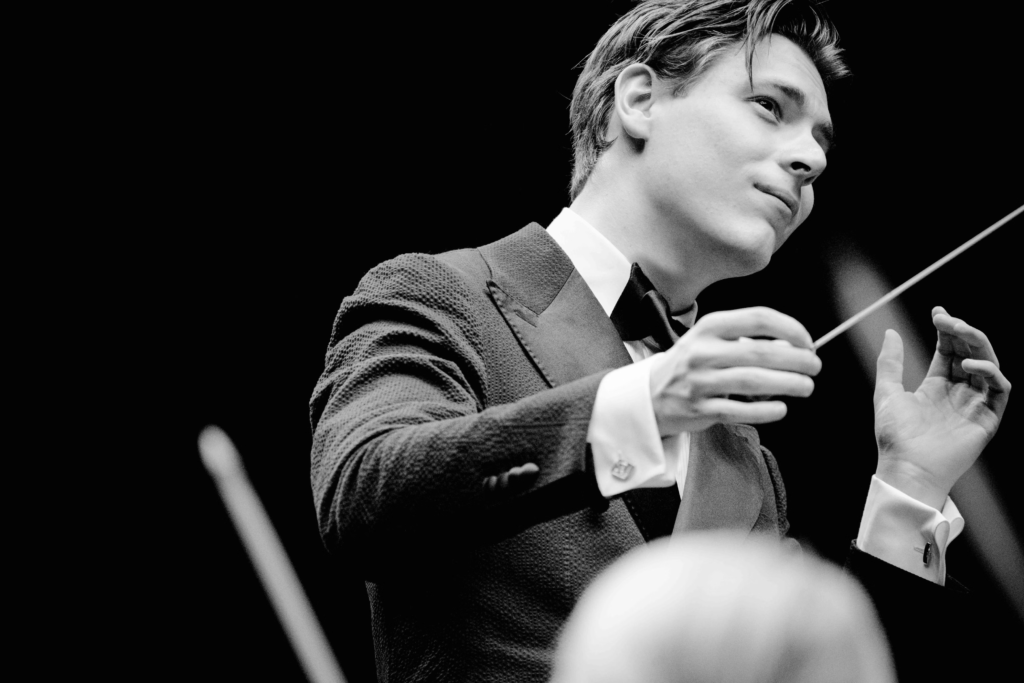 I admit that I am a jaded listener, burdened by a long and presumptuous memory. I heard Mravinsky's Leningrad Philharmonic during their sole American tour. I heard Jochum and Celibidache conduct Bruckner at Carnegie Hall. At the Met, I heard Karajan in Die Walkure, act one, with with Jon Vickers and Regine Crespin. I heard Nicolai Gedda sing Lenski's aria. I stood through the entirety of Berlioz's The Trojans led by Colin Davis at a Proms concert when the work was still barely known. I heard Gergiev lead his Mariinsky Orchestra in Shostakovich. I heard Arrau play Liszt. I heard Gilels play Chopin.
These days I attend concerts and operas rarely, and with trepidation. A few weeks ago I too eagerly took my daughter to Don Carlo at the Met to introduce her to what for me is Verdi's supreme opera. The orchestra slumbered for three hours; I did not hear a single sharp attack.
So when a friend handed me a ticket to hear Klaus Makela conduct the New York Philharmonic this morning (at 11 am!), I mainly went to encounter the new Geffen Hall. I realized Makela seems to be the hottest conductor in Europe. I did not, however, look forward to hearing a 26-year-old maestro in Tchaikovsky's Pathetique Symphony.
But Makela's Tchaikovsky, while not profound, proved terrific. This fellow must have been born with a baton in his crib. His style of leadership is both commanding and spontaneous. His imprint is personal. I concede that his Pathetique is (alas) more about drama than about pain; but the drama – its nuanced ferocity – carried the day. He has the confidence and authority to listen and respond in the moment to the musicians, both individually and collectively; to the vicissitudes of musical argument and expression. His is a bewildering talent.
One must ask: what are the implications for the Philharmonic? Here is an orchestra coming out of a hiatus period – a wrong-choice music director. They comprise a precision instrument. What might they further become?
The orchestra has a star in its principal clarinetst, Anthony McGill. In the Pathetique, every time McGill spoke one listened intently. His solo at the end of the first movement exposition was transporting. Here Makela dropped his stick to his side and did not conduct – and yet engineered a fabulous explosion to ignite the development. In the 5/4 waltz of the second movement, Carter Brey's cellos took ownership of Makela's charming inflection of the singing/skipping tune. The same tune, the same inflections were sung merely dutifully by the violins. The same violinists did too little with the first movement's aching melodies.
I found the program poorly made: the second work on the first half, Shostakovich's Sixth Symphony, was a non sequitur following Jimmy Lopez Bellido's Peru Negro (and the performance lacked gravitas). The Philharmonic audience remains an obstacle: too much coughing. Even after a Pathetique that should have locked every listener in their seat, many were quick to rise, don their coats, and hurry up the aisles, backs to the players. As for the new hall, its intimacy (many fewer seats) is of course a big improvement. For the Pathetique I sat behind the stage, facing Makela. The sound was so vivid that I did not mind that the strings were over-balanced. For the first half, in a rear downstairs seat, I found the sound nothing special.
What my experience mainly said to me is that there's a future. Conductors can still greatly matter, and such conductors are still being produced (at least in Finland). Makela is already spoken for: in 2027, he takes over Amsterdam's Concertgebouw Orchestra. The Philharmonic's challenge is to find a leader with chops, institutional vision, and (I would insist) a passion for exploring American music. In 1951, Leonard Bernstein premiered Charles Ives' Second Symphony with the Philharmonic: a landmark event. But Ives remains underperformed. (The Ives Sesquicentenary is coming in 2024.) Long ago, in 1894, the Philharmonic triumphantly premiered a formidable American symphony, by George Templeton Strong, in the high Romantic mold; a revival of that hour-long work, creatively contextualized, could be momentous. In 1940, John Barbirolli and the Philharmonic introduced a seething cantata by Bernard Herrmann: Moby Dick. With a top bass-baritone as Ahab, it would be an easy sell (this being the same Bernard Herrmann who composed Psycho, Vertigo, and Citizen Kane). What about William Levi Dawson's Negro Folk Symphony, which to my ears towers above Florence Price's over-performed, overpraised Third Symphony? What about the most formidable of all American piano concertos, by Lou Harrison? That the Philharmonic has yet to program either creates a chance to matter.
Hearing Klaus Makela conduct the New York Philharmonic excited high expectations. The challenges at hand are formidable; but so may be the opportunity.
SOME RELATED BLOGS:
On the Dawson symphony
On Lou Harrison
On American orchestral repertoire