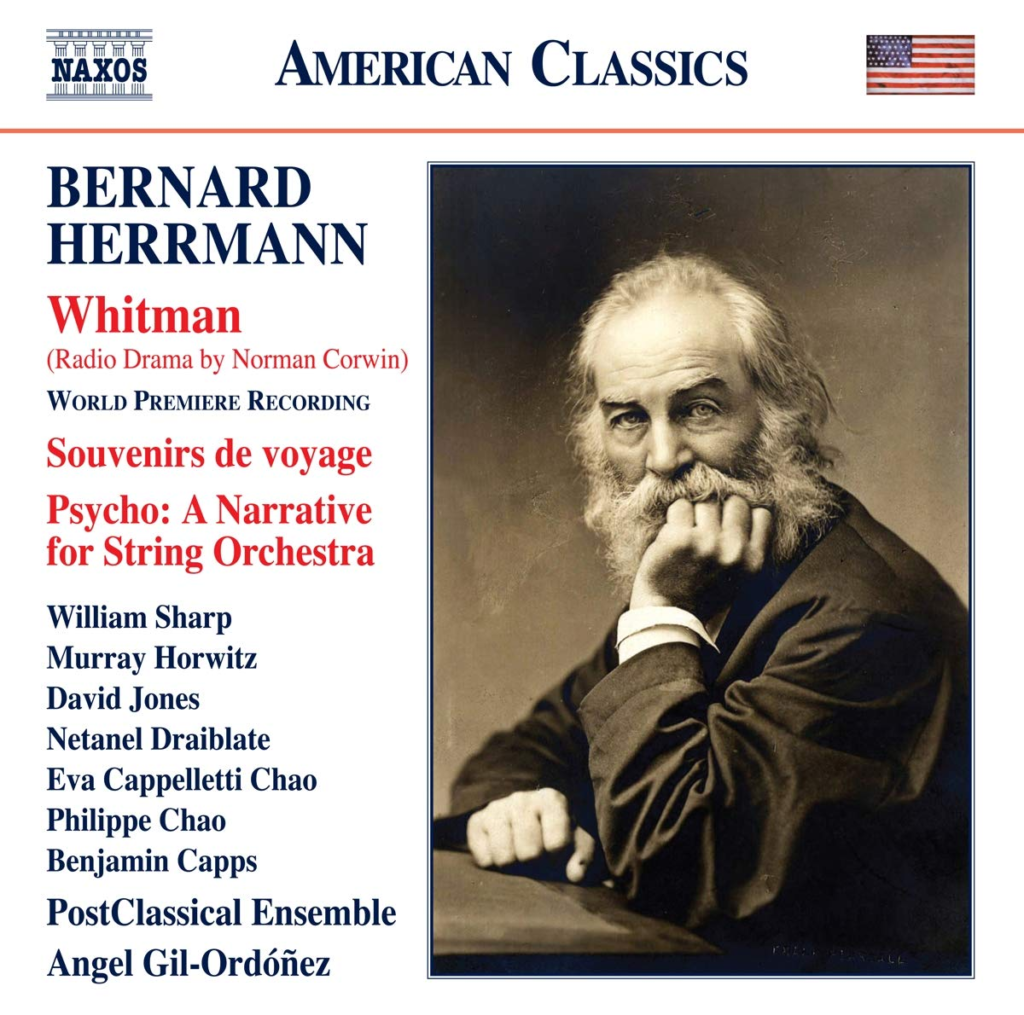 Fill in the blanks:

"This was performed and broadcast to millions of people. And something that should resonate with all of us today is the confluence of fine art and popular art and a mass medium – something we've lost in this era, when we're being sliced into ever narrower shards of demographics. The brilliance of what xxx and xxx did was to embrace all of us, in the best [Walt] Whitman spirit. To make all of us one nation, one community. How I wish we had something like that today."
The blanks read "Bernard Herrmann" and "Norman Corwin." The speaker is Murray Horwitz, former head of cultural programing for National Public Radio. And the source is my latest "More than Music" NPR documentary, broadcast yesterday. Its topic: the radio plays of the 1930s and 1940s generally, and the Corwin/Herrmann "Whitman" (June 20, 1944) specifically.
To hear yesterday's 50-minute show, click here.
Following Murray's lead, I chime in to suggest that "Whitman" (starring Charles Laughton, music by Herrmann, scripted and produced by Corwin) was "an act of democratic faith in a democratic American audience," achieving "a kind of optimum engagement, reaching the largest possible audience without diluting Whitman's verse. We're very far from that ideal in today's world of social media."
Here again is Murray, from the same show: "Radio was IT – the only broadcast medium. And there were only four national networks. So pretty much everybody in the country was listening to the same stuff." And the stuff was a product of live commercial broadcasting, often presented non-commercially without ads.
The further pertinence of "Whitman" is inescapable. He espoused inclusive American ideals. He healed the ripped national fabric after the Civil War.
Does the Herrmann/Corwin "Whitman" matter today? In effect, it's a 30-minute composition for narrator and orchestra, awaiting attention. The baritone William Sharp, who takes the part of Whitman in the PostClassical Ensemble "Whitman" recording on Naxos, says: "It speaks to us so strongly," a "magically wonderful thing" to hear were orchestras to program it.
(Herrmann is part of the "new paradigm" – the new narrative for American classical music – that I propose in my book Dvorak's Prophecy. I continue to regard him as the most under-rated 20th century American composer. Why aren't our orchestras programing his Moby Dick cantata? It's certainly not because Herrmann doesn't sell. We're talking about the composer of Psycho, Vertigo, and Citizen Kane.)
The participants in yesterday's radio show, in addition to Murray and Bill, include Alex Ross of The New Yorker (a huge Herrmann fan) and the Whitman scholar Karen Karbenier.
The next "More than Music" NPR documentary will air July 4. The topic (tracking Mark Clague's superb new book) is the unlikely history of the "The Star-Spangled Banner" – which we'll hear performed by Jimi Hendrix, Whitney Houston, and Jose Feliciano, among others. And we'll sample verses you've never heard before.
Again, my thanks to Rupert Allman and Jenn White of WAMU's "1A" for believing in what Rupert calls "long-form radio."
A "listener's guide" follows:
00:00 – We start with the shower scene from Psycho, "to get everyone's attention."
2:30 – Orson Welles and the birth of radio drama: "The War of the Worlds"
8:07 – Bernard Herrmann hypnotically sets Whitman's paean to the grass — "handkerchief of the lord" – consecrating the young Civil War dead.
12:30 – Herrmann's unforgettable invocation of "America the Beautiful," a "teeming nation of nations."
15:50 – Whitman and Herrmann extol a great democratic citizenry, "immense in passion, pulse, and power."
19:57 – Murray Horwitz: "Radio was IT."
21:12 – Radio's biggest star: FDR. The first "fireside chat."
24:29 – Whitman's "radical vision of democracy" explored by Whitman scholar Karen Karbinier ("He strikes a perfect balance between individuality and community").
31:29 – Dorothy Herrmann describes her notoriously irascible father reacting to a prelminary screening of Psycho ("Did you ever see such a piece of crap?").
32:54 – Herrmann's sublime Clarinet Quintet, featuring clarinetist David Jones.
39:04 – Alex Ross on Herrmann ("one of the most original composers of any century," "a very great talent, one that we're still very far from appreciating and celebrating in full."
To purchase a related Bernard Herrmann DVD ("Beyond 'Psycho'"), click here.