A footnote — or an intermezzo — in the midst of what I've been saying about how orchestras should talk about themselves. (Here and here.)
Whenever I do a post, I look for an image, to give the page at least a little sizzle. So to find one for my last post, I Googled "orchestra," and clicked on "images."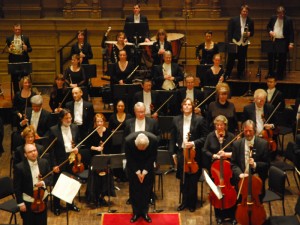 The results were ghastly. Utterly boring. Pointless. And these  (most, if not all) are official photos released by the orchestra managements.
What's the point of them? What do they tell us? An orchestra is made up of musicians, probably in formal dress, who play in a concert hall. These musicians play violins and flutes, all the standard orchestral instruments.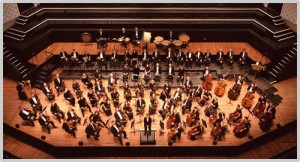 Well, everyone knows that! What these photos don't tell us: The musicians love to play. Their concerts will be gripping, passionate, irresistible.
Or, more simply, that anything even remotely interesting might be going on.
That's even true when an orchestra goes for something arty:

The results are often (almost always) blah.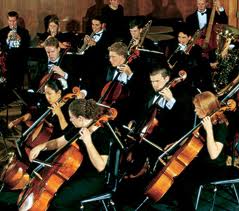 And likewise when a photo shows closeups of musicians. No one, as a rule, shows any sign of interest. They're just sitting there, playing their instruments.
This makes no sense. In any other field, would anyone with any sense of marketing or branding let photos like these out into the world? It's hard to believe they would. These photos make me wonder whether even the people running these orchestras really think their concerts are worth going to. If they really believed that, wouldn't they find more compelling images?
Which wouldn't be hard to do. Some years ago, the Pittsburgh Symphony featured striking photos of its musicians on the covers of its program books, and in posters outside Heinz Hall. This wasn't, I fear, a strategy with much depth. If the idea was to promote the orchestra by making its musicians seem exciting, then more needed to be done. The musicians should have gone on stage, gone into the community, become personalities (at least some of them) known throughout Pittsburgh.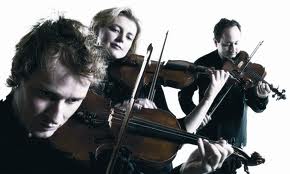 But still the photos were terrific. The Australian Chamber Orchestra has truly striking photos, like this one. See their website for another sample.
And for a really stunning look at what photos of musicians can look like, watch Jonathan Demme's film Heart of Gold, which shows Neil Young giving a concert, with backup singers and a band. Demme, a real filmmaker (of course), doesn't film musicians playing. He films people.
Often the camera will come to rest on someone who isn't playing at all, or isn't playing anything that stands out. But the person seems rapt, engaged, transfigured. So you're drawn in — rapt, engaged, transfigured by the music, just as the musician is.
If you're at an orchestra, and want photos like these (I'm sorry that none of the stills from the film available online show what I've described), they shouldn't be hard to get. And you don't need Jonathan Demme.
Just find a photographer in your town who has style. imagination, and sensitivity. And a telephoto lens. Put her in a seat from which she can see musicians' faces. (First balcony level, far on the side?)
And let her shoot, looking for the moments when someone really seems to care. When you go through her shots, be as tough as a serious magazine photo editor, and don't settle for anything that wouldn't delight you if you saw it in Vanity Fair.
It should go without saying that all this applies to any classical music photo — pianists, cellists, wind quintets, new music groups, opera productions, anything.