In my last post, I urged orchestras not to worry so much about what their audience likes, and to program music they themselves like. Presenting to the world something more vivid, more individual, more compelling than (to paraphrase the kind of language so often found in orchestra publicity) "Tchaikovsky's beloved violin concerto." The concerto, please note, isn't the problem. It's the language used to talk about it.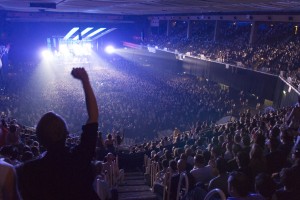 Better to say (if you dared), "The concerto our soloist loves the most, but also the one that drives her crazy because it's so hard to play." Say something like that, and — suddenly! — you're telling the world, "We're real people, who think and feel the way you do."
And you're talking about something that someone — an actual or potential member of the audience –might really want to show up for: A violinist playing a piece she loves, but whose difficulty just about scares her.
So — building on these thoughts — here's a challenging exercise you might try, if you work with an orchestra. Take every concert your orchestra gives, every single one, and (quickly, in one or two or three sentences) find words to say why that concert is special. What makes it distinctive. Why someone should go to it. Why it's different from every other concert you're giving this year, and different from every concert every other orchestra gives.
And — maybe especially — why it's different from concerts where other orchestras play the same music, or when your own orchestra did, a year or two or three ago.
Yes, this is hard. Many people, I can imagine, will be tempted to say, "This concert is special because we're playing Tchaikovsky's beloved violin concerto." Well, in a way I'm joking, because I've made fun of that phrase. But that's the kind of thing blurbs for orchestra concerts normally say!
And think about it. Not only is that language not remotely compelling (or even very human; do we really live in a world where everything is "beloved"?), it's doesn't really make the concert very special, especially to people outside classical music. Because if this week's concert is special because we're playing Tchaikovsky, last week's was special because we played Mozart, and next week's is going to be special because we're playing Beethoven's inspiring Ninth Symphony.
Which really means these concerts are all the same. On each one you'll hear great masterworks of symphonic music. Which everyone already knows your orchestra plays, so you're not telling anyone anything new.
So, please — try the exercise. Go through your programs, and find something special to say about each one, maybe about the music, maybe about the performances. Your goal is to present a season in which each concert is a distinctive and vividly human event, so that people in your town won't want to miss even one of them.
Be bold, take chances. Because if your concerts aren't special, aren't distinctive, aren't vividly human, aren't something the whole town should be talking about, why are you giving them?
In another post, I'll give examples of concerts that sound like they might be special. But I'd love to hear your ideas. If anyone tries this exercise, send me your concert descriptions! Or put them in a blog comment.