Yes, the classical music crisis, which some don't believe in, and others think has been going on forever.
This is the third post in a series. In the first, I asked, innocently enough, how long the classical music crisis (which is so widely talked about) has been going on. Answers poured in, here and on Facebook and Twitter. The answers — as I said in the second post — suggested that we don't know how to talk about our crisis, because we don't have enough information. Compared, as I've said before, with data that's widely available about other industries in crisis, like newspapers. 
In future posts, I'll show why non-crisis beliefs — that we don't really have a crisis and that the crisis has always been with us —  don't hold water. I've worked in classical music, as a student and professional, since the early 1960s, and I guarantee that there wasn't widespread talk about a crisis, about classical music being endangered, until perhaps the 1990s. Though hints of it had surfaced earlier.
I'll also offer data — from my own experience, and from what others report — that can teach us when and how our crisis showed itself.
But first, a crisis overview, a verbal diagram of what the crisis is. Starting with this: What was classical music like before the crisis?
A popular art
Yes, classical music was popular. Not as popular as popular music, not as popular as radio (going back before the age of TV) or the movies, but popular enough to be made fun of, in movies like the Marx Brothers' A Night at the Opera.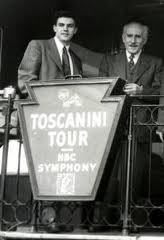 Classical music filled the airwaves. Dozens of orchestras, mostly American but some from abroad,  had at least some of their concerts broadcast on commercial radio. Classical broadcasting was profitable. So was classical recording. In the 1930s, the leading American record company, RCA, made half its money from classical music. NBC, the parent company of RCA, created an orchestra for Arturo Toscanini to conduct — hyping him as the greatest musician who ever lived — and aired its concerts first on radio and later on TV, with commercial sponsors.
Orchestras survived the Great Depression virtually unhurt. The big orchestras made cutbacks, but not drastic ones. New orchestras were created. Half of all orchestras that existed in the US in 1940 were founded during the depression, despite 25% unemployment and a huge drop in industrial production. Which could hardly have happened if classical music had been in crisis.
The Metropolitan Opera, in the 1920s, made a profit from its operations.
Classical music was widely covered in the media, written about in newspapers and in the most popular magazines. Classical artists were often on the cover of Time, a magazine whose covers were for generations accepted as a measure of what mattered to Americans. (Does anyone remember one of the Landshark episodes from Saturday Night Live, when the landshark tries to get into an actor's dressing room, by saying it can get the actor on the cover of Time?)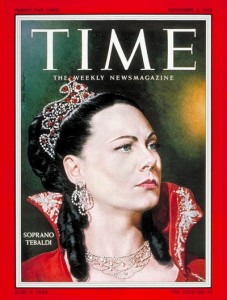 Renata Tebaldi was on the cover of Time when she opened the Met Opera season as Tosca in 1958. Crowds poured into the street to parade with her after the performance, and the New York Times called her "America's sweetheart." 

Operas ran commercially on Broadway. Not just Porgy and Bess, but also Menotti's The Consul (which ran for eight months), The Medium, and The Saint of Bleecker Street (which ran for 92 performances, which I'd guess would be about four months). Britten's Rape of Lucretia — which might not seem like a commercial piece at all — had a Broadway run. 

Classical music showed up in the movies. Not just in films that were about classical music and classical musicians, but in casual references, which more vividly show us how large a part of life classical music used to be.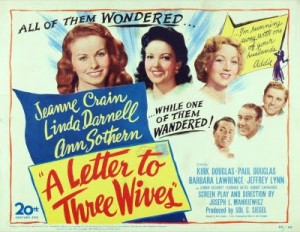 To give just one example: in an Oscar-winning 1949 film, A Letter to Three Wives, Kirk Douglas gives a party, and entertains his guests by playing, on his spiffy new hifi, a recording of the second Brahms piano concerto. All of it. Which his guests accept as perfectly normal.
And people of all ages were in the audience. College students went to symphony concerts on dates. Teenage fans mobbed the Met for Geraldine Farrar's farewell performance, and hung banners that stretched from one side of the balcony to the other.
MIT students snakedanced through the streets when it was MIT night at the Boston Pops. Harvard students came to the Pops and made trouble, loudly demanding the Brahms Academic Festival Overture, which features college songs (one of which, "Gaudeamus igitur," I myself sang in my high school glee club in the 1950s).
None of this meant that classical music institutions didn't have problems. The Met Opera considered canceling a season in the 1970s, as its general manager at the time, Schuyler Chapin, once told me. (They didn't do it because, when they ran the numbers, they found they'd lose more money shutting down the house than they would be keeping it open.)
Major orchestras faced financial disaster after their expansion to 52-week seasons during the 1960s cost more, and generated less revenue, than they'd projected. In the first half of the 20th century, deficit financing was new and seemed perilous, leading to scary talk about orchestras in peril, though the truth was that they rarely had troubled raising any money that they needed, and in fact raised money far more easily than orchestras do now.
These situations have been paraded by crisis skeptics, as if they showed that the crisis is perpetual, but when that happens, they're taken out of context. The larger picture shows classical music as a healthy, vibrant, central part of our society at least through the 1960s.
And then…
Stay tuned for the next post in this series.