Sounds interesting
I am surprised at how quickly we can adapt. After only three years in New York City, I have forgotten how comfortable life can be elsewhere in these United States. As a matter of fact creature comforts make me somewhat uncomfortable. Why did that strange woman just smile at me? Why does the ladies room smell like amaretto extract? Why do the bellhops at the Hyatt swarm me with offers for cab service every time I exit the lobby? Why is everything so...pleasant?
And so this is Denver. This unexpectedly flat, arid, elevated city perched on the edge of the Great Plains, gazing longingly at the Rockies. The city chosen by the National Performing Arts Convention (and the Democratic National Convention) for 2008. I had never been to Denver until I stepped off of the Jetblue flight on Monday morning. The most remarkable thing I've noticed so far (and appropriate for a performing arts convention) is the presence of citywide audio installations. As my colleague and I stepped into the shuttle train at the Denver International Airport, a Jetsons-style voice cooed words of guidance over the speaker system before a couple bars of stride piano alerted us to the closing doors. An interesting take on sound cues -- the MTA just gives us a descending major third on the NYC subway.
Fast-forward past Monday night's dinner at the Buckhorn Exchange (buffalo, elk, quail, ostrich, rattlesnake on your plate and on the walls, bourbon and apple juice in your glass) to Tuesday morning at the Convention Center. The need for a Sharpie sent me scurrying out of ArtsTown and onto the escalator. Welling up from beneath the stairs were bubbles of laughter---women, children, men. The NPAC attendees in front of me began looking around for the source, quickly realizing it was a recording, which led them to laugh at themselves. I found myself laughing nervously as well. Is this designed to force people to laugh? If so, it's kind of like an unwanted tickle attack. But an interesting alternative to silence.
So I did a bit of quick research on Google and Wikipedia to find that these audio installations are the work of sound artist Jim Green. And there's more. In addition to the local voices and stride piano at the
airport
and the "Laughing Escalators" at the Convention Center, Jim Greene's work can be heard at the Denver Art Museum
"Singing Sinks"
and on Curtis Street between 15th and 16th Streets. I haven't heard the "Talking Sidewalk" yet but according to this
Los Angeles Times article
from June 8, "you will hear howling beasts, mysterious voices and thundering hoofbeats rising from the sidewalk grate." Sounds like something to check out around midnight this Friday, the 13th.
posted by Sarah Baird, representing Boosey & Hawkes and noticing sound art....which is...music, too?
About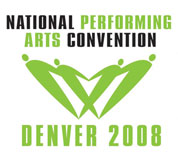 About this blog
From April 1 through June 9, 2008, weekly entries were posted here by some of the performing arts community's top bloggers. This 10-week intensive series served as a unique forum for digital debate and brainstorming, and both the entries and comments were archived for use at the live NPAC sessions in June. Participants:
Jaime Green - Surplus
Nico Muhly
Kristin Sloan - The Winger
Jason Grote
Jeffrey Kahane
Eva Yaa Asantewaa - InfiniteBody
Greg Sandow
Hilary Hahn
Tim Mangan, Paul Hodgins, Richard Chang - The Arts Blog
Andrew Taylor -
The Artful Manager
During the convention, June 10 through June 14, 2008, attendees from across art forms and job functions reported on their conference experiences. Participants:
Amanda Ameer
- web manager, NPAC
Sarah Baird
- media and public relations executive, Boosey & Hawkes
Joseph Clifford
- outreach and education manager, Dartmouth College Hopkins Center for the Arts
Lawrence Edelson
- producing artistic director, American Lyric Theater
James Egelhofer
- artist manager, IMG Artists
Jaime Green
- literary associate, MCC Theatre
James Holt -
composer; membership and marketing associate, League of American Orchestras
Michelle Mierz
- executive director, LA Contemporary Dance Company
Mark Pemberton
- director, Association of British Orchestras
Mister MOJO
- star, MOJO & The Bayou Gypsies
Sydney Skybetter
- artistic director, Skybetter and Associates
Mark Valdez
- national coordinator, The Network of Ensemble Theaters
Amy Vashaw
- audience & program development director, Center for the Performing Arts at Penn State
Scott Walters
- professor, University of North Carolina at Asheville
Zack Winokur
- student, The Juilliard School
Megan Young
- artistic services manager, OPERA America
Please note: the views expressed in this blog are those of the independent contributors and participants, not the National Performing Arts Convention or the organizations they represent.
NPAC
- the
National Performing Arts Convention
- took place in Denver, Colorado on June 10-14, 2008. "Taking Action Together," NPAC sought to lay the foundation for future cross-disciplinary collaborations, cooperative programs and effective advocacy. Formed by 30 distinct performing arts service organizations demonstrating a new maturity and uniting as one a sector, the convention was dedicated to enriching national life and strengthening performing arts communities across the country.
Contact us
Blogroll