Scattered notes from the opening session
"The Power of Community Building"

Dana Giola

NEA received the largest percentage increase of any agency in Washington this year.

one hour ago - congressional liaison - interior subcommittee has recommended 11% increase - over 15 million dollars - focused on direct grants - "don't spend it yet" - still needs to go through congress. (I feel like I'm on The West Wing!)

Anna Deavere Smith

she was actually on The West Wing
art is largely responsible for the happiness part of things (as in life, liberty, the pursuit of)
art coming to the middle of the piazza, across from city hall, small arts complex in the white house? that would make it easy to get corporate funding - laughs, laughs
president's dance group, president's music ensemble
press - outside vs. inside the white house - powerful and influential in the way she finds disturbing - so close to the power that they believe they are the power
"let's not go the route of american journalism" - pause, scattered applause
no talking about diversity - laughing
lots of talk about the election - "black man" - lots of applause.
even as we applaud, we should remind ourselves not to be too self-congratulatory
how diverse is your community (i thought we weren't going to talk about diversity? facetious? missed that.)
afraid of the word "public" as if all public things were public toilets - really?
"you live rights, you defend rights" you don't talk about rights - live them out and then capture them.
a jazz musician wrote our constitution in music before a lawyer wrote it in words.
as artists we could be the future - really?
dancers can see out at Alvin Ailey, people can see it.
"i think about the piazza" - open piazza vs. institution - tents versus walls - new fabrics for building tents - great bathrooms, great green rooms? less to do with comfort, more to do with perception - would an arts institution be taken seriously? "i think about tents because of the implied mobility"
"a tent is useful because of the implied service"
who is the exemplar of grace and kindness - Bill Rauch - Oregon Shakespeare - "minister of grace and kindness"

Bill Rauch

he's younger than i thought he'd be
whatever we did succeeded even against spectacular failure
move out of comfort zone
passages of plays in different languages
talk to the person in the room with whom you are most afraid
Mississippi - cast Romeo who had failed state literacy test - after learning the entire role he passed
the arts are one of the few activities in which multiple generations can participate together
have to understand that the results of your work may not be immediately realized - it could take years
always asked if what he's doing is art or social work
"all art is based in community"
language-based theatre - committed to exploring the intersection between contemporary culture and theatre.
entire United States of America as a community
Obama as community organizer (more on the election) - community building as essential to national leadership
artistic expression as essential to our communities - deeply proud to be among you.

The Mayor!

is the mayor playing the piano? why is the mayor playing the piano?
Denver 2028 is the theme
he has a powerpoint presentation
"new generation technology" and "futurists". what is a futurist, per se.
lines between social activism and art are blurred - art can happen anywhere
fundamental appeal of the performing arts remains
shakespeare quote time! R & J with "Denver" inserted
impromptu shakespeare production time! now there are theatre people on the stage. thespians in our midst.
now there are dancers. a little arts montage. i wonder if the mayor is playing the piano.
now we have a chorus in the audience.

Eric Booth
...is outlining the plan for AmericaSpeaks.
he kind of looks like Josh Lyman from The West Wing
he's describing the four days of NPAC as "the largest improv production in performing arts history" - i don't like improv, but i see his point
we can't just talk about these things, we have to do something
will update on Saturday to see what the verdict is

Anna Deavere Smith (is back)
more on american journalism!! what is going on with the journalists! is this a wide-reaching problem i wasn't aware of?? maybe i'm spoiled by the classical music folks.
art as public policy-making
power of kindness, care and grace
make new collaborations
"competitive, greedy, warring world" - "i wish you the best". yikes.



posted by Amanda Ameer during the session. Apologies for typos and randomness.



About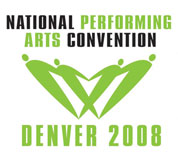 About this blog
From April 1 through June 9, 2008, weekly entries were posted here by some of the performing arts community's top bloggers. This 10-week intensive series served as a unique forum for digital debate and brainstorming, and both the entries and comments were archived for use at the live NPAC sessions in June. Participants:
Jaime Green - Surplus
Nico Muhly
Kristin Sloan - The Winger
Jason Grote
Jeffrey Kahane
Eva Yaa Asantewaa - InfiniteBody
Greg Sandow
Hilary Hahn
Tim Mangan, Paul Hodgins, Richard Chang - The Arts Blog
Andrew Taylor -
The Artful Manager
During the convention, June 10 through June 14, 2008, attendees from across art forms and job functions reported on their conference experiences. Participants:
Amanda Ameer
- web manager, NPAC
Sarah Baird
- media and public relations executive, Boosey & Hawkes
Joseph Clifford
- outreach and education manager, Dartmouth College Hopkins Center for the Arts
Lawrence Edelson
- producing artistic director, American Lyric Theater
James Egelhofer
- artist manager, IMG Artists
Jaime Green
- literary associate, MCC Theatre
James Holt -
composer; membership and marketing associate, League of American Orchestras
Michelle Mierz
- executive director, LA Contemporary Dance Company
Mark Pemberton
- director, Association of British Orchestras
Mister MOJO
- star, MOJO & The Bayou Gypsies
Sydney Skybetter
- artistic director, Skybetter and Associates
Mark Valdez
- national coordinator, The Network of Ensemble Theaters
Amy Vashaw
- audience & program development director, Center for the Performing Arts at Penn State
Scott Walters
- professor, University of North Carolina at Asheville
Zack Winokur
- student, The Juilliard School
Megan Young
- artistic services manager, OPERA America
Please note: the views expressed in this blog are those of the independent contributors and participants, not the National Performing Arts Convention or the organizations they represent.
NPAC
- the
National Performing Arts Convention
- took place in Denver, Colorado on June 10-14, 2008. "Taking Action Together," NPAC sought to lay the foundation for future cross-disciplinary collaborations, cooperative programs and effective advocacy. Formed by 30 distinct performing arts service organizations demonstrating a new maturity and uniting as one a sector, the convention was dedicated to enriching national life and strengthening performing arts communities across the country.
Contact us
Blogroll