Kwame Kwei-Armah
This morning, the second Plenary Session of the TCG conference ended with a standing ovation. British playwright and director Kwame Kwei-Armah gave a rousing speech on "Theatre as Foreign Policy," exhorting us to make theatre that captures and evokes our communities, to transport that across the globe. It was an inspiring talk, and also surprisingly funny - Kwame knows how to work a room - but something he said at the very beginning caught my attention, and made me think about what we're doing here.

He was describing his childhood, growing up as the son of West Indian immigrants. He told how he learned what slavery was from the "Roots" mini-series. Explaining the power of this, he said (and this is a rough quote), "A narrative came into my life, changing my worldview, how I saw myself and the course of my life." This is an inspiring example of the power of art, but I had to think - "Roots" isn't theatre. "Roots" was a tv movie. Kwame mentioned the power of August Wilson's plays, Public Enemy's music, the book The Autobiography of Malcom X. All true examples of the power of art, its importance in shaping how we see our world, our communities, and ourselves. But what wasn't addressed - and what often gets lost - is how theatre is different.

The fact that this is a National Performing Arts convention is fantastic - arts organizations across genres share so many concerns and issues. But so often we fall into "No one cares about the arts. How can we make them realize they need theatre/opera/music/dance?" This is an important concern. But as a theatre practitioner, I also want to talk about what makes theatre different. One Artistic Director told the assembled TCG audience that his theatre has just hired a full-time videographer and videoblogger. I assume this is to market to and reach out to the YouTube world. But what if, rather than reaching people differently, rather than trying to convince people that theatre is vital, we made vital theatre? I know it's not that simple (and this Artistic Director happens to helm an institution producing exciting, new work, so they're not just hoping a videoblog will draw in new audiences to old, musty programming), but, well, it's a question that this convention has got me asking. Which is probably a fantastic thing. Four days isn't enough time to change the world. But we can have our assumptions challenged, ask questions, and reassess how we look at what we do. I'm excited to keep that going.

posted by Jaime Green, at her first performing arts conference!

About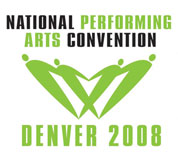 About this blog
From April 1 through June 9, 2008, weekly entries were posted here by some of the performing arts community's top bloggers. This 10-week intensive series served as a unique forum for digital debate and brainstorming, and both the entries and comments were archived for use at the live NPAC sessions in June. Participants:
Jaime Green - Surplus
Nico Muhly
Kristin Sloan - The Winger
Jason Grote
Jeffrey Kahane
Eva Yaa Asantewaa - InfiniteBody
Greg Sandow
Hilary Hahn
Tim Mangan, Paul Hodgins, Richard Chang - The Arts Blog
Andrew Taylor -
The Artful Manager
During the convention, June 10 through June 14, 2008, attendees from across art forms and job functions reported on their conference experiences. Participants:
Amanda Ameer
- web manager, NPAC
Sarah Baird
- media and public relations executive, Boosey & Hawkes
Joseph Clifford
- outreach and education manager, Dartmouth College Hopkins Center for the Arts
Lawrence Edelson
- producing artistic director, American Lyric Theater
James Egelhofer
- artist manager, IMG Artists
Jaime Green
- literary associate, MCC Theatre
James Holt -
composer; membership and marketing associate, League of American Orchestras
Michelle Mierz
- executive director, LA Contemporary Dance Company
Mark Pemberton
- director, Association of British Orchestras
Mister MOJO
- star, MOJO & The Bayou Gypsies
Sydney Skybetter
- artistic director, Skybetter and Associates
Mark Valdez
- national coordinator, The Network of Ensemble Theaters
Amy Vashaw
- audience & program development director, Center for the Performing Arts at Penn State
Scott Walters
- professor, University of North Carolina at Asheville
Zack Winokur
- student, The Juilliard School
Megan Young
- artistic services manager, OPERA America
Please note: the views expressed in this blog are those of the independent contributors and participants, not the National Performing Arts Convention or the organizations they represent.
NPAC
- the
National Performing Arts Convention
- took place in Denver, Colorado on June 10-14, 2008. "Taking Action Together," NPAC sought to lay the foundation for future cross-disciplinary collaborations, cooperative programs and effective advocacy. Formed by 30 distinct performing arts service organizations demonstrating a new maturity and uniting as one a sector, the convention was dedicated to enriching national life and strengthening performing arts communities across the country.
Contact us
Blogroll