Recently credited with ending gang violence in LA, Gustavo Dudamel has achieved something even more impressive: on Monday, he will appear on the best television show of all time, Sesame Street. For those of you who don't remember, Sesame Street is on PBS.
The Los Angeles Times reports:
In the segment, Dudamel and Elmo demonstrate the word "stupendous" by conducting a sheep playing a violin, an octopus playing the drums and a chorus of opera-singing penguins.
Would that the sheep was a Hilary Hahn sheep. Or a Hilary Hahn alpaca.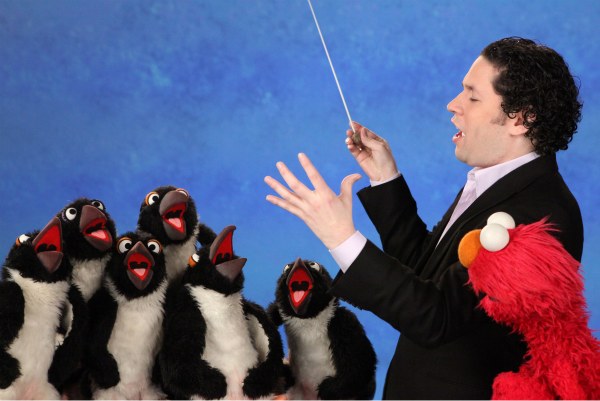 Nico Muhly suggested on Twitter that David Lang should go on Sesame Street with the Poverty Muppet as The Little Match Girl in his Pulitzer Prize-winning the little match girl passion.
Declan, who works with me, asked if Dudamel was going to BE a Muppet, which of course would be The Best Thing. I believe they gave Rita Moreno a Muppet of herself on The Muppet Show once. But it looks like The Dude appears in the flesh, not the fabric.
It's really all I want for my clients. I even created Muppets for them, so half the work is already done.