In the immortal works of Todd Rundgren, "Iiii don't-want-to-work, I just wanna write-on-this-blog-all day." That's not entirely true: I love my job, but it does make things I also like to do–coming up with interview questions for this blog, to throw out an example–more of a challenge. But I'm going to be better! It's my Valentine's Day Resolution. So, Team Life's a Pitch, here we have the return of the Friday interviews, where I ask the Tough Questions of colleagues who are far
more knowledgeable than I am on various marketing and publicity topics. Today we have Andrew Cyr, artistic director of Metropolis Ensemble.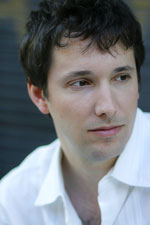 Conductor Andrew Cyr is a leader in the rapidly growing contemporary classical music scene. His enthusiasm for connecting musicians and composers of the next generation to today's audiences led him to create Metropolis Ensemble in 2006. Cyr is a native of Fort Kent, Maine, and has holds degrees from Bates College, the French National Conservatory (Etudes Superieures), and Westminster Choir College. His primary musical mentors include Dr. Joseph Flummerfelt, Kenneth Kiesler, Pierre Grandmaison, and Kynan Johns.  Cyr has performed at such venues as (Le) Poisson Rouge, Lincoln Center and Carnegie Hall, and, in 2008, as part of Wordless Music at Celebrate Brooklyn! conducted "The Rite of Spring: Remixed" for a live audience of 10,000. His debut studio album, released on Naxos in January, 2010, features the chamber orchestra concerti of composer Avner Dorman.
I've been a huge fan of Metropolis Ensembles' design aesthetic since I first encountered the group two summers ago. Each of your concerts has a logo! Very impressive. Design is very clearly a priority, but how do you find the time, manpower and money?
Thank you, Amanda.
Armistead Booker!
Armistead has been part of Metropolis from the beginning.  He's a multi-talented designer, educator, outreach guru, web-programmer, and amateur pianist — he's an inspiring person to work with!  I collaborate with Armistead from the conception of a new project or commission and visual ideas evolve from these conversations.  As a result, designs for each project speak to both the musical aesthetic of the project and to what that particular concert experience will be like.
You're right, though, it's a ton of work!  But, we're both really passionate about broadening classical music's audiences and these elements are essential to this aim. We've found that people are apt to explore something new if design materials are compelling and are individually inspired by each individual concert we produce.
Similarly, your Marketing and Media staff list has five people on it; have you ever been accused of spending too much time on those things over artistic pursuits?
If you look closer, you'll see that the four besides Armistead are all professional artists – Sabrina Asch is a photographer, Gareth and Kyrie Cox are a husband and wife team of documentary filmmakers, and Ryan Streber is an audio engineer (and composer!).  They are extraordinarily committed to Metropolis Ensemble's mission and are all young, up-and-coming freelancers and entrepreneurs.  We archive all of our concerts in video, audio, and photo formats so that projects have a vivid life online and outside the concert hall.  It's actually because we dedicate so much time on artistic pursuits that we feel it's essential go the extra step so the work can live on.
There are so many new music ensembles in New York City. What made you start another one four years ago, and what sets you apart?
I am very passionate about bringing new works into being and playing a part in performing them with incredibly talented musicians. I'm equally passionate about performing in settings that bring audiences and musicians together to create a social, meaningful, and artistic concert experience for both.
Did you see that graph on Alex Ross's blog Unquiet Thoughts charting audience trends?  Scary….So, we started Metropolis to expand the local effort of musicians building grassroots communities to bend these curves in another direction.
Speaking of, what is Metropolis Ensemble's relationship with other new music ensembles in the city? Is there any animosity, or are groups mostly interested in the art form succeeding above any perceived or real rivalries?
Metropolis is part of a community of musicians and composers who collaborate with each other through a variety of highly professional and dynamic groups. We have common goals, to make the music we love, classical music, new and old, relevant to today's society. We all work really hard to build our audiences and we're committed to continually creating and performing music to the highest artistic level, so there's a lot of mutual understanding of what it takes and why we're doing it.

How do you think the various new music ensembles can help each other market, publicize and network around concerts, if at all?
The Bang on a Can Festival is maybe the best example of that very idea, and they've a model that could and should be adopted much more.
Another idea I've long been interested in would be for new music ensembles to coordinate to develop a year-round site and create a center for new music and performance.  Sure, we love to perform around the city in a variety of venues and that's part of how we reach new audiences, we go to them.  But wouldn't it be great to have ONE artist-run space for our community to call our home, to rehearse, to meet and gather, to cross-pollinate ideas, share resources and equipment, make recordings, etc.  Maybe together we could find an institutional or development partner to make this happen!
Do you think concerts and albums of new music are harder to sell than those with core-classical repertoire, or is that just a myth?
Total myth, at least with concerts anyways. There's a saturation of standard repertory being performed for a small, very faithful community. Yes, new music might be harder to sell to them, but we feel strongly that the way to expand audiences is to reach out to the community at large who thirst for what's new in all the arts.  They represent a significant demographic in New York and our experience has shown that this actually works – it's not about young people or old people, it's about renewing the tradition of making new work, putting it in the foreground, and connecting with those curious for a new experience.  Take the LA Phil as a great example.

Your website has a major video component. Why do you think it's important for site visitors to see the concerts rather than just hear them?
The environment of a concert has a feeling that can't be translated with just audio.  Video, in part, helps capture that vibe and sense of place, as well as the kinetic energy of the performers. Plus, there's such a vast online video community, I couldn't conceive not being connected with this community via our website.

I was surprised to learn that Metropolis Ensemble is producing "Love Letter to Haiti" this Sunday: a benefit concert for an organization called Partners in Health at (le) poisson rouge. Shouldn't you be raising money for your own organization?! Why do you think it's important for artists to be socially responsible, and, in addition to fundraisers such as this, what can they do?
My wife and I were talking after the earthquake struck and when the horrific human tragedy started sinking in, we felt both incredibly moved and helpless. We're not doctors, we can't fly a plane, we can't write a big check – what c
ould we do? The answer was really simple, just try and see what happens.  The good folks at LPR let us have their space so that 100% of the ticket proceeds could go to perhaps the leading charity working in Haiti, Partners in Health.  Every musician I asked who was available that night said "yes" to donating their time.  Composer David Bruce in London whipped up a beautiful new arrangement of a Tallis motet. An artist-friend, Jenny Salomon, offered to design and print T-shirts to sell and donate.  It's been so much fun to put this together!  Yes, we're a scrappy nonprofit, but that's an advantage – we're nimble and have a grassroots community that directly responds to what we do.  Our hope is that the night is successful for Partners in Health. Who knows, maybe others will who attend or hear about it will be inspired to do the same.