Remember when I was really awesome and posting interviews every week? Well, I'm less awesome now, but here's an interview with Billy Robin of Northwestern University. He started Music Marathon on campus last year and is gearing up for another successful 26 (!) hours on April 30th. If you're not in the Chicago area, you can watch the entire concert live on their website.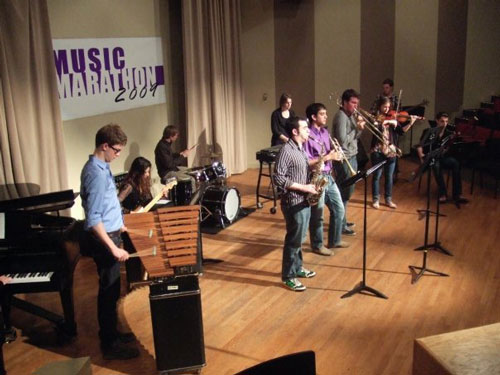 Billy Robin is a senior at Northwestern University studying musicology and saxophone performance. Born in Chappaqua, NY, he spends time in both Chicago and New York City, reviewing classical music on his blog Seated Ovation. Billy is also a research assistant to music critic Alex Ross and occasional contributor to The Rest is Noise. Along with his studies at Northwestern, Billy is president of the Bienen School of Music Student Government and producing this year's Music Marathon.

Last year was the first year of Music Marathon at Northwestern. My friend Donnie went to Northwestern as an undergrad and was involved in Dance Marathon there. Is that where you got the idea? Can you explain how Music Marathon works?
We got half of the name from Dance Marathon, but not the idea. Dance Marathon involves fundraising followed by an event where each participant dances for 30 straight hours. The creators of Music Marathon came up with a similar event which would unite the Northwestern music community, allow us to show it off to others, and also help out a good cause. Performers sign up to play for fifteen or thirty minutes, and pledge to raise $100 for each 15-minute time slot. We have about a hundred slots, so you're not playing for 26 hours straight (though you're welcome to attend for all 26 hours!). Music Marathon involves participation from Northwestern students, faculty, and alumni and attracts a diverse audience from the campus and Chicago area. All of the money we make goes straight to The People's Music School, which provides free lessons to underprivileged youth in downtown Chicago. Because of what we raised last year, they were able to admit 13 new students and offer a thousand more music lessons.
Have you found that the popularity of Dance Marathon on campus has helped Music Marathon? Did you work together to promote both events, or do you plan on doing so in the future?
Music Marathon is essentially brand new, in its second year, and DM has been around for 35 years. Although it might be helpful to use DM resources to cross-promote for Music Marathon, they are pretty different events which cater to different communities (though there is some overlap). Maybe in the future we'll try to get DM people on board for helping us out; though after dancing for thirty hours they're pretty much exhausted of Marathon-ing for the rest of the year.
Your first-ever Marathon raised $17,000 for the People's Music School in Chicago! That's amazing! What is it about the concept of a "marathon" the inspires people to donate money, do you think? Was the burden on the musicians to raise money, or on the organization (you)?
Thanks! It was an incredibly successful year, especially for an event pulled together in a few months by an essentially grassroots organization comprised entirely of students. It's the combination of "marathon," plus having the guaranteed fundraising base of the performers. Over half of our donations came from only a handful of performers; though some people just raised the minimum $100, many more went all-out and raised a ton of money. The organization itself also seeks out faculty, campus, and Chicago community donors.
The Marathon doesn't feature exclusively classical musicians; your website says that woodwind quintets to a cappella groups to bluegrass bands are on the schedule. Last year, how did the audience change (if at all) for the different artists? Did you make any effort to get people to stay for genres they might not (think they) enjoy, or did you let whatever demographic shift that happened happen organically?

Last year we actually opened with one of those fun cross-genre experiments, The Gentlemen of NUCO, a strings/percussion group which plays amazing Radiohead arrangements. This allowed us to tap into both the conservatory and hipster communities at Northwestern; we followed with 2 hours of jazz, so we really cut a swath through the demographics. In future Marathons, we hope to do specific, targeted marketing for different sets but for now we're really pushing the opening jazz session and the closing chamber music concert. The other genres will shift organically through the 26 hours, and we hope that the performers will bring their own built-in audiences. Billy Robin's Hep Cats is playing In C at midnight this year, which should draw in a solid, diverse crowd.

A bit unrelated, but how do the different campus performing arts groups at Northwestern either compete for or work together for audiences? Is there a spirit of community, or is it a lot of trying to get to the same ears, eyes and university dollars?

It depends, actually. It's very difficult for School of Music performances to reach out beyond the music school community, so orchestra concerts often end up with a small audience of classical musicians and old people (actually, I guess that's not too different from the real world). One of our goals with the Marathon was to reach out beyond music school and attract the kind of campus audience that goes to a cappella shows, theater performances, etc. Since some of our performers, like the a cappella groups have their own shows in weekends surrounding the Marathon. But everyone is always competing for the same eyes and ears (university dollars, not so much–we don't rely on any money from the actual school)–there are a million other events going on next weekend, and we hope that Music Marathon is the one that will stick in people's minds.
Back to the marathon: you mentioned in a comment over on Greg Sandow's blog that the entire marathon will be streamed live on www.musicmarathonconcert.org. Does that mean that this year you've been reaching out to national (industry) media? Are you hoping to get donations throughout the 26 hours from folks outside of Chicago?
Yes, definitely. Most of that comes from grassroots connections, since I'm moderately embedded in the blogging community so Alex Ross and Greg Sandow have blogged. Last year we got a feature from Time Out Chicago and mentions on a bunch of blogs. It's great for friends and family of performers to watch us play for free (my mom woke up at 3:30AM last year to watch me do In C). Last year I played in a saxophone ensemble piece by Claudio Gabriele, who ended up watching us perform live from his home in Belgium.
What is your background: Musician? Composer? How are you liking the role of concert organizer? The three composers I work for–Michael Gordon, David Lang and Julia Wolfe–are the founders of Bang on a Can, and there's of course a long tradition in our industry of
musicians presenting themselves and others. Do you think this is because musicians ultimately know how best to present themselves and other musicians, or simply out of necessity?

I am a classical saxophonist and musicologist with my claim to fame as being Alex Ross's research assistant. I'm also going into musicology, and I'll be studying in Berlin next year on a German Academic Exchange fellowship. I'm really loving the role of concert organizer; it's a ton of fun although a lot of work. I strongly believe musicians, especially classical ones, need to learn how to market and present themselves. I really wish conservatories emphasized self-promotion and entrepreneurship from day one, since many of my friends are going out into the "real world" with no idea how to do much besides take auditions and play excerpts. That can get you a job in an orchestra, but there aren't many of those left, and the music school model really needs to teach students how to be individuals in a competitive market. The Bang on a Can composers are definitely an ideal model for that kind of well-rounded musician, who knows how to put on a good show and market it that way as well.
Don't forget you can watch live from your computer on the website on April 30th! To donate, click here.