In their introduction to a new edition of Bomb Culture, Jeff Nuttall's classic 1968 manifesto about the '60s counterculture, the editors write: "It's hard to remember the last time the howl of an artistic movement was heard across international borders, when an all-encompassing and audacious subculture went on the rampage confronting the world's established order, expressing itself in ways so disturbing and original it couldn't be ignored."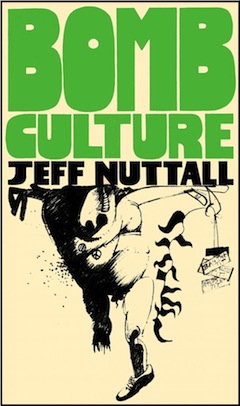 In the era of #Metoo, amid the insurgency of rightwing "populists," the normalization of neoNazis and neoFascists, the rise of the Yellow Vests, and with the memory of Tahir Square and the color revolutions still haunting us, you might pause to wonder about that claim. And then you say to yourself, name another "artistic movement" that has lately howled across the world. Have any been, as the editors Douglas Field and Jay Jeff Jones put it, "unmissable everywhere"? There's hip hop and rap. There's graffiti, comix, manga. All come out of audacious subcultures. All have had international impact. But have they been "all-encompassing"? Not in the larger scheme of things.
Nuttall writes in his preface to the original edition: "Actually, the plain and obvious fact is that between the autumn of '67 when I completed this manuscript, and the summer of '68 when I am writing this preface, young people, under various pretexts, made war on their elders, and their elders made war on them. " He elaborates:
The political effectiveness of contagious culture is a subject abhorrent to orthodox thinking for various reasons, not least among which is the threat embodied in the emergent fact that the root of political development is creative and irrational.

Culture, being the broad effect of art, is rotundly irrational and as such is perpetually operating against the economic workaday structure of society. The economic structure works towards stasis centered around static needs. It is centripetal. Culture forces change centered around changing appetites. It is centrifugal.

The effect of culture has never been so direct and widespread as it is amongst the international class of disaffiliated young people, the provotariat. Consequently art itself has seldom been closer to its violent and orgiastic roots. . . . What is happening is an evolutionary convulsion rather than a reformation. Young people are not correcting society. They are regurgitating it.
That was then. Are young people today throwing up? I can think of some that are. Would there were more.