This old cartoon strip by Gary Lee-Nova is an aspect of his studio work I'd never seen before. It has a black Sluggo, and it's a form of appropriation art. Will that cause a storm of viral outrage? Hope not. But if it does, that will give it more online visibility than its original publication probably had. (SEE UPDATE BELOW.)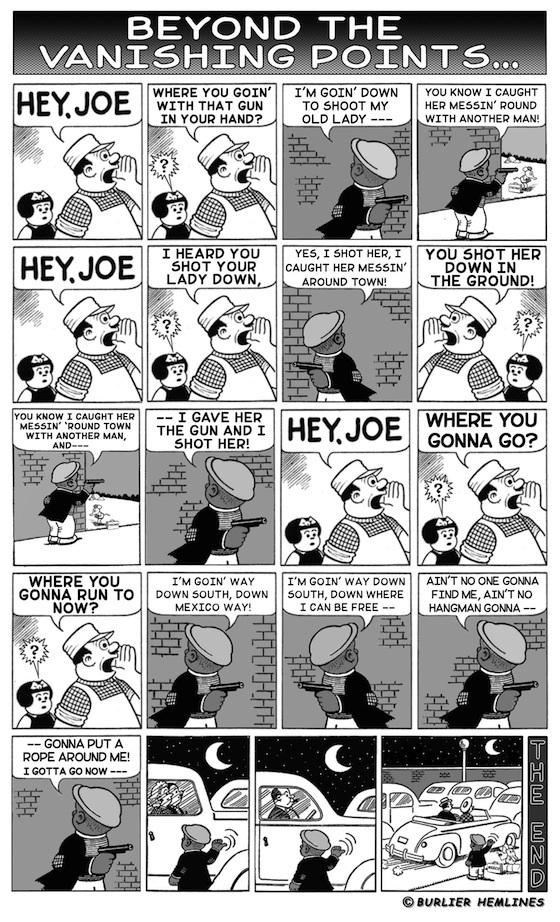 Postscript: Feb. 12 — Gary Lee-Nova writes:
The strip is a cut-up of comic strip panels from Ernie Bushmiller's NANCY (and Sluggo) . . . I composed the strip as a something-to-do project for myself, after I was released from hospital late in Oct. 2016. I was in hospital for three weeks. For two of those I was in the intensive care ward. I'd contacted a sepsis infection and was at death's door when a dear and close friend delivered me to the hospital, thus saving my life.

Part of my post-hospital recovery took the form of pursuing my long held and deep interest in the work of Ernie Bushmiller. For many decades, I've found his work to be a semiotic smorgasbord of the relations between words and pictures, or aesthetic non-verbal content contrasting with semantic (verbal) content. I'd seen the "HEY JOE" panel from a strip and thought of the song, Hey Joe, having ambiguous authorship, and recorded by a variety of musicians and bands. I wanted to explore the possibility of a Black Sluggo and that panel provided some direction. I'd seen KAZ's work of some Black Sluggo and Black Nancy strips and found those to be inspiring. 


(Bushmiller's strip has the "HEY JOE" Panel at the head-end, and his strip takes place on a construction site, where, if memory serves, tenement buildings are being knocked down.) 


I discovered that Burlier Hemlines is an anagram of Ernie Bushmiller, and that Uncanny Old Gags is an anagram of Nancy And Sluggo. I've shared the file with friends, and Members of the Secret Bushmiller Society, but beyond that, and except for what you've posted today on your blog, it hasn't seen the light of publication.