[contextly_auto_sidebar id="YllB74J34B9TJ6Ti5Kf6GmoHWs55gndJ"]   
Seeing the art world as a family is a handy tool, for it is like the philosophical idea that things in a category have a family resemblance rather than embody an archetype or, perish the thought, a Platonic form. On the other hand, if you are not Protestant, or Jewish or Muslim, you also have The Holy Family and the various saints to think about.
When did the art world stop being a family or a religion? When it became a strictly financial machine. Andy Warhol deemed his studio The Factory and said business was the best art. Was he being realistic or wickedly satirical?
No matter what your age or gender, if even now your two fathers are Marcel Duchamp and Jackson Pollock, then your much older uncles must be Paul Gauguin and Vincent van Gogh. I myself at this point have a few sisters and nieces, but, as typical of male artists of a certain age, I have no mother. My grandmothers, however, are Alice Neel and Beatrice Wood.
Within this frame of reference, why then did Uncle Paul, our St. Paul of the South Pacific, run off to French Polynesia to search for his mother, whom he already knew?
MoMA does not have the answer. But when you view its current, somewhat pedantic, necessarily underlit un-blockbuster, it might help to keep this question in mind.

Self-Portrait with Gauguin Portrait for Vincent, Émile Bernard, 1888.
.

Self-Portrait with Portrait of Vincent, Paul Gauguin, 1888.
What You Need To Know Before You Go
"Gauguin: Metamorphoses" (to June 8) puts together some of the most important paintings with woodblock prints, sculptures and ceramics, so it is a must-see. Willfully exotic images move from medium to medium, jumping across academic boundaries, in a way that no artist had ever managed before.
It is also the first Paul Gauguin solo exhibition at MoMA. Why? Because he was a  bookkeeper for stockbrokers? Because he played the French stock market himself? Because, when he was in the chips, he was a spot-on art collector who gambled on  Pissarro and Cézanne? Because he was one-eighth Peruvian on his mother's side? Because he was a late bloomer? Because at the age of 47 he left his wife and children and headed out for a new life as a fulltime artist? Because like his Dutch friend St. Vincent he was self-taught? Because he copied or was inspired by the Cloisonnism of Émile Bernard?
No, none of these reasons work. Lesser artists with greater sins have been given MoMA shows.
Not even the plagiarism accusation—mostly by the bitter Bernard – is an excuse. All you have to do is compare a Bernard to a Gauguin when they were working side by side in Brittany. Bernard had virtually no talent; Gauguin was already a master of form and color—and, I hasten to add, emotion and meaning. He, like his buddy Vincent, had the  mojo. And our St. Paul of the South Pacific kept his mana until his sad death in the Marquesas in 1903. Bernard turned to timid, really timid painting, and loud complaining.
My theory is that Gauguin was eschewed by MoMA because their darling Picasso owed him too much: certainly the chic primitivism; the Spanishness –  Paul spent a key part of his childhood in Lima and he preferred speaking Spanish to French; the machismo, the satyriasis; even the guts to work across all media. Now, however, St. Gauguin Revised can be seen not just as a key Post-Impressionist and Symbolist, but as a proto-appropriationist, postmodern modernist. It may have been the Symbolist part of Gauguin and the decorative part that got him off-sided from MoMA Modernism. Also it may have been a problem elsewhere that, unlike van Gogh, he was not beholden to painting from life. Art makes strange bedfellows. For Gauguin, memory was just as good as, if not better than, an equally fictitious "realism."
There is technically nothing wrong with a MoMA-formalist, didactic, "facts"-only labels and wall text. Art newcomers may require this approach. But I don't and you don't.
Dare we mention the anti-Christianity of many modernist artists? Dare we present the facts about venereal disease, alcoholism, drug addiction, third-sex meanderings? The outright repression? The fun?
But it is wondrous indeed and telling that as an acolyte of the Religion of Art, I can pray for help to St. Paul, St. Vincent, St. Jackson and, yes, even to Saint Alice, but never to St. Pablo. There is no St. Pablo. Picasso lived too long; he had no tragedy. He sold too much art, and he made too much money.
How I Am Connected To Gauguin
Since it's bad enough that I became van Gogh, I must now thoroughly prevent myself from becoming Gauguin.
Analyse Lovers: The Story of Vincent (1990) by Irish/Canadian-American video pioneer Les Levine, proves that I am Vincent, or at least his reincarnation. The video was commissioned by Dutch National Television. Levine's clever tape has snippets of various art types giving their opinions about van Gogh (me): Alanna Heiss, Malcolm Morley, Julian Schnabel and so forth.
At the press conference in Amsterdam, much to Levine's chagrin, the reporters wanted only to know where he had found such a talented actor to play Vincent. Levine claims to have written the film, but yours truly actually made up Vincent's words on the spot. Levine asked me questions off-camera and I channeled my great-great-great uncle Vincent.
Fortunately, I bear little resemblance to my great-great-great uncle Paul. My first connection to him, other than through Vincent (and that is a big connection), is his Brittany Period.
Some years ago, as an artwork, I made a map that charted all the John Perreaults in the U.S. at that time — 186 or 156,depending how you spell Perreault, which can also be Perrault or Perreau. And then on to Canada, searching for both John and Jean, of course
Then I searched through the Internet for Jean Perreaults in France
I already knew there had been significant Perraults in Paris long ago. Charles Perrault (1628-1703), was a founding member of L'Académie française, advisor to Louis XIV. He wrote about the court's favorite painter, Charles Le Brun, penned the guide to the Labyrinth of Versailles, collected folk tales under the title Tales of Mother Goose and was "a leader of the Modern faction during the Quarrel of the Ancients and the Moderns." Sounds like I am a chip off the old block.
And I knew of Claude Perrault (1633-1688) who designed the East Wing of the Louvre (Perrault's Colonnade).
But the home of my name was not Paris, but Brittany. So many Jean Perreaults and Perraults! More than in the U.S. and Canada combined. I am where my name came from. I was further relieved that Brittany is Celtic, like Ireland, Scotland — where I unexpectedly feel immediately at home — and Cornwall. Gaelic was spoken and sometimes still is in these Celtic nations.
In Brittany, road signs are sometimes in both Gaelic and French. Parisians, a snooty lot, do not quite accept Bretons as really French.
So, yes, Gauguin first went searching for the authentic and primitive in Brittany, where he mostly painted women and, strangely enough, naked boys. Clearly he was searching for me.
Myth Buster : When Gauguin began to paint scenes of Pont-Aven in Brittany, it had already become an established summer art colony by the late 1850s . Beginning in 1860, it became home base for artists and art students from distant Philadelphia, who somehow thought it was more magical to paint from nature in Brittany than Bucks County. The advent of the railroad in 1862 brought even more artistes.
One commentator has opined that Pont-Aven was probably like Provincetown in the 1950s. Three hotels served up summer rooms for the artists; the region provided numerous windmills and a river running down to the sea. The huge white hats celebrated by Gauguin were really not so ancient: Breton women donned them only after the French Revolution. On the other hand, those boys always swam naked.

St. Vincent Goes To Tahiti
My other connection to Gauguin is even more twisty. Invited to lecture at the University of Australia, on the way down the plane stopped on Fiji to refuel. The following year I was hired back to Canberra as Distinguished Visiting Professor of Art Theory and Glass (don't ask). Remembering my runway glimpse of Fiji, I called my artist/travel-agent friend: I have a ticket to Australia. How much will it cost to stay a day or two in Fiji?
Forget Fiji, he said, he had a surprise for me: I could stop at Tahiti for a hundred bucks and whatever the hotel would cost for the days I could spend in Papeete.
Myth Buster : I now know what St. Paul of the South Pacific knew (and couldn't say), which was what naval officer and novelist Pierre Loti knew before him, that Christian missionaries had already destroyed Maori culture. What the Calvinists hadn't wiped out, the Catholics and the Mormons finished off.
After a little research, I also now know that Gauguin had borrowed his information about the Maori religion, published as his own discoveries in his little promotional booklet Noa-Noa (Fragrant Scent), from Jacques-Antoine Moerenhout's Voyages aux îles du Grand océan (1837).
First turned on to South Pacific culture by the Colonial Exhibit in the Exposition Universelle of 1889, Gauguin later fancied he could unearth Tahitian cultural secrets passed from mother to daughter. Turns out that he really didn't understand the language that well.
By the way, how well did van Gogh speak French or Gauguin speak Dutch? How well, if at all, did Gauguin speak Danish? As you may have discerned if you have foreign friends, you may know what they say, but not know what they mean.
Gauguin's titles in Tahitian are full of errors. And we are not quite sure he really understood the culture. He had no inkling, for instance, that on the Windward Islands of the Society Islands in French Polynesia, there had been a secret cult that cleverly engineered population control – thus the management of scarce food resources—through the ritual sacrifice and cannibalization of all but first-born infants.
Well, it may not be the thought that counts, but the paintings that resulted. It is the myth that's true. But which myth? The old one or the new ones?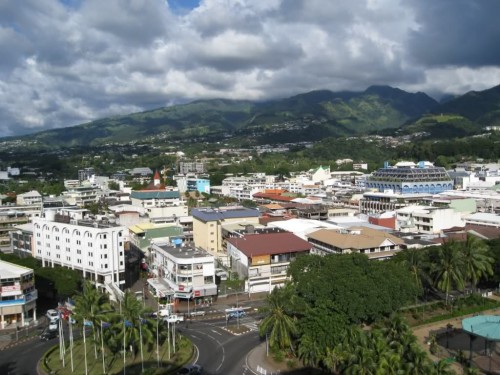 Tahiti has a McDonald's. I had to eat there. The Big Mac was even worse than in Ramapo, New Jersey or Pigalle. And Papeete is just like the South Pacific ports of Robert Louis Stevenson's late realist works: tide wrack, drunks sleeping it off, and ruffians. It is true, however, that young Tahitian women are the most beautiful in the world (the men not so hot). Maybe this was different in Gauguin's time, for he took a shine, as we shall see, to at least one young Tahitian male.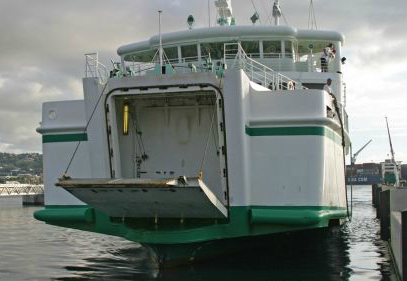 I also noted that when the ferry came across from Tahiti's less-settled sister island, bat-shaped Moorea, in the late afternoon, it expelled some of the tallest, most muscular drag queens I have ever seen. Transvestism is a Polynesian value. The mahu came down the gangplank in a flurry of pareos, leis and makeup, marching to the main drag to waitress in the pubs and eateries. I missed the monthly Miss Mode contest at the Piano Bar and Restaurant Waikiki.
Myth Maker : In Moa-Moa, a promotion piece for one of his Paris shows (it wasn't printed in time), St. Paul of the South Pacific goes on and on about the androgynous Polynesians. How many native drag queens did he know? Something strange was going on. It is a common hypothesis that he was in search of his part-Peruvian mother. But surely, just to complicate things, we should know that long after she had passed on (when Paul was 19), it was her loyal French-lover who arranged for St. Paul's stock-market job.
Thor Heyerdahl once tried to prove that ancient Peruvians were the ancestors of the Polynesians. Now it seems to be the other way around. What is now Peru was settled by Polynesians. The Incas were Polynesians. But Gauguin could not have known that back in the 19th century.
Although he spent an important part of his childhood in Peru, maybe it was not only his Peruvian and therefore Polynesian "heritage" he was looking for, but his own androgyny — the female side of his psyche. As already mentioned, he favored painting boys in Brittany, and in Paris he was friendly with pedophile poet Paul Verlaine, who spent two years in jail for shooting his poetry-genius teenage lover Arthur Rimbaud in the left wrist. And Gauguin obviously had a stormy bromance with Vincent.
But I don't think our St. Paul was a pederest….in spite of these paintings done in Brittany, which are not in the MoMA show. He just equated clothes with civilization. The last painting shown below is my favorite because it is so grim.
This Way To The Polymorphously Perverse
In Moa-Moa, Gauguin gives voice to what can only be described as a panic attack. But is it the swoon of a predominately heterosexual man afraid of his feminine side, or of a repressed homosexual? As you shall see, there is no way to tell.
Following a young man through the jungle, he is temporarily confused or enlightened and sees in this youthful figure some kind of divine androgyne.
"Was it really a human being walking there ahead of me? Was it the naïve friend by whose combined simplicity and complexity I had been so attracted?"
He thinks that in Europe the sexes are too separated; in Tahiti, male and female bodies, because of living outdoors half-naked, are similar — at least in his eyes.
And then he opines: "In spite of all this lessening in sexual differences, why was it that there suddenly rose in the soul of a member of an old civilization a horrible thought? Why, in all this drunkenness of lights and perfumes with its enchantment of newness and unknown mystery?…The fever throbbed in my temples and my knees shook."
And Paul's mythic male/male fling with St. Vincent in Arles? What had Paul said or done that resulted in the famous razor scene? Did one or the other of the two close friends have a panic attack? About to obey a voice that said "Kill him!" Vincent cut off part of his own ear instead and gifted it to a local prostitute.
Myth Buster : We now have some evidence that later Vincent's "suicide" was an accident. He was horsing around with a few of the local boys; one of them had a gun. On his deathbed, out of pity or guilt, St. Vincent claimed he had shot himself.
But mythic truth demands that Vincent commit suicide. Could we call this new version of his demise "suicide by yokel"?
Furthermore, hagiography requires that we never know the actual circumstances of the bromantic razor incident. It could have been something as banal as "you finished all the absinthe, you bastard." Or maybe they were arguing about the use of secondary colors or who was going to wash the dishes. That's the marvelous thing about myths, they leave a great deal of room for the imagination. That is their power. Or as Gauguin once said about art: Emotions first, explanations later.
We tend to forget how intense male/male relationships can be, even when not sexual. Here's something from a newly discovered van Gogh/Gauguin statement handwritten at Arles, where they famously lived and worked together for two months in 1888:
Gauguin interests me much as a man – very much – [writes Vincent] I have long thought that in our dirty profession as painters we have the greatest need of people with the hands and stomachs of a laborer – and more natural tastes – more amorous and benevolent temperaments – than the decadent and exhausted Parisian boulevardier.
Now here without the slightest doubt we are in the presence of a virgin creature with the instincts of a wild animal. In Gauguin, blood and sex prevail over ambition…
We have made several excursions to the brothels and it's likely that we will end up working there often.
["Eight weeks later, on 23 December, the partnership came to a violent end when the pair quarreled violently over, it is believed, Van Gogh spending the meagre household budget on prostitutes, and his refusal to stop drinking absinthe."]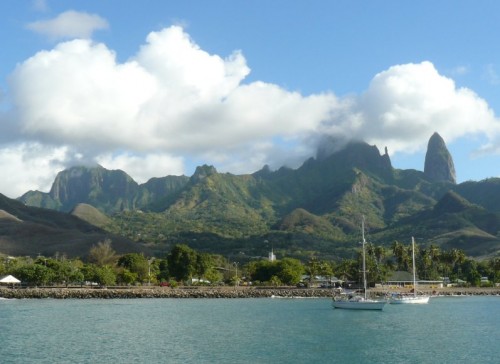 Next Time: Hiva Oa
Still in search of paradise, St. Paul moved on to Hiva Oa in 1897, far away in the Marquesas.
One very early morning, I was strolling around the Papeete docks and saw a ship dedicated to the Marquesas. A sign said that. Mysteriously, the only one about was an elderly lady who looked like a retired schoolteacher from the midwest in a Walker Evans Great Depression housedress, seemingly waiting for departure, but without any baggage. Maybe her luggage was already on board. She was seated in the totally empty waiting room, looking as if she had slept there. I asked if she needed help. But she was in some sort of dither and waved me away. Maybe she was French and didn't understand English. Or maybe she was mad.
If one still did such things, you could write a novel explaining why she had ended up here, like this. Had she saved every penny in order to visit St. Gauguin's grave upon her retirement and missed the boat? Or was she waiting for someone to return from Hiva Oa?
At one point, St. Paul hated Hiva Oa almost as much as he grew to hate living in the jungle suburbs of Papeete, so much so in fact that he wanted to return to Paris. But his famously clever dealer, Ambroise Vollard, wrote back that if he returned it would ruin his market. Myths help sell art.
On Hiva Oa, Gauguin was writing actively, probably to earn a few francs.
In a review of a play on the theme of women's liberation by a Polynesian woman at the National Theater of Bora Bora, he wrote: "I must confess that I myself am a woman and that I am always prepared to applaud a woman who is more daring than I, and is equal to a man in fighting for freedom of behavior."
But the official myth prefers him to be a misogynist, just as it simplifies his relationship to his Danish wife and family. After the  French stock-market crash (1882), he, Mette-Sophie and their five children moved to Copenhagen, beholden to her family. In 1885, it was Mette-Sophie and her family who asked him to leave. He didn't run away — which the myth demands – but was ordered to leave. Why? My guess is that he was simply impossible. Mysteriously, he took one of his sons, Claude, who was ailing, back with him to Paris. Claude soon died of a hip infection.
The rest is history, art history. The rest is myth. Arles, Tahiti, Hiva Oa. Or as his absinthe-addicted, Swedenborgian buddy, playwright August Strindberg, once wrote. "Gauguin is the savage who hates the restraints of civilization…the child who takes his toys apart to make others."
And how did our St. Paul of the South Pacific actually die?
All heroes must die. All heroes must be punished. He turned his back on bourgeois life, so he must pay the cost.
List of things actually found in Gauguin's buried well, recently excavated near his hut…….
Four molars with extreme tooth decay, in a glass jar; broken French perfume bottles; shards of a hand-painted plate from Brittany; empty liquor bottles; an empty Australian beer bottle; a Bovril jar; fibrous end of a pandanus frond probably used as a paintbrush; broken coconut shell with three chunks of ochre and orange pigment; syringe with two morphine ampoules.
The cause of death not syphilis; his teeth had no trace of mercury, which was the treatment back then even in the South Pacific, where this scourge was called the Sailor's Gift. Gauguin died, instead, of a heart attack caused by a morphine overdose.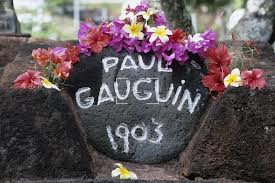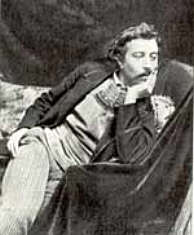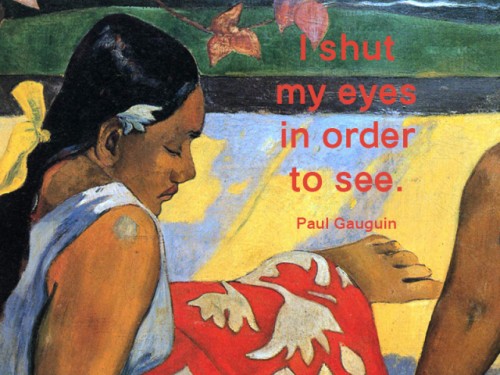 FOR AN AUTOMATIC ARTOPIA ALERT FOR EACH NEW INSTALLMENT PLEASE CONTACT perreault@aol.com
John Perreault is on Facebook, specializing in neo-modern, small-scale  residential architecture. Links here for John Perreault's website & John Perreault's art.
John Perreault videos: http://tinyurl.com/n6x848h