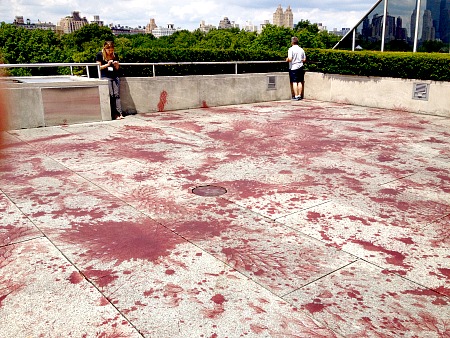 Important to see this summer is Imran Qureshi's  Met Roof Garden Commission: And How Many Rains Must Fall Before the Stains Are Washed Clean, Metropolitan Museum of Art, to Nov. 3, 2013.
In the MetMu press release, Qureshi is quoted as saying, "The dialogue between life and death is an important element in my work. Leaves and nature, for example, represent the idea of life. And the particular color of red that I have been using in recent years can look so real, like blood. The red reminds me of the situation today in my country, Pakistan, and in the world around us, where violence is almost a daily occurrence."
And, oh, yes, (also from the Met's Qureshi press release):
Sandwiches, snacks, dessert, and beverage service—including espresso, cappuccino, iced tea, soft drinks, wine, and beer—will be available at the Roof Garden Café daily from 10:00 a.m. until closing, as weather permits. A cocktail bar will also be open on the Roof Garden on Friday and Saturday evenings (5:30–8:00 p.m.)
Nothing like munching on a croissant and sipping a cappuccino while contemplating a roof decorated with a fluid that looks quite like dried blood, suggesting far too many massacres. Sometimes the effort (partially economic, partially crowd-pleasing) to pepper museums with facilities and amenities is a detriment to serious art-viewing, isn't it?
By the way, the title of this rooftop paintings is from a poem by the Urdu poet Faiz Ahmed Faiz (1911-1984).
If you search poetry on Google Trends you will find this interesting fact.  There's a higher number of Pakistani poetry searches than anywhere else in the world. Pakistan is the 100 on the Search Volume Index scale for poetry. Next highest? Philippines at 10. And the U.S.A. is a measly 8. What accounts for this Pakistani poetry obsession? Tradition? Sufi searches? Erotica? The forbidden Pashtun landay women's couplets sung woman to woman along the Afghan-Pakistan border?
"Qureshi's Miniature Paintings" also at the Met (to Feb. 2, 2014), are not as interesting as The Roof Garden Commission. There is nothing horribly wrong with an artist trying to reinvent a particular national tradition for whatever personal or social reasons, but whatever wit that accrues is usually not very deep. A traditionally garbed man holding an open umbrella over his head is hardly  a show-stopper. A man lifting weights in a neo-Moghul miniature is not my idea of wit.
But to emphasize my point: I would  not be much amused  either by a contemporary version of The Book of Hours showing people wearing  earphones.
And How Many Rains Must Fall Before the Stains Are Washed Clean (aka The Roof Garden Commission) relies upon incongruity too. The blood-colored acrylic paint on the Met's roof upon closer inspection contains sections that roughly replicate carpet-like floral designs. Here though we get a contrast between an overview with closer views; death and hope seem to battle it out, and there is something to that, something that resonates.
Also Qureshi is using or intentionally misusing a contemporary art trope: the emotionally neutral floorpiece  of minimalism. Here it has a strange relationship to the "oriental" carpet. The other incongruity is that this 8,000 square-foot floor-painting is on the roof of the Metropolitan Museum, repository of many stolen/saved treasures from around the world. In other words, the incongruities here are polysemic. The meanings are complex.
Although I did like Jeff Koons' balloon sculptures on the Met roof a few years ago, this is the best use of the Met's roof yet.
                                                                 *   *   *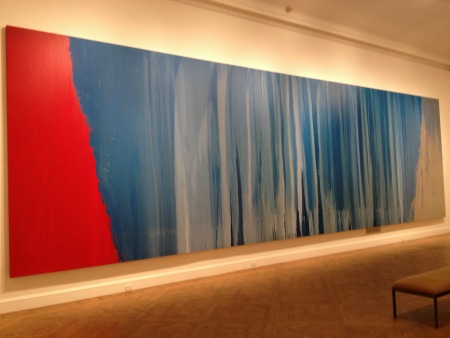 Pat Steir Triumphs
Am I the only one that seems to have noticed that Pat Steir has emerged as a major painter? After almost being killed off by Bad Painting, real painting has acquired a second life. After Pollock there was Grace Hartigan; and after Grace Hartigan there is Pat Steir. Steir's "Waterfalls" make so-called Second Generation AE and Greenbergian Color Field look like child's play. I am not kidding. Her "Waterfalls" engage a deeper metaphor than the staining of Helen Frankenthaler and Morris Louis. Steir's grand paintings are about paint as liquid.  They are water. Her majestic, 36 foot wide  Blue River (2005) is now on view  at the National Academy Museum, Fifth and 89th, to Sept. 8.
                                                       *   *   *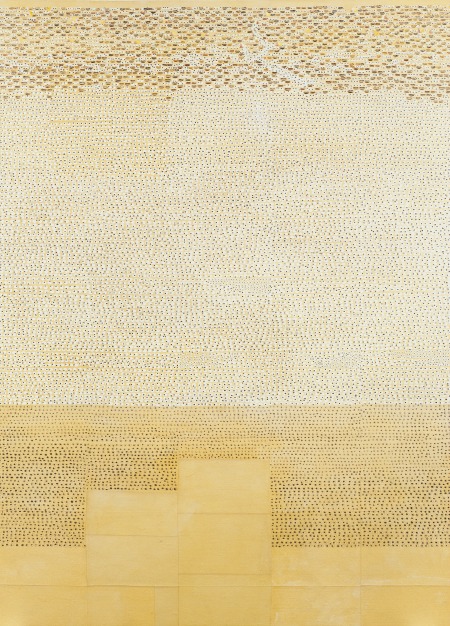 Ellen Gallagher Has Her Eyes on You
Perfectly  installed  in the impossible New Museum galleries, the Ellen Gallagher exhibition, called "Don't Axe Me"( to September 15) is also a kind of triumph. One floor focuses on Gallagher"s  "abstract" paintings made with overlays of notebook paper and sometimes hundreds of cut-outs of eyes; another floor is dedicated to more recent works inspired by (yes) sea worms. The Tate, in a simultaneous exhibition, favors her blunt collage works, which although much more politically overt, are to my eyes less interesting. Surely it can be said that Gallagher's attacks on insulting beauty-product ads pitched to African-Americans  underlie her paintings, but it is the effacement of these that is important and that yields some astounding artworks. Geometry will never be the same. The more recent and more expressionist "sea-worm" paintings are also quite good. In short, another summer winner.
John Perreault is on Facebook. Links for John Perreault website & John Perreault's art.