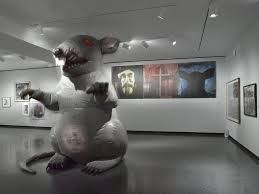 Art History Exposed: Ode to Joy       
The Bruce High Quality Foundation's "Ode to Joy" at the Brooklyn Museum, through September 22, is not only high quality, but droll. Smart Art returns. We are so tired of ego-tripping nonentities pretending to be artists. We are so tired of art fairs and art investments. So tired of curators sucking up to galleries and the foundations established in behalf of dead artists….Well, never mind. It's time we take a look at a Foundation dedicated to the memory of an artist who never existed.
We have followed the anonymous BHQF for awhile and are happy indeed with the new, tightly curated and well-installed compendium of  their projects. Insiders probably can already name  the five to eight rotating collaborators that make up The Bruce, but I can't, and I don't care. We are told they met as students at Cooper Union – when, not so long ago it was free and living up to its namesake's mandate — and that their favorite teacher was social-action conceptualist Hans Haacke. But they may have made this up.
I like their anonymity in the same way that I like the for-real anonymity of the Guerrilla Girls. We knew the artists that made up Art & Literature in Great Britain and those who made up General Idea in Canada and that did not make us admire them more. And ditto for Gilbert & George. It is the idea of anonymity as a critique of art-world mores that stuns and not the fact of it. I once saw some purported members of the BHQF on a DIA Foundation panel discussion; they were all wearing very dark sunglasses. Such disguises! Brooklyn hipsters! But were they really Bruces? Andy Warhol sometimes sent out a look-alike in his stead.
At the Brooklyn Museum (soon to be famous for adding a high- end restaurant to its income generating projects), a wall text, supplied one supposes by the talented curator Eugenie Tsai,  informs us that BHQF is inspired by Andy Warhol  and Joseph Beuys. It looks it.
Warhol's silk-screen method is used here for pictures of the World Trade Center – the fictional art student that the collective is named for was supposedly killed in 9/11 — but more effectively for Warholian portraits of the trophy wives of infamous finance criminals. These have the double virtue of also making fun of Andy at his worst when he proffered rich-lady portraits for hire.

Where The Beuys Are
Beuys was a beloved artist and teacher in Germany and sometimes presented his blackboard diagrams as artworks. His How To Explain Pictures to a Dead Hare, is a classic of performance art. If I were of the BHQF generation, Warhol and Beuys would be my choices to bounce  off of and to beat. Both were provocative innovators marching to a different tune; both produced what Beuys called "social sculpture," which is exactly what The Bruce is intending to do and, I think, is succeeding at. Ambiguity, your middle name is Bruce.
Now we may add to the ambiguity quotient by the news that the German magazine Der Spiegel thinks it has debunked St. Beuys. A letter Beuys wrote to the family of the soldier he was with when their plane was downed in World War II appears to tell a different story from what the artist made a key aspect of his biography. There were no peasants to the rescue who wrapped him in felt and fat. But even if that had been true,  why would you mention this in a semi-official letter to your dead buddy's  folks back home? The letter makes it appear that Beuys'  Nazi  dive-bomber mate was the hero. Nice guy Beuys.
Sorry, Der Spiegel (which is sort of the German Time Magazine), myth is always more true than the boring "truth." Whether or not he was wrapped in felt and fat actually happened, radio-operator Beuys needed that symbolic story for his own redemption. Der Spiegel cannot change that story, any more than we can change van Gogh's suicide into a story of stupid youths horsing around with a gun.
Beuys receives the major BHQF homage (or send-up?) through a foam-core classroom installation and a series of scribbled-on blackboards, replete with kitsch figurines on the chalk rails. In case you didn't know, there is such a thing as The Bruce High Quality Foundation University, which is a free, artist/student-run art school on Avenue A.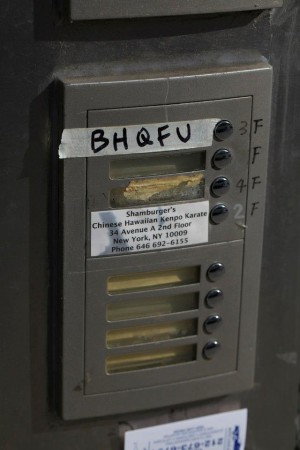 Andy Warhol, Inc.?
The influence of  Warhol may need some explaining too. We sometimes think of Andy Warhol, Inc. as a kind of collective, which included poet Gerard Malanga, filmmaker Paul Morrissey, and all the so-called Super-Stars, with input from Henry Geldzahler. Paint car wrecks, suggested star-curator Geldzahler. Paint money, said someone else. Paint camouflage. Have people pee on copper. Paint Rorschach blots. We could posit that all successful artists are in a sense the fronts for collective efforts, including that of their dealers, curators, favorite critics, publicists, and next of kin.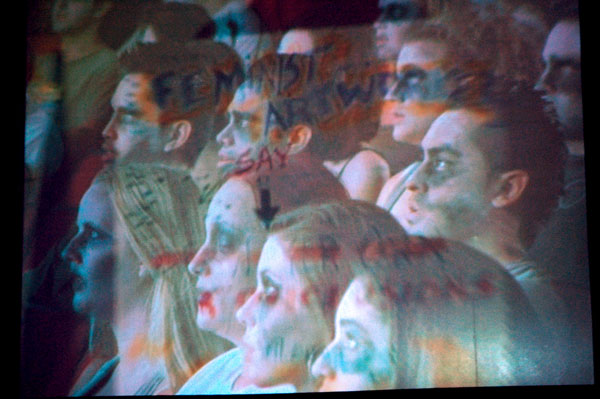 Why Go to the Brooklyn Museum This Summer?
Where else can you see a giant-rat inflatable, traditionally used as a pro-union protest? Where else can you see Picasso's Demoiselles d'Avignon reworked to show five men rather than five women in various stages of cubistic disarray. Where else can you see a pile of noses and penises? Where else can you see props and photos of the BHQF live reenactment  of Théodore Géricault's The Raft of the Medusa? Where else can you see hilarious and poignant Play-Doh version of Egyptian antiquities?
Art is completed by the viewer. Art is an open category. Art is whatever the art world accepts as art. Art is embodied meaning. Art is a waking dream. Art makes you see. Art makes you think. Making art, according to William Blake, is necessary for salvation. Art is….ambiguity squared.
And I like their films too. I praised their art world zombie movie, Isle of the Dead, when it debuted in an old army-camp movie theater on Governors Island. Now you can see Isle of the Dead at the BM and several other films, of which I particularly like Art History with Food, featuring a talking cheeseburger and a yammering can of olives racing through art history,  cogently illustrated.  And we like We Like America and America Likes Us, another reference to Joseph Beuys, whose only New York performance was called I Like America and America Likes Me. The Bruce film begins with film clips of Beuys being carried out of a jet into an ambulance and delivered at the Rene Block Gallery in SoHo (remember SoHo?) where our hero lived in a room-sized cage with a coyote for three days.  After the brief but historic Beuys clips, the BHQF film  takes off in an elegiac, mournful direction that is unbelievable stirring. You can see all three on Vimeo. Here are the links.
John Perreault is on Facebook and Twitter. Links for John Perreault website & John Perreault's art.