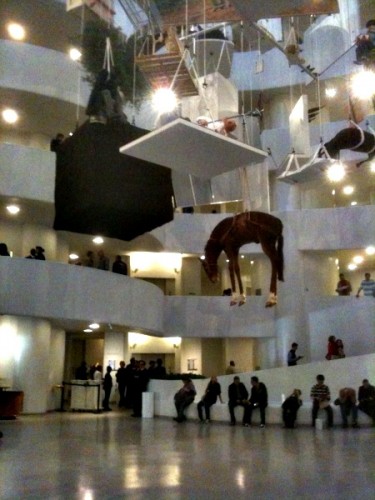 Surely we all agree that artists are the center of art, if not the art world. In order to get more artworks out of them, we try to be kind and as far as possible let them call the shots. High hopes are endemic. Nevertheless, sometimes gallerists, curators, and critics are more talented than the artists they serve. When an artist verges on megalomania, failure is likely. Even Picasso listened to gallerists, curators, and critics. Maybe not enough, but they had his ear. As did some poets.
Artists fail because curators and museums let them.
"Sherrie Levine: Mayhem" (at the Whitney to Jan. 29, 2012) and "Maurizio Cattelan: All" (at the Guggenheim to Jan. 22) do not have the finality of the Pompidou's  "Voids: A Retrospective," which in 2009 signaled the end of  20th-century art.
The Cattelan and Levine surveys mark an ending too, but with a whimper. The Pompidou's "Voids" had at least one great nothing: Yves Klein's empty gallery of 1958. The exhibitions at the Guggenheim and the Whitney – neither of them proper midcareer surveys – offer esteemed artists doing next to nothing, or a nothingness of no import, seemingly begging to be downgraded as minor.
Cattelan's first solo exhibition in 1989 was an empty gallery, so perhaps the now-empty bays of the Guggenheim refer to that. Critic Thomas Hess once said about certain abstract paintings: Empty center, empty head. But we can now say: Empty gallery….
And Levine's dull exercise is empty of emotions, too.
Could it be that the '80s and '90s are finally over?
If only some curator had made some hard decisions, then we would not be so disillusioned with the illusions both these artists once created.
From Linda Yablonsky's N.Y. Times report:
In the Cattelan catalog, Nancy Spector, the show's curator, admits that Cattelan's idea for the show was 'challenging.' The more you read, the more you get the idea that he drove everyone at the museum crazy.
From the Whitney web page about Levine's "Mayhem":
This exhibition, developed as a project by the artist, includes works ranging from well-known photographs, such as After Walker Evans: 1-22,  1981, to recent sculptures, such as Crystal Skull: 1-12, 2010. The exhibition, conceived by the artist as offering constellations of older and newer works, will provide juxtapositions that provoke new associations and responses.
Basically, what the artist wants is what the artist gets.
But artists — bless them — are sometimes their own worst curators. Rarely can they glean or cull. Or, as I told an art dealer when asked to choose some works of my own for a show: How can I choose? Could you choose which of your three little daughters you like best?
If left to their own devices time, art history or, even worse, the art market do their own randomized curating. Remember please that we are constantly coming upon overlooked artists or, contrariwise, surrounded by overrated ones. We all know artists who don't stand up to scrutiny. I need not remind you that the list of duds lingering from the '80s and '90s is sobering. I mean, times change and chutzpah is not eternal.
Nor is humor.
Yes, both artists under consideration here are jokesters, although neither will make you think of Mark Twain. Cattelan is not Steve Martin. Levine is not Joan Rivers.
In Artopia we prefer wit.
Cattelan Gives Up Making Art: Art World Applauds.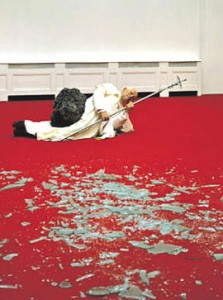 M aurizio Cattelan: The Ninth Hour,1999
Cattelan was once the prince of the one-liners. Who can forget his pope struck down by a meteor (The Ninth Hour) or his Hitler kneeling in prayer? Not me. Not just yet. And I like his face-down Pinocchio. But mainly because my novel THE is an updated version of that nasty tale or, as I like to warn all parents, a Pinocchio for adults. And Cattelan's biggest joke is that he has now given up making art — judging by "All," not a big decision.
But doesn't it remind you of someone? Maybe Marcel Duchamp?
Levine Quips That People Don't Get Her Humor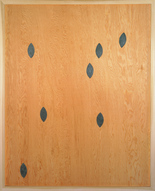 Sherrie Levine, Large Gold Knot: 1, 1987.
It is hard to get Levine's humor when she is surrounded by and protected by layers and layers of theory. The sales pitch buries the sly tricks. This, of course, is not her fault. But, really, it is kind of embarrassing to hear a spokesperson trying to explain Levine's "After Walker Evans" photo-cribs by saying that the artist works in many media but that art history is her main media. Hasn't our gallery lecturer heard of art-about-art, which has existed forever? Or at least since Manet paid homage to Goya's Naked Maja.
In grammar school it was a sin to copy. But we are no longer in elementary or high school, so Levine's joke plays out weirdly. Her art is not as uncanny as she intends. It's far too canny. It is really about the presentation.  If you can't afford a Brancusi, buy a Levine.
Yes, it means something different when a woman "appropriates" a work by a male artist than if a man does. Yes, yes, but … what exactly does it mean? How is Levine's urinal after Duchamp different from Mike Bidlo's? Answer: it costs more.
I want to see Levine copy the sainted but dreadful Georgia O'Keeffe. She would be incapable of copying Lee Krasner or Elaine de Kooning, or too smart to bother. But I bet she could copy Louise Bourgeois. Or Louise Nevelson.
If you get my joke here, then you get Levine. Her art is penis envy. Which is I guess all right since male artists often suffer from Venus envy — male artists like Courbet, whose in-your-face vagina Levine copied over and over again from a postcard, of course. This is the image forbidden by Facebook, whether of the painting or the postcard or the postcard copied by Levine. In Levine's hands, Courbet's vagina might be read as a kind of putdown of women and not a celebration of womanhood, male lust, or nature. Wrong, wrong. His 1866 painting, after all, was titled The Origin of the World.
Then theory rears its academic head. Although commissioned for a private collection of erotic art, Origin  ended up on the auction block and was purchased in 1955 by every academic's favorite psychoanalyst, Jacques Lucan, in 1955 for 1.5 million francs.
Change of material must mean something too; the fake Brancusi sculptures made of glass, for instance, are nonsensically exhibited on two grand pianos. Does this degrade music or reduce Brancusi to a decorative whatnot sitting on a piano lid?
And making a 3-D version of something originally in two dimensions — e.g., the sections of bachelor parts grabbed from The Bride Stripped Bare by Bachelors, Even. Or the four 3-D versions of Man Ray's paint-on-canvas pool table (La Fortune, 1938) must signify something, too. But whatever it is, it is not profound.
To further complicate my argument, in an interview Levine admits that the pool-table multiples were the idea of her dealer at the time, Mary Boone. Maybe there are some gallerists artists should not  listen to.
In the same interview, Levine unexpectedly maintained she wants her works to have aura. But, offers the interviewer, Walter Benjamin claimed that replicated works (like photographs) could not have aura. She laughs. I agree with her laugh. But the joke's on her: Her works do not have aura. The real question then becomes why, when some other appropriated art does. As I have mentioned elsewhere, even tin saints and tintypes can have an aura, Uncle Benjamin notwithstanding.
And the Bad News Is …
In spite of the photo-op provided by Cattelan's All  — cameras allowed! — and the revelation (ha, ha) that even the works we liked depend on context and were floor-bound for a purpose, we would have preferred a best-of show, not this spectacular hanging mess. If Cattelan really stops making art, the huge motionless mobile of almost his entire oeuvre certainly offers the spectacle of an artist going out with a bang. Most of it, alas, is junk. And, just think, he short-circuited curatorial selectivity. Or was he merely afraid his pope and his Hitler, situated on Frank Lloyd Wright's slopping ramp, would have looked like they were sliding down to the lobby?
Cattelan's eccentric chandelier proves that the main purpose of art is to provide backdrops for snapshots. How cool it is to photograph friends smiling artificially in front of big-time art. Smile on, smile off. And,  unintentionally, images of the art are spread around the globe and preserved for eternity in The Cloud.
Although its cold-blooded deployment of art products denies its title, Levine's "Mayhem" is more complicated than Cattelan's floating mashup. Like Cattelan (who is in many ways her opposite), Levine has subverted the midcareer survey so many artist dread, but she has done so at the expense of her chops. Her orchids and botanicals are dreadful. These simply were not worth copying. Her skulls likewise. Even her Ignatz and Krazy Kat are laffable.
I would have stripped the whole thing down to the Walker Evans rephotographs  and the Duchamp urinal, plus a single version of the Man Ray pool table. Multiple pool tables and multiple skulls make only a weak comment on Minimalism and serial art. Like Hirst and Koons, Levine seems to be exploiting the notion that expensive materials are the proof of art. Paintings on mahogany and cherry wood are a waste of wood. Everything else, including the plywood-knot paintings, is filler. Each idea would have been better served by one choice example, not a product line. They seem to be here merely to prove at last that Levine's  collectors made the right financial decisions. One of each was always the way to go.
Visitors point and shoot at the Guggenheim. At the Whitney, the customers simply race right through. I wish I had a stopwatch. Been there, seen that, and on to theNewMuseum, where currently you can slide down a shoot and ride a merry-go-round. In comparison, Cattelan and Levine are as serious as Kandinsky and Mondrian. The silliness war has finally been won.
************************************************************************************************
To sample John Perreault's  sand paintings you may preview  online the Kauai Museum catalog for Mark Van Wagner and John Perreault: Drawing from Sand, with a short essay by art critic Peter Frank.  Click  Here.  The exhibition runs from Nov. 12 to Jan. 20 in Lihue, HI. then travels to the Lincoln Gallery, Naropa University, Boulder, CO., opening March 16.
For easy access to 200 previous Artopia essays by topics, go to top bar, click on ABOUT, click on ARCHIVE, then scroll down to listing by Headlines.
NEVER MISS AN ARTOPIA ESSAY AGAIN! FOR AN AUTOMATIC ARTOPIA ALERT contact perreault@aol.com
John Perreault is on Facebook. You can also follow John Perreault on Twitter: johnperreault
For Art Cops cartoons and other videos on Youtube: John Perreault Channel.  Main John Perreault  website. More of John Perreault's art.