ARTOPIAnews
LENIN DESECRATED IN BULGARIA. AND IN NYC GEORGE WASHINGTON AND THE ASTOR PLACE CUBE. WHO'S TO BLAME?
Is the public so disgusted by outdoor sculpture that even temporary defacement is cheered? Who's to blame? Soon not even works by Calder or Oldenburg will be safe from mockery.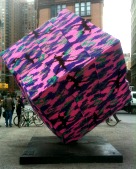 Olek, the Polish-born crochet artist, made a cheerful one-day coverlet for Tony Rosenthal's Alamo, that point-balanced black cube at Astor Place that each new generation of Cooper Union art students discovers can be rotated with a little bit of muscle. The cube itself is fussy. The rotation adds a populist note to Astor Place. But not as populist as Olek's temporary improvement. LINK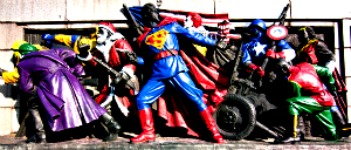 In Sofia, Bulgaria, citizens awakened to see a Soviet-era monument transformed by paint into a paean to comic book heroes. The base of this ugly piece of work was scrawled with the phrase "in step with the times." Was the artist provocateur making fun of Socialist Realism or of Western Pop Culture? Or indicating the superficiality, the mythological basis, and thus the equivalency of both? LINK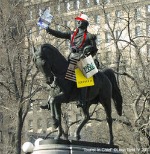 For "Art in Odd places," a 10 -day art extravaganza (Oct.1 -10) along 14th Street in NYC, Leon Reid IV somehow gained permission to equip a bronze statue of George Washington with a subway map and shopping bags for one day, re-Christening the Union Square statue Tourist-in-Chief. Previously this statue has been invisible, so I am not sure this was a service to the public or not. LINK. Story lead: ArtNet.com
______________________________________________________________________
For easy access to 200 previous Artopia essays by topics, go to top bar, click on ABOUT, click on ARCHIVE, then scroll down to listing by Headlines.
NEVER MISS AN ARTOPIA ESSAY AGAIN! FOR AN AUTOMATIC ARTOPIA ALERT contact perreault@aol.com
John Perreault is on Facebook. You can also follow John Perreault on Twitter: johnperreault
For Art Cops cartoons and other videos on Youtube: John Perreault Channel. Main John Perreault  website.  John Perreault's art.