ARTOPIAnews
GAG SHOP MAD AVE VENUE SHUTTERED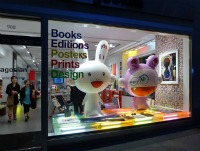 NOT the gallery, for all you fans of schadenfreude; only the books, trinkets, and art souvenir outlet. Can the landlords now command a higher rent? LINK. Story and image, thanks to artnet.com
NIEMEYER MUSEUM CURTAINS AFTER 62 DAYS!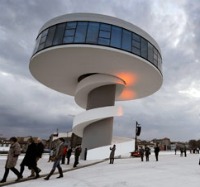 103-year old master-architect Oscar Niemeyer, who designed Brasilia, must be in shock; his new museum in Spain  just opened….. and then, after 62 days, closed. To expensive to run! What will happen to it? More proof that the Bilbao Effect is a canard. Can we change the meaning of the phrase from: "build an iconic museum and you will bring in all the tourists and put your little city on the map" to "it only happened with a Gehry in Bilbao and will never happen again." The Bilbao Effect also  now means false hope, or lightning never strikes twice. Niemeyer's museum looks great; other new museums  strain to be photogenic, iconic, mind-boggling and just look ugly. And, yes, are impossible places to show art. I don't have to name the chief villains, you know who you are. LINK. Courtesy The Guardian.
DALLAS WOMEN'S MUSEUM KAPUT….ART AND ARTIFACTS RETURNED TO DONORS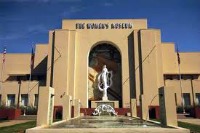 The Women's Museum in Dallas to close after 11 years. High upkeep; not enough revenue…..Collection to be returned to donors….. "There were topical issues not usually found in a museum venue, such as 'Family Gathering: A Look into the World of Eating Disorders,' 2007; 'Apron Chronicles: A Patchwork of American Recollections,' 2006; and 'The Purse & the Person: A Century of Women's Purses,' 2009." LINK. Story courtesy Huffington Post.
AND DOESN'T LOOK GOOD….
WHERE HAVE ALL THE CHILDREN GONE?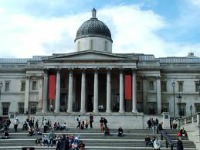 National Gallery in London had 100,000 fewer children visit each of the past two years. School tours are a thing of the past, as are art assignments, art classes. Cut-backs? To much focus on what will later be marketable skills? Art is  no longer important. Britain needs computer drones, not well-rounded citizens. Is the same thing happening in the U.S.?  LINK courtesy AAM Newsletter
BUT THE GOOD NEWS IS…….
LACMA REDEEMED!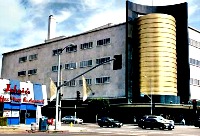 A movie museum will open in 3 – 5 years in the May Co. building in L.A., as a partnership between LACMA, owner of this moderne landmark, and the Academy of Motion Picture Arts and Sciences.  We have our fingers crossed. Movies are history. So  LACMA has gone from eliminating its film department, to starting a new one  headed by Artopia filmcrit favorite, Elvis Mitchell, to partnering a movie museum. Turns on a dime, that LACMA.   Moral: Shake it up, Baby. LINK.
_______________________________________________________________
For easy access to 200 previous Artopia essays by topics, go to top bar, click on ABOUT, click on ARCHIVE, then scroll down to listing by Headlines.
NEVER MISS AN ARTOPIA ESSAY AGAIN! FOR AN AUTOMATIC ARTOPIA ALERT contact perreault@aol.com
John Perreault is on Facebook. You can also follow John Perreault on Twitter: johnperreault
For Art Cops cartoons and other videos on Youtube: John Perreault Channel. Main     John Perreault  website.  John Perreault's art.