Gustav Metzger: Historic Photograph No.1: Liquidation of the Warsaw Ghetto, April 19-28, 1943, 1995/2009/2011
Metzger Rescued from the Footnotes of Art History
Gustav Metzger's first U.S. exhibition ever, the thought-provoking "Historic Photographs," is now at the New Museum (235 Bowery, NYC, to July 3, 2011). All 12 sculptures, forming a set originally made in 1995-96, are exhibited together for the first time.
Ironically, until now we have known these sculptures — which are "about" photography as well as about the horrific events represented – only through photographs. At the New Mu which I may now be ready to call the New Muse, the two images that make up Terror and Oppression are fully visible, but so large and so intentionally oddly placed that it is difficult to take them in: marching Nazi soldiers, and orderly rows of Hungarian Jews undergoing selection on the Auschwitz Ramp.
Photography needs to be made strange or we do not see it. It is our wallpaper. Gigantic blowups in a narrow space work well here, since the events portrayed are themselves too big to grasp. We want to pull away from the insanity, but here we can't.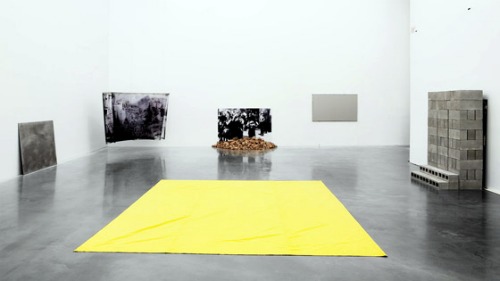 Other images in this succinct exhibition require far different methods of defamiliarization. Hitler Youth is welded between two steel plates. Hitler Addressing the Reichstag After the Fall of France is sandwiched between Formica and steel. Both have to be imagined. Liquidation of the Warsaw Ghetto is partially blocked by rubble. The photo blow-up in Kill the Cars is accompanied by a real automobile that imitates the look of the car being smashed in the picture behind it.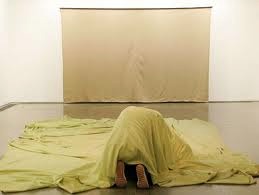 If you weren't at the New Museum last Wednesday, you missed the spectacle of yours truly crawling under a yellow tarp that had been laid over a giant photo blow-up of Jews in Vienna being forced to scrub the pavement on their hands and knees: To Crawl Into – Anschluss, Vienna, March 1938. The condition of viewing the huge news photo mimics the positions of those in the photograph. Yes, one of my silver Crocs was caught in the tarp and I had to be rescued by an attendant. Later, however, I made my way behind the curtain shielding an image of the Temple Mount Massacre without mishap.

Do the various photo-obstructions, framing, or distancing devices represent memory? Forgetfulness? False-consciousness? Censorship imposed by ever-increasing images of horror? The numbness of overexposure?

All of the above. And more.

You should also know there's another version of To Walk Into – Massacre on the Mount, Jerusalem in the storefront offices of e-flux (41 Essex St., to July 30.) Shown uncovered by a curtain, here the obstruction that makes you "see" the image is purely the placement in a narrow space complete with worker on duty at his desk, surrounded by shelves, files and other office accoutrements.

For further but important dislocation, do not leave without going into the cellar exhibition space and participating in Metzger's MASS MEDIA: Today and Yesterday (2011). A pile of newspapers is in the center of the room. From newspapers on a work table you may cut out news items, photos or headlines according to the categories "credit crunch," "extinction," or "the way we live now," and then affix your choice with magnets to a billboard running along one wall.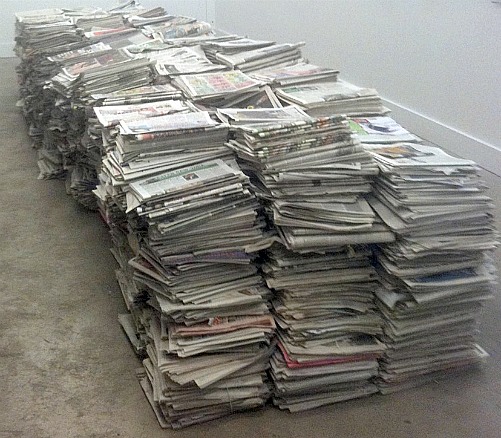 Can't see the connection between the "Historic Photographs" sculptures and MASS MEDIA. The first uses blow-ups of newspaper photos; the second uses actual newspapers. Read on. Metzger is a complicated artist.
Things You Need to Know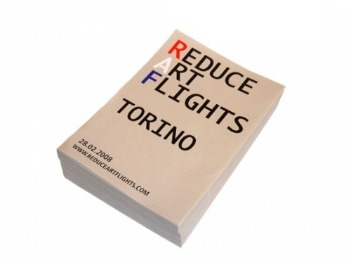 The 85-year-old Metzger does not offer his work for sale through art galleries. His last gallery exhibition was "Paintings and Drawings 1945-1960" at the Temple Gallery in London in 1960.
Nor does this London-based artist ship his art. He believes that the air transport of art and of what we in Artopia call artlings ("star-lings" with dollar signs in their eyes) is a waste of nonrenewable fuel. Thus he has founded Reduce Air Flights (RAF). He doesn't think it is proper for any of us to fly to this biennial or that biennial. Or to transport art by jet. This is his latest cause. All of the works at the New Museum were made at a distance through his specifications and instructions and will be destroyed when the show closes. RAF, he says, is also an objection to "the massive commercial growth of the art industry."
Doesn't seem like RAF will cause much of a stir because a recent 848-person poll conducted by 60 Minutes/Vanity Fair reveals that if given a choice, 61% of respondents said it would be easier to do without air travel than give up the internet, compared to the 31% who would sacrifice internet for air travel. But like many artists, Metzger thinks symbolically and acts symbolically. He thinks in four-dimensions; he thinks in contradictions.
Why would any artist be against air travel? Aren't we supposed to be global? And yet this instigator of Auto-Destructive and Auto-Creative Art, light shows, newspaper wall-installations and all things ephemeral at the age of 85 is a hero to some younger artists – a few of whom are jetsetters themselves or would like to be — because of his commitment to social action and, yes, because of his participatory and time-bound art.
No doubt about it. Metzger is an original.
Paintings that destroy themselves? Splashing hydrochloric acid on sheets of plastic, the results last less than 20 minutes. Here's a film of him making one of his Auto-Destructive paintings in London in 1965:
Psychedelia? He also invented what would become the standard decor for rock concerts: Auto-Creative Liquid Crystal projections (1965) became the decor in London in 1967 for the Giant Freak-Out All Night Rave featuring Cream, The Who and The Move.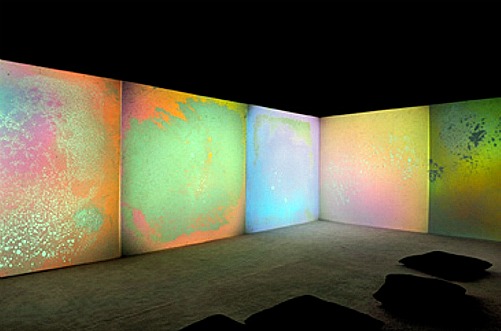 Metzger: Liquid Crystal Installation,1965 2005. Tate, Liverpool.
Espoused kinetic and computer art.
Was a pioneer of ecological art.
1970…. although not invited Gustav Metzger shows Mobile at the opening of the exhibition Kinetics at the Hayward Gallery. It is an automobile with an (initially transparent) plastic box mounted on its roof into which its own exhaust gasses pass. On September 4, the car is driven to the area around Waterloo Bridge and is parked there. On the following day it is parked in the upper class area around Bond Street…..

— "Chronology," Gustav Metzger: History History
Furthermore, Metzger is the most important theorist and proponent of Destruction Art, although as far as I can tell, there were no converts to his own Auto-Destructive/Creative Art specifications. Hmm … unless you count Peter Townshend of The Who, who in interviews gave Metzger full credit for his own guitar-smashing turn at rock concerts.
I was dismayed to find that British Punk-Neoist Stewart Home, as far back as 1988, called Metzger "a one-person art movement," thus beating me to the punch. I was going to use it in my headline. No matter. When no one signed up for Metzger's Art Strike (Years Without Art 1977-1980), he is reported to have concluded that most artists were "disgusting bastards." Could I use that phrase in my headline? Gustav Metzger: Not A Disgusting Bastard!
Let's face it, who could follow through with the implications of this rant from his 1961 Fourth Auto-Destruction Art Manifesto:
Everything everything everything everything

A world on edge of destruction. Objects become precious, matter becomes subject to feeling of reverence. This is an art form for artists. The mass of people appreciate modern art 50 years after its practice. This art form will not be subject to this time lag since it is unlikely that in 50 years time there will be a world in which to practice it.
Metzger's "destruction" did not destroy destruction. Bad stuff still keeps happening. Wars, wars, wars. Genocides. Ecological disasters. If being alive is a test, a school for increased consciousness, when do we graduate?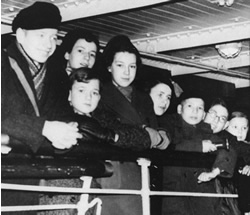 First Jewish children rescued from Germany by the Kindertransport 1938.
Kindertransport Kid
Born into an Orthodox Jewish family in Nuremberg, Germany, in 1939 at the age of eight Metzger was rescued, along with his brother, from certain Nazi torture and death, by the British-sponsored Kindertransport. It was, it turned out, a narrow escape. At some point, he discovered his parents and most of his relatives had been exterminated. That, obviously, is something you do not forget.
In England, he received training in woodworking and later was employed as a gardener. He was a junk dealer. He studied art. And then, enflamed by the postwar nuclear threat, he tried to invent the un-making of art — or what he called Auto-Destruction Art.
In his Fourth Manifesto (1962) he called for …
An art of extreme sensibility and consciousness.

We take art out of art galleries and museums.

The artist must destroy art galleries. Capitalist institutions. Boxes of deceit.

Events, happening, Artists cannot compete with reality. The increasing quantity of events, happenings

Artist cannot integrate within himself all the experiences of the present. He cannot render it in painting and sculpture …

The artist's entire visual field becomes the work of art.

It is a question of a new artistic sensibility. The artist does not want his work to be in the possession of stinking people. He does not want to be indirectly polluted through his work being stared at by people he detests …
On the other hand, this list from his 1960 manifesto is decidedly inclusive and exhilaratingly, alphabetically inclusive:
Materials and techniques used in creating auto-destructive art include:

Acid, Adhesives, Ballistics, Canvas, Casting, Clay, Combustion, Compression, Concrete, Corrosion, Cybernetics, Drop, Elasticity, Electricity, Electrolysis, Electronics, Explosives, Feed-back, Glass, Heat, Human Energy, Ice, Jet, Light Load, Mass-production, Metal, Motion, Motion Picture, Natural Forces, Nuclear energy, Paint, Paper, Photography, Plaster, Plastics, Pressure, Radiation, Sand, Solar Energy, Sound, Steam, Stress, Terracotta, Vibration, Water, Welding, Wire, Wood.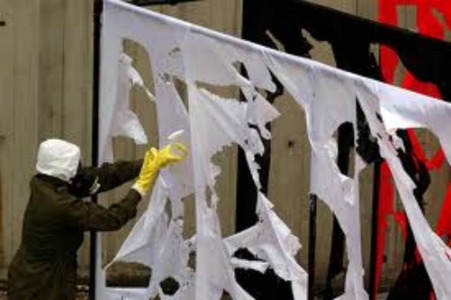 Metzger: Untitled, 1961. Hydrochloric acid on three layers of
plastic. 20 minutes.
Metzger Rediscovered!
So far Metzger has had two retrospectives: one at the Serpentine Gallery, London, in 2009 and before that at the Generali Foundation in Vienna in 2005. The catalog for the latter is essential for all Metzgerphiles, offering a detailed chronology and reprints of his manifestos and other writings. Not too long ago I found it for sale on the remainder table at the St. Mark's Bookshop in the East Village.
Bet it is no longer remaindered anywhere; once-expensive hardbound copies have long since been scooped up by punks and anarchists of every stripe.
Nowadays in interviews Metzger appears a bit wizened and excruciatingly benign. Grasping his art is another matter. What unifies the sweep of his interests? Where does his art fit? And if you read the manifestos all at once, the bottom falls out. It is as if in 1960 he arrived from another planet. No more preconceptions about art. No more lies.
For a long time, however, Metzger's art was hidden under the Destruction Art umbrella, which included the Vienna Action Group, some parts of Fluxus, some Happenings (where it lurked rather than was subsumed). He did indeed conceptualize and organize the legendary Destruction in Art Symposium held in London in 1966. Some participants in the DIAS were: Jean Tinguely, George Macunias, John Latham, Hermann Nitsch, Ralph Ortiz, Al Hansen, Wolf Vostell, Yoko Ono. Aside from Tinguely's frantically kinetic machines, destruction artists did not exactly produce immediately saleable stuff, which was partially the point. One can proclaim, however, that Latham's masticated copy of Clement Greenberg's Art and Culture is finally justly celebrated, as is Yoko Ono's scary but classic Cut performance piece. This is the best and purest video of Cut I have found:
History Is Slippery
Just when you thought art was safe from politics, Metzger has reemerged front and center. No longer a secret favorite of only avant-garde specialists, the artist and his vision will have to be reckoned with. Not only was he an early antinuke activist and what was once called a peacenik of the worst sort (he actually earned jail time), he was quite early on aware of the ecology crisis and didn't keep quiet about it, as already indicated. His 1970 effort to make auto emissions visible – see above — has grown to multi-auto installations. 100 cars were used for Mobbile at the 2007 Sharjah Biennial in the United Arab Emirates.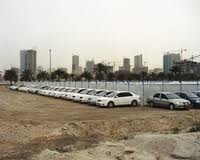 We hunger for art heroes. We are so desperate we will adjust to whatever ambiguities come with the package. Having had our own struggles, we do not denigrate the need to make a living. Not everyone is born wealthy. Or marries money, although there are several ways to do that. Teaching is another solution, but there are more worthy artists than there are teaching jobs, and teaching can dilute or even destroy one's creativity.
But when making a living is transformed into making a killing, we must question and question again. Yes, art is an investment — an investment in the soul and in the future of humanity. Metzger, through his community work and Big Cause activism — and because of the deep subject matter of his art — has been waving that tattered flag for over half a century. And, dear Artopians, it still must be waved.
There's a catch-22. Antimarket art is difficult to access. Can art exist outside the market-driven venues of auction houses, galleries, museums, magazines, art history tomes? Where's the profit? If your Antimarket art is suddenly embraced, you have failed. Unless, unless. Unless your art functions metaphorically as a double agent.
Of course, Destruction Art in all its forms is a no-no. It's … too destructive. Even in Artopia we like to accentuate the positive. There's already enough doom in every room. Does Metzger's homeopathy work? Will small doses of destruction cure us of the disease?
Sometimes, however, the will to completion takes the upper hand, current concerns seek precedence, and/or the coverup needs a new paint job. Thus may great art sneak in, under the tent flaps of the circus and past the guardians of the art prison, perhaps to confront its own destruction as it too turns into dead matter, expensive souvenirs, investment opportunities, images with price tags, pedigrees, and wall labels.
The current interest in participatory art, performance and reperformance, and even in what is called Relational Aesthetics has opened the field to an appreciation of Metzger's previously marginalized art. There is a swell paradox here. The precedent or the antecedent has become the succedent.
To conclude on a happy note, I will end with the text for the handout for Metzger's 1970 talk entitled "The Artist in Technological Art and Social Responsibility" at the Slade School, London:
Do you Eat?

Where does the money come from?

(a) Private funds

(b) State funds

c) Sale of work

(d) Through being employed.

Does it matter where your money comes from?

Do you feel responsible towards society?

(a) Are you doing anything about it now?

If so, what is it that you are doing?

(b) Do you plan to affect society at some time in the future?

If so, will it be in the field of the arts?
NEVER MISS AN ARTOPIA ESSAY AGAIN!
FOR AN AUTOMATIC ARTOPIA ALERT E-MAIL perreault@aol.com
John Perreault is on Facebook.
You can also follow John Perreault on Twitter: johnperreault

For Art Cops cartoons and other videos:
YouTube: John Perreault .