Talking About Relational Aesthetics by John Perreault 2011
What Is Relational Aesthetics?
Formulated by French curator Nicolas Bourriaud to explain the work of his favored artists, Relational Aesthetics is difficult to pin down. Maybe it's like jazz. When Louis Armstrong was asked what jazz was, he answered, "If you have to ask, you'll never know." But Armstrong was not a French intellectual steeped, stewed or pickled in "theory."
In 1996, Bourriaud encapsuled his flight of fancy as:
"…a set of artistic practices which take as their theoretical and practical point of departure the whole of human relations and their social context, rather than an independent and private space."
What?
I would say instead that Relational Art consists of convivial, socializing, interactive, non-object, artist-audience collaborations. Sort of.
No blood. And if there's meat, it's cooked.
Bourriaud offers some insights in his short collection of essays called Relational Aesthetics: (1.) Paired objects are stand-ins for gay relationships in the work of Félix González-Torres. (2.) Unlike the other arts, visual art allows viewer conversations during perception. Never mind that Elizabethan theater had vocal audiences, as did burlesque and kiddie movie matinees. Nevertheless, you may want to read his essays to feel out the warp of contemporary art-discourse. We ourselves, as you may have noted, are not opposed to elliptical exposition, but if you want a bigger dose, access a section from Bourriaud's book here.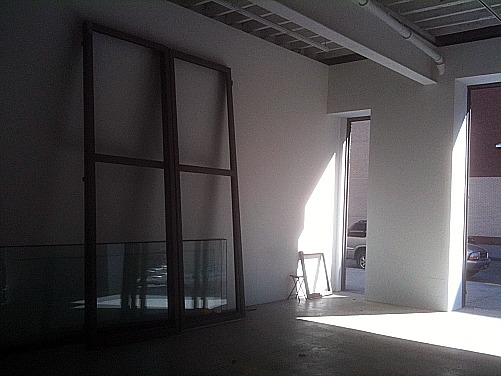 Rirkrit Tiravaija: Fear Eats The Soul. (detail: gallery alteration) photo: John Perreault.
Not the Death of Art, but the Death of the Artist
Critic Hal Foster warned in the mid-1990s that "the institution may overshadow the work that it otherwise highlights: it becomes the spectacle, it collects the cultural capital, and the director-curator becomes the star." Was he predicting Relational Aesthetics?
Well, 15 years later, Hal, it hasn't really happened — has it? And besides, director-curators have always had a profile of sorts, if not exactly stardom on the level of Andy Warhol. But, like most artists, they fade.
Wasn't Henry Geldzahler a star? What about art dealers? Wasn't Leo Castelli more famous than some of his artists? In the '60s, a young, very, very rich collector in Miami Beach once announced to me that Leo Castelli was her god. Art dealers would kill for customers like that.
But to the quick. Whether he wants to be or not, Rirkrit Tiravanija is a star; curator Nicholas Bourriaud, who formulated Relational Aesthetics, is not.
Eat This Art
A few weeks ago, as I was finishing my delicious bowl of coconut-chicken soup at Tiravanija's exhibition ("Fear Eats the Soul" at Gavin Brown's enterprise, 620 Greenwich St., at Leroy, to April 16) the artist himself made an appearance in the salon/lunchroom part of the exhibition.
I include the cross-street of the address, because you should know that this venue is definitely outside Chelsea. Yes, there is art outside of Chelsea, even though you might have to take a cab or walk 20 blocks crosstown through quaint Greenwich Village nearly to the Hudson.
Here's a soup I am sorry I missed:
MENU – Thursday March 17

Tempermental (sic) Pumpkin Soup

Pumpkins (roasted and pureed)

Onions

Vegetable Stock

Garlic

Coconut milk

Chipotle peppers (in adobe sauce)

Curry powder (Indian)

Cinnamon

Sea salt

Honey

Mint (fresh)

In a big stockpot saute onions till caramelized

Add curry powder

Blend chipotle peppers and garlic, add to onion mixture

Add vegetable stock, bring to a boil

Add coconut milk

Add pureed pumpkin and cinnamon

Season with salt and a bit of honey to taste

Reduce heat and let soup simmer till flavors are well integrated

Garnish with fresh chopped mint (optional)
Click here for other soups served and a short history of soup.
The Tiravanija hangout, replete with neo-Expressionist paintings by the uncredited Dutch artist who originally made the space as his own salon, has been transferred from Amsterdam. Tiravanija in the past has done similar transplants — once his own East Village apartment.
Even midweek his funky cafeteria was packed with arty, chatty soup-slurpers, leaving the stripped-down, ripped-open showrooms next door bare and beautiful. He has also done architectural strip-downs before. Here, window frames are artfully leaning here and there against the walls, and the space is wide open, as if to remember its garage origin. The word FEAR takes up one long wall. Yes, "Fear Eats the Soul" refers to the Fassbinder film. And in the midst of it all is a locked, free-standing cubicle replicating Tiravanija's first show with Gavin Brown: chromed versions of various Warhol sculpture, described in the press release as follows:
In 1994, Tiravanija made/curated a two-person show with his other half, Andy Warhol. It was a hybrid retrospective of sorts for each artist. Tiravanija created a binary setup of three pairs of work, with one work by each artist in each pair: A Mao and a stack of beer bottles; a Brillo box and a wok; a bed and a pile of books and movies. Each pair created a metaphysical and cultural bridge across time and space from one world to another. Each side looking at the other in the mirror and being disgusted at themselves. One side surface and mediated, the other dirty and touched, but both steeped in melancholia and necrophilia.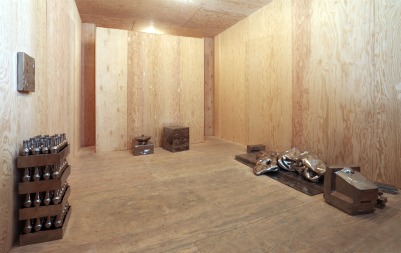 Who would have guessed the artist would soon cook up a storm?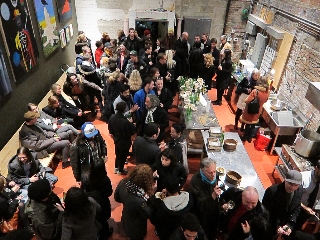 Tiravanija: Fear Eats The Soul , opening reception (in the soup kitchen).
And there's another free-standing cubicle where you can buy t-shirts ($20) with various "mottos" stenciled on them, to order if need be.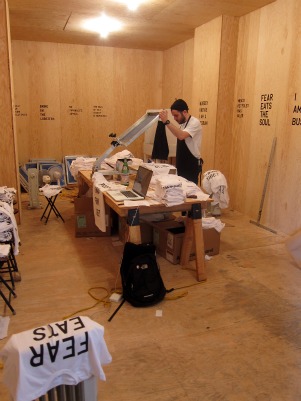 My shirt was printed by a young man who kept saying he would have to close for awhile because he was starving. I had FEAR EATS THE SOUL made up for my Jeff because he liked the movie so much and often wears the Empire (State Building) t-shirt I brought him from the Andy Warhol Museum in Pittsburgh.
Artopia aims to be of service. You can order the T-shirts online. And while you are at it, read a history of t-shirts.
After the charming schoolgirls with pencils and pads were through interviewing Tiravanija, I introduced myself. I had met him in '88, when he was collaborating with artist Bob Roberts on an exhibition at the New York Experimental Glass Workshop. I asked him if he still had his apartment a block from mine on East 7th Street. He did. But, of course, I know he also works in Berlin and is an art nomad like many artists now: Japan, Minneapolis, wherever. He is a natural post-national. He is Thai, but was born in Buenos Aires, and because his father was a diplomat, he lived in many places as a child.
"I hope you won't be upset," I said, "but I have to ask you how it feels to be identified all the time as the Relational Aesthetics poster boy."
"Naked," he answered.
Tiravanija's food art is now part of the international art vocabulary. Although he has done outdoor movie projections, videos, room alterations and realist drawings of newspaper photos of political demonstrations (seen at the Drawing Center not too long ago), he is still best known for his temporary kitchens in which food is cooked and offered to visitors. When you listen to him speak, you might get the feeling that Bourriaud lifted all of his ideas from him. Unlike Bourriaud, however, Tiravanija is a utopian. Read what he recently said about his project at the Walker Art Center in Minneapolis, and then take a look at the video below. The interview takes awhile to get going, but stick with it.
The situation is not about looking at art. It is about being in the space, participating to an activity. The nature of the visit has shifted to emphasize on the gallery as a space for social interaction. The transfer of such activities as cooking, eating or sleeping into the realm of the exhibition space put visitors into very intimate if unexpected contact; the displacement creates an acute awareness of the notion of public and private, the installations function like scientific experiments: the displacement becomes a tool and exposes the way scientific thought processes are constructed. The visitor becomes a participant in that experiment.'
The Short List

Bourriaud's Relational Art candidates are mostly artists he has dealt with as a curator, first at CAPC Bordeaux in his 1996 groundbreaking show "Traffic," then as co-director of Palais de Tokyo, Paris.

Dominique Gonzalez-Foerister — who last year showed dioramas with old books dumped into them at the abandoned quarters of the New-York Historical Society under the aegis of the Museum of Hispanic Art, sponsored by the Dia Foundation. She designed a Balenciaga shop in L.A., too.

Douglas Gordon — famous, and rightly so, for his 24-Hour Psycho (Hitchcock's film slowed down so it takes a full day and night to see the whole thing).

Félix González-Torres — neo-Minimal, gay, brilliant and, alas, dead. Piles of wrapped candy, yours for the taking.

Rirkrit Tiravanija — Mr. Relational Aesthetics, and with good reason.

Jorge Pardo — recycles midcentury design to no account that I can see. Ruined the floors of the lobby of the old Dia building with "colorful" tile-work.

Pierre Huyghe — can't get a handle on him yet.

Vanessa Beecroft – masses of naked women.

Liam Gillick — like his neo-Judd sculptures, but…

Maurizio Cattelan, the Italian comedian. Can we ever forget his sculpture of Pope John Paul II struck down by a meteorite?

Later additions: Gabriel Orozco — a few oranges and a Volkswagen joke at MoMA. But Andrea Zittel with her usable sculptures is less of a problem.

* * *

Although at the time Bourriaud claimed that Relational Art was the art of the '90s, — which continues to inspire the phrase "It's so '90s!" – curator Nancy Spector's "theanyspacewhatever" show – yes, it was really called that — at the Guggenheim in '08, finally confirmed the avant-garde credentials of Relational Aesthetics by being roundly attacked from all sides. Many, perhaps too many, of the artists were from Bourriaud's list. It was a sleeper, but not in the way you might first think. You could make reservations, fork over some dough, and sleep all night in Carsten Höller's Revolving Hotel Room. Now, there are single-room "hotels" sprouting up as art projects all over the place: London, Singapore. But the show was so boring it put most viewers to sleep, even while on their feet.

It proved once again that artists don't always know what they are doing. New Museum founder Marcia Tucker once went down the road of extreme artist-input and eventually learned her lesson. But wisdom does not get passed from museum to museum. Shockingly, "theanyspacewhatever" took four years of meetings with the artists. Spector thought that the artists should make all the major decisions about the exhibition. And what did this stellar group of international collaborators decide? Brand new, individual artworks by each of them!

In Artopia, we truly believe that everyone is an artist (Beuys) and everyone is a star (Warhol), including directors/curators, critics and even dealers. In art there is no dark side. Or, as some would have it, all art is ultimately on the dark side, since art as it is now practiced tends to separate people from social action and from each other.

Well, so what? So do all the other major religions.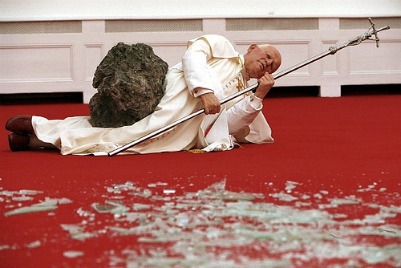 Maurizio Cattelan: Pope John Paul II.
All Families Art the Same
Dear Reader, perhaps you are still staring at the Relational Art shortlist above and wondering how it can make any sense. Perhaps out of curiosity you have even Googled the names. I stared at the lineup for quite awhile too until I came up with the solution.
Unless there is a poet-dictator in charge, like Marinetti or Pope André Breton, most art movements consist of artists who do not follow rules from above — or from the side. At best, artists in an art movement bear a family resemblance. Philosopher Ludwig Wittgenstein used games for his brilliant formulation of his anti-Aristotelian family resemblance trope. We can use Abstract Expressionism or Pop Art as examples. In regard to AE, neither kingmaker Clement Greenberg nor Harold Rosenberg could make his rules stick. Greenberg merely said that the art that didn't fit his rule wasn't worth looking at. Think about this: what do de Kooning and Pollock have in common and what do the two have in common with Rothko or Newman? There's a family resemblance. Same for the art grouped as Pop.
One big family; each member different, but somehow related. I have my father's steel-blue eyes, but my mother's taste in food. My sister is blond like Mom, but I am not; more reddish like my father's aunt Blanche. And none of my nephews look like me at all.
This has some interesting philosophical ramifications, but never mind about that. I don't want to be accused again of solving problems you didn't know you had. Suffice it to say that a Wittgensteinian family is formed by horizontal relationships of shared traits that are not universal within each item in the set. No characteristics are necessary and sufficient. Think sociogram or rhizomes rather than royal or Roman Catholic hierarchy.
However, the above only proves Perreault's Paradox: Qualifications in the name of clarification lead to obfuscation. Or as Alfred Jarry might have said: clarity is opaque.
However, so Francocentric and so beholden to "theory" is Bourriaud that he himself hasn't noticed the problem we have just solved for him. And for free. His artists don't look like they belong together. His group makes Douglas Crimp's Pictures Generation and the YBAs (Young British Artists) — both exhibition-generated, curator-concocted classifications — appear completely rational in retrospect.
We now face something new. Whether we think of art-movement proposals as made up of ranks, families, or even political parties, it is difficult to tell them apart.
Alas, Bourriaud has other problems even I can't solve. He actually claims that Relational Art is the first art movement/style since Conceptual Art that is not a revival, which, like many of his points, once you tease them from the text, does give pause. Is it true? Only relatively.
Even Conceptual Art was not super-new or too new. We who knew Duchamp already had a roadmap.
There are so many precedents for Relational Art that it is more accurately seen as a continuation or mash-up of Fluxus, Happenings, environments, Performance Art, Situational Art, and, yes, Conceptual Art, rather than anything revelatory or game-changing. Relational Art is only one of many modes or forms that artists feel free to use. Focus is now too easily read as appeasing the art market. The interactive is attractive, but each artist is now the producer of his own group show.
Maybe that's the best we can do without kicking out the jams.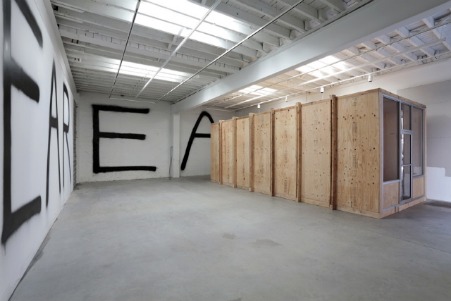 Tiravanija: Fear Eats the Soul
(detail).
The October Trials
In his favor, many of Bourriaud's points have been attacked by the October gang. See here Claire Bishop's "Antagonism and Relational Aesthetics."
In this October screed, Bishop describes the work of Tiravanija and Liam Gillick, not so much to attack them or rip apart the thin fabric of Bourriaud's "argument," but ultimately to promote in contrast two of her own favorites: Thomas Hirschhorn and Santiago Sierra. The first is still a mystery to me, but Sierra is now an official art-world Bad Boy. In 2000, his work Ten People Paid to Masturbate was exactly that; and in 2001 he produced Persons Paid To Have Their Hair Dyed Blond for the Venice Biennale. And then, whether they are faked or not, there's his intentionally notorious penetration pieces — pictures of groups of black men penetrating white men, white men penetrating white men and the reverse, and black men penetrating white woman. An attack on the commodification of sex, or itself an example of same? You tell me.
If I were teaching now, I would assign Bishop's essay and ask the students to identify the main subject of her bottom-heavy, heavily footnoted essay. I would fail any who said it was about Relational Aesthetics.
Her artists are somehow more pure because they contest or reveal capitalist relations, or at least she thinks they do. Or is it because Relational artists smell utopian and her pets do not?
* * *
I see Relational Aesthetics as utopian. Oddly enough, Bourriaud himself is a knee-jerk anti-utopian, which you have to be if you have read Foucault and not been aware that he once confessed that his life-long influence had been life-long Nazi Martin Heidegger. Bad poetry is sometimes seductive. Wouldn't you choose Being instead of industrialization? But blood, soil, and the volk? Maybe like others, Foucault did not know that Heidegger wasn't really de-Nazified, as claimed. Not even Heidegger's ex-girlfriend Hannah Arendt seemed to know. Sartre spoke up for him too.
Furthermore, did Bourriaud not remember Joseph Beuys' concept of social sculpture? Had he forgotten the Situationalists? Oops. No excuse. They were French!
Why was he so late in coming to Marcel Duchamp's famous lecture called The Creative Act: "…The creative act is not performed by the artist alone; the spectator brings the work in contact with the external world by deciphering and interpreting its inner qualification and thus adds his contribution to the creative act."
Theory is rhetoric.
My theory is that "theory" – so impenetrable, so inbred — is the reason there have been so few important French artists since the School of Nice. And since the rise of the October gang in the U.S., we have not been doing so well ourselves, have we? Theory cramps art; thought does not.
The French are amazing, particularly when they try to catch up. It is as if the French language and its product, French theory, automatically screen out anything that happens on this side of the Atlantic. Tiravanija himself gives full credit to Gordon Matta-Clark as represented by that artist's short-lived, artist-run restaurant Food, and I would think his architectural interventions.
Bourriaud needs to study the Artopia theory of art history. Nothing ever goes away; everything always comes back — like the strands in a braid. Or, as I like to say, history, particularly art history, is twisted. There is not even the Nietchzean Eternal Return. There is only a knot, and all knots are braids.
* * *
The correct answers to our word-art quiz last time around: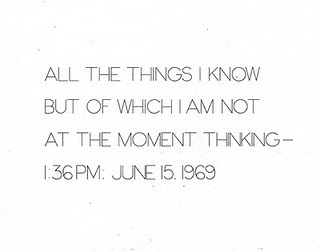 A. Lawrence Weiner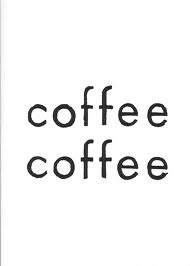 B. Aram Saroyan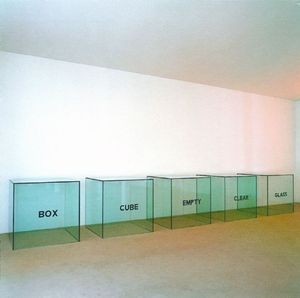 C. Joseph Kosuth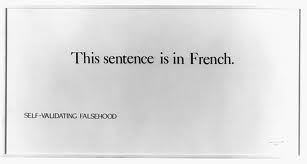 D. Henry Flynt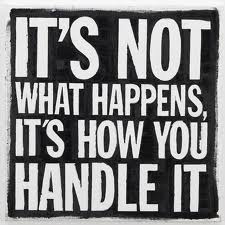 E. John Giorno

F. On Kawara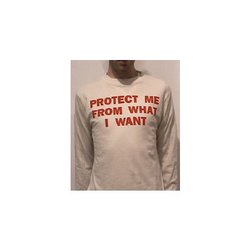 G. Jenny Holzer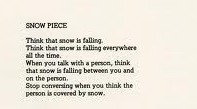 H. Yoko Ono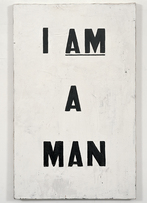 I. Glenn Ligon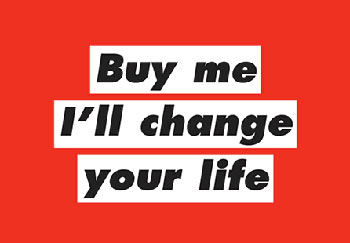 J. Barbara Kruger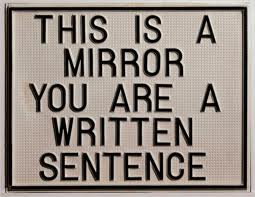 K. Luis Camnitzer
No one identified all of the authors. Does this mean context is all? True, two of the authors are poets. True, Kosuth is not known for putting words on plastic cubes.
On the other hand, why didn't anyone know Henry Flynt, generally considered to be the Fluxus genius or Luis Camnitzer who is currently being honored by a retrospective at El Museo del Barrio?
NEVER MISS AN ARTOPIA ESSAY AGAIN!
FOR AN AUTOMATIC ARTOPIA ALERT E-MAIL perreault@aol.com
John Perreault is on Facebook.
You can also follow John Perreault on Twitter: johnperreault

Preview:
THE
, A Novel by John Perreault.