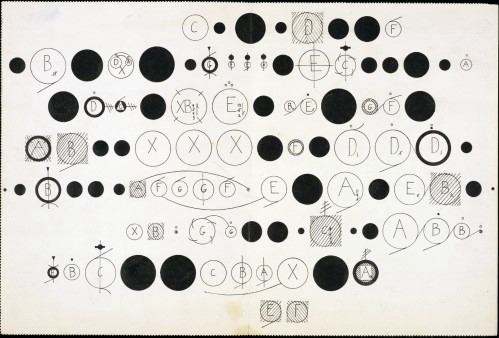 Ben Patterson, String Music, 1960. Getty Research Institute.
Benjamin Patterson's Variations for Double Bass, 1961. The concert was part of the exhibition Benjamin Patterson: Born in the State of FLUX/us November 6, 2010 – January 23, 2011 at the Contemporary Arts Museum Houston.
By all accounts Ben Patterson is a Fluxus pioneer. Even George Maciunas [ma-Chew-nis], the Andre Breton of Fluxus, places him at the beginnings of Fluxus. See here one of Maciunas' obsessive diagrams.

Diagram of Historical Development of Fluxus and Other 4 Dimensional, Aural, Optic, Olfactory, Epithelial and Tactile Art Forms. Click on link to enlarge: Maciunas
Patterson, who had started out as a double-bassist in various Canadian symphony orchestras(1956-1960) tried his home country later and was rejected by 20 conductors, probably because he was African-American. He moved from the U.S. to Cologne. And after that kind of rejection, who wouldn't? He somehow came across John Cage and began working in what would become the Fluxus manner. He was a pre-Fluxus Fluxian. Two years later, he was in the first Fluxus Festival, in Wiesbaden in 1962.
In '65, he took leave of art and returned to the U.S. where, in order to support his family, he became an arts administrator in New York City, working at one point for the Department of Cultural Affairs. This is why in Artopia we always say: Be kind to everyone, even arts administrators. You never know if he or she is an artist in disguise.
Then, obligations over, Patterson officially returned to art in 1988 at the age of 56 with his first one-person show at the Emily Harvey Gallery in Chelsea.
Skimmed from the retrospective of nearly the same name that debuted late last year at the Contemporary Arts Museum of Houston, "Benjamin Patterson: Born in the State of FLUXUS/us: Scores" (Studio Museum in Harlem, to June 26 ) is a half-hearted affair. It turns out to be one of those casework exhibits, in this case, scores and ephemera arranged under glass, in a small space above the main event: Stephen Burks: Man Made, an exercise in the exploitation of Senegalese basket weavers. Lots of educational opportunities, but little in the way of art.
The Ben Patterson show is housed in what amount to a dark balcony, although to be fair — in Artopia we are fair to a fault — there's a tiny reading room on the way to the video room (which has no Patterson videos) that makes available a copy of The Black and White File ("A Primary Collection of Scores and Instructions for his music, events, operas, performances and other projects: 1958-1998"). Unfortunately the blare from the video offerings makes reading the Patterson File nearly impossible.
YouTube comes to the rescue. The following videos are not in the Studio Museum show, and should give you a better idea of Patterson's too long neglected art than an accumulation of scores and ephemera.
Fluxus East exhibition opening: Paper concert by Ben Patterson, Geoff Hendricks and others (Berlin, 26.09.2007).
.

And then there is this ultra-Fluxus use of words, toys, and noisemakers:
Performance of Simple Opera (?), Saturday, June 20, 2009, The Museum in the Park, Portofino, Italy at the party in honor of the artist Ben Patterson for the celebration of his 75th birthday.
Sideways, as above, must be a new trend, in hearing as well as seeing. Read the following from the notes to the resplendent recording of Alessandro Striggio's long lost but recently rediscovered, heavenly Mass in 40 Parts (1566). In at least one of its incarnations, there is evidence that the various "voices" were deployed vertically on five levels of "cloud machines" in the Florence cathedral….but the writers confess…..
Unfortunately, neither stereo nor surround-sound [a second disc is a DVD offering surround-sound version expanded to 60 Parts] reproduction conveys height well…Listeners unwilling to forgo the original Pillar-Of-Cloud Experience could switch to a second pair of vertically aligned speakers for this item, while the less technically minded could try lying on their sides.

Conductor Robert Hollingworth and Hugh Keyte, Nov. 2010.
Back in March, the Studio Museum did offer one Patterson performance along with a discussion with the Houston curator. Was one performance enough? I don't think so. Another Patterson Piece was also performed at Third Streaming in Soho,
not
at the Studio Museum
:
the Fluxus classic
, Please Wash Your Face.
Contained in a small plastic box was a paper towel, a small bar of soap, and the instruction 'Please wash your face,'" Patterson explains. "As far as I know, this will be the first performance of the piece with total audience participation. People will come to the stage — or optionally, to the bathroom — and wash their face. Afterward, there will be a moderated discussion on the subject: 'How is washing your face in public a work of art?'

My work during these last 50 years has always directly engaged the public, generally with success……For example: In 1963, I presented 'A Very Lawful Dance for Ennis' at Times Square. Simply stated, the instructions asked the performer to cross the street, backward and forward, again and again, obeying the traffic signals. We began the performance on this evening with a group of about 10 friends. However, within 15 minutes we were joined by at least 100 random passerby and other local Time Square habitués, who apparently thought it was a good thing to do!

… courtesy Artinfo.org
No sign of this at the Studio Museum and no sign of Patterson's 1997 Blame it on Pittsburgh; or, Why I Became an Artist which was in the Houston show. Luckily I found a cheeky Texas online site called 29-95 (the latitude and longitude of Houston) that had an informative

review by their regular writer, Douglas Britt.
In 1997, he created the most interactive work on view, an installation that grew out of 26 sessions with a psychotherapist that Patterson recorded, later silkscreening fragments of the narratives onto Plexiglas along with photos and ephemera from his youth.

Hanging from the ceiling in a pitch-dark room, the Plexiglas sheets form a maze viewers navigate with flashlights. Among other things, they encounter memories of Patterson's awkward high school love life — or lack thereof — during a time when interracial dating was taboo and the only black girl in his class thought he was weird….It's like being inside Patterson's subconscious, which is fitting since just after the show opened Patterson erected a sculpture that he designated Annex No. 3 of The Museum of the Subconscious. (The original site is in Namibia; there are two other annexes in Israel and Argentina.) CAMH has forms you can fill out to donate your subconscious after you die.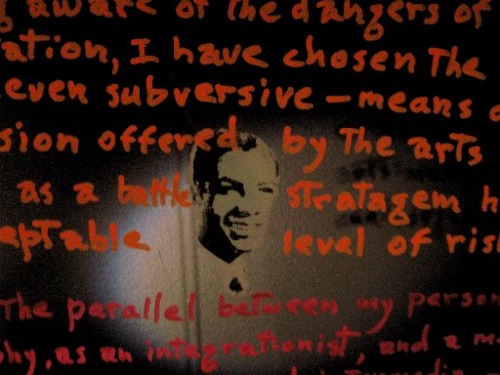 Patterson: Detail of Blame It on Pittsburgh; or, Why I Became an Artist. Silkscreen on Plexiglas. Courtesy the artist and the Emily Harvey Foundation, New York/Venice Photo: Douglas Britt/Staff
The Houston catalog is not available until the show closes. Publication date is June 30. We have our fingers crossed. Why is it so late? Don't art venue's know about print-on-demand publishing? Never mind. Just keep quiet and pre-order the catalog on Amazon. It will include a CD of Patterson's sound pieces.
Couldn't more performances and concerts have been commissioned by the Studio Museum? And if budget was the problem, why not videos? Never mind. I surmise that the show was simply not taken seriously enough. The exhibition is another sop to the Fluxus revival. Which brings up an important question.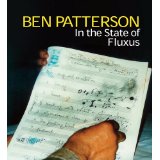 Why the Fluxus Ruckus?
MoMA, you may have discerned, now has an important Fluxus collection, and little exhibits on the premises have been drawn from it. And even performances by the likes of Alison Knowles have surfaced. Yoko Ono's great Scream Piece was presented in the Atrium. Everyone including yours truly had a chance to scream into an open microphone. You would think that all of this was part of the current effort by galleries and museums to nail down art from 1945 to about 1980, filling in all the blanks once and for all. I have come to a different conclusion: we are making sure that everything saleable can be accounted for.
The little dips into Fluxus here and there, however, are meant to destroy it. Or at least to announce that Fluxus wasn't so avant-garde after all, because here we have it by the tail and you see how easily it fits into museum collections, museum display, and sanctified art history? Nothing to worry about, friends. Fluxus was a minor fling, and art has been made safe again.
Here are some pros and cons:
What Was Bad about Fluxus
When whimsy rears its cute little head, Fluxus fails. Whimsy is not humor, whimsy is cute. Whimsy is not an Artopian characteristic, whereas sarcasm is. Recently I read that an inability to detect sarcasm is a sign of Alzheimer's. I propose that a foaming-at-the-mouth reaction to whimsy is a sign of maturity and superior intelligence, don't you agree?
What exactly is whimsy? According to one source: 1. An odd or fanciful idea; a whim. 2. A quaint or fanciful quality. Hello, Do you not know about Hello Kitty Hell, my favorite website?
Actually it is far worse. You know it when you see it. It sickens you and makes even kind persons reach for their fly-swatters, their spitballs, their rubberband slingshots, and even their b-b guns. It smells like artificially-flavored and artificially-sweetened bad candy.
Examples? Why not start at the top.
We adore Saint Yoko, but when she fails in her instruction pieces or her Tweets it is smack down on the whimsy bed-of-nails. I am sickened every time she Tweets "Love your Mom". Or "It is Mother's day in Costa Rico." Yoko, get over it! Several times I have been tempted to unfollow her on Twitter, but then she posts something really wonderful.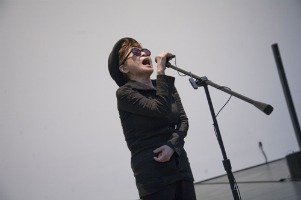 More controversial than the whimsy charge against Fluxus is the queasiness evoked by George Maciunas, not all of it metaphysical. Was he as maniacal and self-serving as it now appears? When I said above that he was the Fluxus Breton I did not mean it as a complement.
Take a look at another of his patented diagrams also available on the extremely useful George Maciunas website..
Like poet Breton, Lithuanian-born Maciunas, whose background was graphic design and architecture, became quite a little dictator and art-packager. Apparently he did coin the word Fluxus, but like Breton, who excommunicated Salvador Dali, but also Andred Masson, Max Ernst, and our very own Brion Gysin, Maciunas may have been on a power trip. He didn't "excommunicate" but he was no stranger to spite.

Maciunas' Expanded Arts Diagram is his "masterpiece", if a diagram can be a masterpiece. And why not? By way of explanation he delineates categories of Fluxians, from: "individuals active in similar activities prior to formation of fluxus collective, then becoming active within fluxus and still active to the present day, (only George Brecht and Ben Vautier fill this category)"….to the most telling category…
Individuals active within fluxus since the formation of fluxus but having since then detached themselves on following motivations:

a) anti-collective attitude excessive individualism, desire for personal glory, prima dona complex (MacLow, Schmit, Williams, Nam Jun Paik, Dick Higgins, Kosugi),

b) opportunism, joining rival groups offering greater publicity. (Paik, Kosugi)

c) competitive attitude, forming rival operations (Higgins, Knowles, Paik).
I will also point my finger at the Flux- boxes he instigated and promoted — twee containers made by one and all, in editions, meant for sale. Commercialization meets whimsy. Even though I can't find any evidence of a Fluxus or Maciunasian anti-object stance, this was such an awful move that we do not even have to go into George's pioneering effort (via grants from the Kaplan Foundation and the National Endowment for the Arts) to turn empty factory buildings into artist lofts in what would be called SoHo, now some of the most expensive housing in the Big Apple. Nor need we mention his dull architectural proposals that are so neo-Bauhaus they make long-winded Bucky Fuller seem like the genius he thought he was.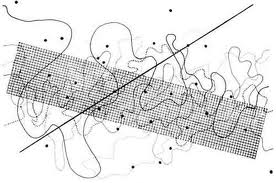 John Cage, Fontana Mix, 1958.
What Is Still Difficult About Fluxus?
What remains difficult about Fluxus is the music part. Music historians simply did not get it. To this day they only grudgingly deal with John Cage, if at all. Cage was the grandfather of both Happenings and Fluxus but most visual arts critics and historians don't know how to deal with music; after all, you can't see it. Although scores sometimes have a graphic interest, they are not the main event. And theater has been attacked over and over again by art formalists, probably because it is difficult to experience Pollock and the dreary Jules Olitski without thinking of backdrops and scenery. And, to settle an old score, theater had to be denied, not out of some resurgence of Puritanism, but in order to reaffirm the saleable object, the art commodity which, alas, is now the coin of the realm.
Could the Fluxsters themselves conceptualize the breakdown of rigid arts categories? Fluxian Dick Higgins coined the term intermedia for Fluxus but it didn't stick because, when you think of it, Hollywood movies could be called intermedia too through the marriage of sound and moving images. And, my goodness, opera. Or Broadway musicals or military parades. Or Striggio's Mass in 40 Parts with cloud machines and costumes as it was originally performed?
A Modest Proposal
I now hypothesize that all the recent lukewarm stabs at Fluxus such as the Patterson show of scores — rather than the retrospective from which it was culled — are really attempts to get the best of Fluxus, in the second sense of the term: a knock-out punch. Fluxus is a threat. We can destroy it by trivializing it, which is a long and painful death for everyone involved, viewers included. Or we can destroy it once and for all.
We can finally rid ourselves of Fluxus by mounting a major survey exhibition. It could be at MoMA – and might be best there — but actually it could be anywhere. Cities like Philadelphia, Los Angeles, or Kansas City could gain great glory, as long as the exhibition was definitive, had a gigantic catalog full of horrendous documentation and "scholarly" essays (no art criticism please!) and a vast restaging and recording of Fluxus events, Fluxus music. Thus, absorbed by the academic apparatus, Fluxus would finally sink. It would stop being the fly in the ointment, the mouse in the room, the nagging voice. Fully dissected and dissembled it would stop being so annoyingly life-affirming and so stupidly jolly.
NEVER MISS AN ARTOPIA ESSAY AGAIN!
FOR AN AUTOMATIC ARTOPIA ALERT E-MAIL perreault@aol.com
John Perreault is on Facebook.
You can also follow John Perreault on Twitter: johnperreault