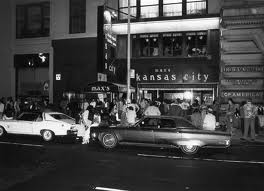 Artopia: History is how the past is imagined.
The Name Game
The owner of Max's was not named Max. If you are going to launch an artist hangout — for that was what Max's Kansas City mostly was, before rock music changed the sheets — then you have to use at least one paradox or bit of nonsense when you name your saloon. The other famous artist hangout had been The Cedar Bar, where Jackson and the lot brawled and threw up all over each other and demonstrated true male love.
Was The Cedar Bar named after the never-famous Cedar Tavern? In 1886 there was indeed a Cedar Tavern on Cedar Street in Lower Manhattan. The relationship of the famous Cedar Bar (as everyone called it) to the tavern way downtown is suspect and probably specious. According to Ab-Ex historian Irving Sandler, the Cedar Tavern on University Place, aka The Cedar Street Tavern, was named after a corroded circular sign someone had found. BAR was dead-center, circled by "Cedar Street Restaurant." Still doesn't make much sense. I guess you had to be there to get it, or dead drunk.
There must be some as yet uncharted linguistic law here that accounts for The Cedar Tavern, The Cedar Street Tavern, and Cedar Street Restaurant all getting reduced to The Cedar Bar. I think it is the inability of artists to remember more than four syllables at a time. At least during the Fifties. Everyone who was anyone called the Ab-Ex watering hole The Cedar Bar. If you called it something else, you were a marked man. You were square. What women called it, nobody cared.
I remember going there (c. 1956) with some Jersey pals, trying to get a glimpse of Willem de Kooning or Franz Kline. A co-ed I knew was determined to bed at least one of them, if not both. Oh, yeah, she and 100 other beatnik chicks. At this point, on Saturday nights there were mobs of youngsters trying to get in, wanting to glimpse, if not touch, the glory that had accrued, craving the stale-booze fumes of the new Olympus. The Cedar Bar itself had a bad case of charisma. I met still-handsome "Bill" de Kooning years later when he had sobered up, and he didn't punch me or throw me through a plate-glass window. Oh, sorry. It was Franz Kline who threw someone through the window of The Cedar Bar. Just go ask Irving.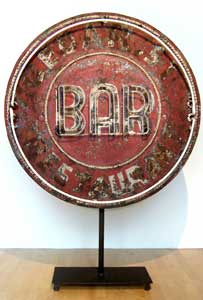 Namedropping
Later it was Max's Kansas City that was the hangout, where charisma hung its sign. Max's was always called just Max's because at this point artists could remember only two syllables at a time.
Max's, where Andy Warhol held court. And Robert Smithson. Andy at his backroom table; Bob at his habitual front-room slot, where I always headed and was welcomed for arguments with Lawrence Weiner, Joe Kosuth or whoever else had dropped by. Smithson loved to argue..
The division was not about sexual orientation or class, it was about style, although, it has to be said, most of the rock and movie stars ended up with Andy. Andy welcomed more women (Ingrid Superstar, Viva, Brigid Berlin, Ultra Violet) and semi-women — all the way up to total trannies like Candy Darling.
X
In a style contrast:
Bob did not exactly forbid women, but the only female I ever met at his table was Tuesday Weld. We all loved her in Pretty Poison.
Another movie star to show up was Dennis Hopper. I remember thinking at the time that it must have been the Virginia Dwan connection; she was Bob's dealer and before New York (where she represented Michael Heizer, Walter De Maria, Sol LeWitt, Arakawa…) she had set up shop in L.A. (1959-67). Everyone knew she was a 3M (Scotch tape) heiress but wondered if she were related to the director Allan Dwan:
In general, women were not welcome in the front room, so much so that I remember an all-woman sit-in that tried to claim some space: artists Jackie Winsor, Jackie Ferrara, Brenda Miller, Joan Jonas, Rosemarie Castoro and maybe one or two others. And they were not going to settle for sitting at the bar and being harassed by a certain drunken sculptor who had once been a hair-burner (hairdresser) and was said to be worse than de Kooning when in his cups.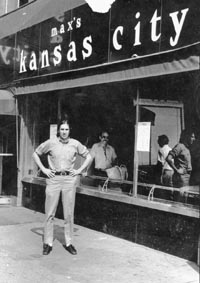 Hanging Out
Max's was opened by businessman Mickey Ruskin in 1965 on Park Avenue South, of all places — notable because it was not the Village and it had absolutely no charm or character. Come to think of it, neither did University Place, where the Cedar Bar had been?. Back then, University Place looked like part of Greenwich Village only on a map. In real life it was kind of seedy and, like Park Avenue South, had neither character nor charm.
Ruskin had graduated from MacDougal Street (in the real Village when it was still vaguely bohemian), where he operated a bar called The Ninth Circle, to the no-man's-land of Park Avenue South above Union Square. The name of his new art dive seems to have been created by poet Joel Oppenheimer. Max's was selected because it sounded "restauranty." And Kansas City because "Kansas City cut" was once the best steak on many menus. Where? When? Well, never mind.
If you want to create an artist's hangout and thus eventually cash in on the tourist trade, you can't call your place Painter's Hangout. You have to call it Dolphin's Nose, or Plop. And for a poet's hangout (although poets don't draw the tourists, except once, long-ago in San Francisco), you can't call your coffeehouse Poet's Retreat. You have to call it Co-Existence Bagel Shop. We called it The Co-Existence Babel Shop. But bagel has a nice ring to it, doesn't it? Oops. That's where I missed hearing Allen Ginsberg first read Howl in public in San Francisco. Instead we heard Robin Blaser. Bagels in San Francisco? Not at the Co-Existence Bable Shop. Cappuccino, yes; bagels and cream cheese, no.
So you might have to call your poetry place Co-Existence Bagatelle Shop. No, you had better not. Dolphin's Nose or Plop might work better now. But who in a coffeehouse now would look up from a laptop to listen to some poet orate?
* * *
So why is this song such a sad song? Because artist and poet hangouts don't exist anymore. Not in Manhattan. Even the Mudd Club is gone. Correct me if I am wrong. Are there such places in Williamsburg, Greenpoint, Bushwick? Or in other cities? I am sure that Kansas City has an artist hangout. And definitely San Francisco.
But art in New York is no longer inspired by rubbing elbows with other artists. Other artists are now your mean and hungry competitors. You don't rub elbows; you give them the elbow, every chance you get. Artists don't talk to each other. Or as it was once said: Does Macy's tell Gimbel's? Translation: Does Apple tell Microsoft?
Why talk? Maybe a few lines on Facebook, but not actual conversations in real time, in real life. After all, what is there to share? The way to the top is now obvious. Get an MFA and climb up that ladder with razorblade rungs.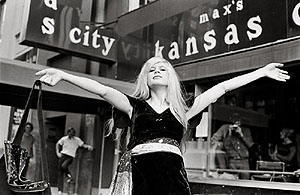 Max's Redux
Once I had a love and it was a gas
Soon turned out had a heart of glass
Seemed like the real thing, only to find
Much of mistrust, love's gone behind
Once I had a love and it was divine
Soon found out I was losing my mind
It seemed like the real thing but I was so blind…

Blondie, Heart of Glass
Two exhibitions in Chelsea bring this all up. "Max's Kansas City: Art, Glamour, Rock and Roll" at the Steven Kasher Gallery (521 W. 23rd St., to Oct. 16) is tied to a new book of the same name by gallerist Kasher. Although two Larry Zox paintings, two John Chamberlain crushed car-part sculptures and a replica of Dan Flavin's red-fluorescent corner sculpture are on display, the exhibition is predominately photographs — mostly of Debbie Harry, the lead singer of Blondie, whom we love. Embedding is forbidden, so you will have to click the link to see her and hear her.
At the Loretta Howard Gallery (525 W. 26th St., to Oct. 30) there's also a gorgeously installed exhibition called "Artists at Max's Kansas City, 1965-974: Hetero-Holics and Some Women Too." Of 27 artists represented, the five women are Alice Aycock, Lynda Benglis, Brigid Berlin, Adrian Piper, and Dorothea Rockburne. It is, in general, a sleek show in a beautiful two-story space. Even the Larry Poons looks good. So maybe I was wrong about Poons! But could I have been wrong about Larry Zox?
The men in this exhibition (done with the assistance of curator Maurice Tuchman) are mostly front-room-guys — except for Robert Rauschenberg, who flipped back and forth between Smithson's room and Andy's. Other exceptions I remember: Crushed-Car Chamberlain sometimes staggered to the back room, Smithson upon occasion paid a state visit. Traffic in the other directions was even more limited: Brigid Berlin came in search of subjects for her cock-print books. Whip it out; plop on rubber stamp pad; press on page. And skinny poet Rene Ricard sometimes dropped by. Andy like his Ab Ex prececessors but unlike his Pop art peers (with the exeption of Rauchenberg) kept some poets in his roost. Ricard, his primetime studio assistant Gerard Malanga, and John Giorno of Found/Sound Poetry fame was the sleeping man in Sleep.
Although both Piper and Vito Acconci are represented at Loretta Howard by photo-documentation of performance pieces, neither habitually frequented Max's. However they were obviously both there on May 2nd , the afternoon their pieces were performed. I was there too, which brings up another subject.
Debbie Harry, no matter how photogenic, was not the Queen of Max's. You would think from the photo show at Kasher that she had been there every night. Leaf through the book at the counter; four essays prove otherwise.
In the exhibition at the Loretta Howard Gallery, and specifically in the case of the Piper and Acconci pieces, something more nefarious is on view. From 1968 to 1971, Acconci, Scott Burton, Eduardo Costa, Bernadette Mayer, Marjorie Strider, Hannah Weiner and myself (sometimes including poets Anne Waldman and John Giorno) conspired to launch various Street Works and Performance Art projects: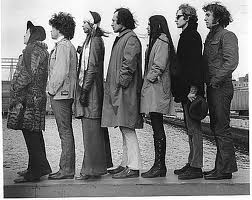 The Piper and Acconci pieces were part of an hour-long event at Max's initiated by Weiner. And yet there is absolutely no reference to our group or to Hannah Weiner on the gallery wall label.
It seems impossible to give credit to group efforts. Our performance group was not as formalized as Art & Language was or nowadays the media-savvy Bruce High Quality Foundation. Art & Language is largely forgotten. Will the same thing happen to Bruce High Quality? Lingering, but invisible?
You shouldn't blame galleries completely because, after all, you can't usually sell a group effort. But we should note that this is a failing of museums, too. If commercial art galleries, for whatever purpose, are going to pretend they are museums, then they must occasionally be taken to account, just like the museums they sometimes outdistance.
On the other hand, the fault may be in the art system itself, which is dedicated to the heroic individual, single-player branding, and the saleable, identifiable, easily grasped commodity of unambiguous authorship. Which, if you go deep enough, may be rooted in the structure of Western languages, if not all languages.
If you go by what you see and read at the Howard Gallery about the Piper and Acconci pieces – there are extensive and generally helpful label-texts throughout – you would think these were stand-alone solo performances. Yes and no. What was the context?
But before I quote the John Perreault of 1970 for a firsthand account, let me prepare you a bit.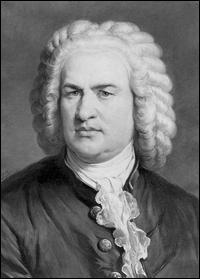 If the Words Are Different Then So Is the Song
I have recently become fascinated by the use of musical parodies, particularly those of Johann Sebastian Bach. He, like some of his Baroque colleagues, routinely quoted or "parodied" other composers. Bach lifted passages from Vivaldi and appropriated folk songs and hymns of the period. The reworking of folk songs and hymns goes back at least to the Middle Ages. But Bach not only "quoted" other composers, he also routinely quoted himself, reusing music from his cantatas in his Masses and oratorios, but in different contexts with different words.
It is not clear to me yet if these "parodies" were recognized by Bach's audiences, and if so, how they understood them. Was he being lazy, counting on the knowledge that most audiences could not possibly recognize his sources? Or, if he knew that they would know, did he thus enrich the meanings of his compositions by references to previous context and texts? Was it like Charles Ives inserting popular tunes and a Sousa march in his Central Park in the Dark?
Let me be clear. Bach's "parodies" are not jokes or quasi-recreations done in the style of, and meant to make fun of, the originals, as is the usual meaning of parody in written works. It could be parsimony. If something works out well, why not use it again under different circumstances? Or perhaps, if his audiences happened to know both pieces, well, parody was a kind of layering at a later time, memory compounding meanings.
Most interesting to me is the effect that words then have upon the music. If the words are different, then the music is heard differently. Writing different words to the same old tunes, as the writer of the Psalms and the classical Chinese poets did, changes the tune — even if the tune is not sung. And if you happen to know the original lyrics as well as the new ones, you are privy to a complex situation indeed. We do not know the original words to the tunes the Psalms were written to; we don't even know the tunes, only that there were such. We do not really have a clear idea of the music the Greek tragedies were sung to. Scholars of classical Chinese poetry, however, might know the original songs in their entirety, words and tunes, and thus read the "new" poems written to old tunes in a complex way. If only we could do the same.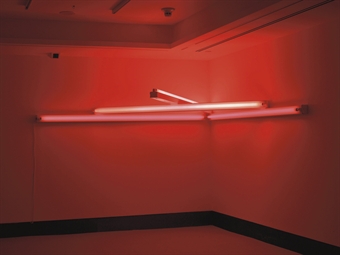 The Words Are the Same but the Tune Has Changed
….Can art be an instrument of social change? Can art be politically effective? It didn't work before, but that is no reason why there cannot be a new political art that avoids the pitfalls of Socialist Realism and also avoids the museums or the pitfalls of posterism wherein timely political sentiments are grabbed up by mass distribution systems and official institution of financial education and turned into decorative objects. I don't know. Cambodia is being invaded. Students are being shot down in cold blood. Bombs are being planted. Art seems far removed from life. Maybe it should be. I don't know.

At any rate, last Saturday there was a one-hour group show at Max's Kansas City called "The Saturday Afternoon Show" organized by Hannah Weiner, underwear designer and ex-poet. Many people thought it was Hannah Weiner's show and the title was unfortunate and sounded like a children's television program and it was a rare, beautifully sunny, New York afternoon, during which a long walk was more seductive than a dark bar. Nevertheless, I was there and a few other people devoted to extremes. Fourteen artists did works that covered a large range of styles: from invisible to obstructive. And also covered a range of accomplishment that ranged from brilliant to inept.

Anyone who has ever been to Max's or even heard of Max's knows it is an artists' bar and that it is decorated with splendid art works. There are Warhols upstairs. And downstairs a Flavin, a Judd, a Chamberlain and other things. So there was a nice contrast between the new art and the more accessible, already somewhat assimilated art that decorated and in some way provided the setting. A bar is not a museum, but Max's reeks of the museums. It is not Mickey's fault. Not at all. It has just turned out that way. [Note: he traded art for bar tabs.] For many, Max's is what the Cedar Bar used to be and what the R _____n is on its way to being. So be it. The steaks are good. Particularly the sirloins.

It is difficult for me to communicate what went on at Max's that Saturday, because I am an insider, that most loathsome of roles. I know most of the artists involved and recognized them and in some instances had foreknowledge of what they were going to do. I also understood the general context of what they were up to. I can imagine myself otherwise, though. I can imagine myself someone with some slight knowledge and I can imagine myself becoming either furious or totally bored. Boredom and fury are not that dissimilar.

As far as I can report it, what happened was this: Vito Acconci rubbed his arm. Deborah Hay drank one glass of red wine in slow motion for an entire hour. Stephen Kaltenbach and Frank Owen tried to set up a string of very bright lights, but their collaboration became a piece about fuses and fuse boxes because the lights kept blowing out all the fuses. Abraham Lubelski had himself and his wife and his two children filmed while eating dinner. Scott Burton did not do the brilliant work he had originally planned. Hannah Weiner read aloud the official instructions to waitresses at Max's. Paul Pechter installed one of his permanent installations by discreetly drilling a hole in the floor and then plugging it up with a piece of lead. Adrian Piper plugged up her ears and nose and shielded her eyes and wandered around the place for an hour, bumping into people, being bumped into, and creating a startling image. (I thought that a good piece would be not to tell her when three o'clock finally arrived.) Ira Joel Haber announced that he had turned Adrian Piper into an illustration because at one point when she was stumbling around – quite beautifully — the sound of her sight, via juke box was the Who's "Touch Me" from Tommy. Brigid Polk, on her way to Cannes, did not do the tit-print on the bar she had threatened to do. Marjorie Strider attached a large piece of cardboard to the front window. It said "Danger, Broken Glass." She places some broken glass on the sidewalk, successfully creating the illusion that the large plate glass window had been shattered. She also accidentally cut herself and there was one elegant splot of blood on the glass on the sidewalk.

I also contributed some pieces to the show and they were typically ambiguous. Since Max's is known for its art and since I am known as an art critic, I decided to invent a new art form called Art Criticism Art. I originally wanted to remove all the art from the place, but upon further thought I decided that would take too much work and I am weakening of late so I aimed my Art Criticism Art at specific pieces. I turned off Dan Flavin's red fluorescent light piece in the back room and I made masking tape Xs on all the Warhol Campbell soup can prints upstairs….

— John Perreault, ONLY A DUMMY, Art, Village Voice, May 14, 1970.
This column is in what fellow-critic Lawrence Alloway once called my peripatetic mode, referring more to Baudelaire's Salon reviews than to Socrates. I am amazed how Gertrude Stein some of my sentences are. No wonder I drove people crazy. A constant reader wrote that he could tell exactly how I was feeling the previous week when he read my column. That drove me crazy and meant he wasn't a very smart reader. He did not detect the first-person conceit. Nor did the reader in Texas who was wasting his time logging the number of times I used first-person; when he wrote, he was already up to 1,456. Yikes. And I consciously broke many other "rules" too. I wrote about myself and sometimes, as in this case, about my own art, and I made it clear when I was writing about friends, something you were always cautioned to avoid or at least conceal. I am not sure I knew the title of Flavin's fluorescent piece at the time. It was Monument 4 those who have been killed in ambush (to P.K. who reminded me about death.) I do not remember what R____n referred to. Ira Joel Haber now tells me 40 years later that the song he played over and over again was actually The Stones' Let's Spend the Night Together. The past keeps changing. Can we ever get it right? The late Hannah Weiner is now considered one of the leading lights of the Language poets. This was after she began hearing voices and seeing words on other people's foreheads.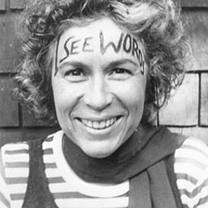 Finally, my "editor," the sainted Diane Fisher (who had to deal with the late Jill Johnston, too), probably did a little cleaning up, along with the weekly paste-up of the entire paper. Alas, I did not save my originals to compare. Now, I would purge the word-repeats, de-Steining my prose. I also depended too much on modernist tactics, assuming readers could discern my subtexts and my real subjects.
The headlines, however, were Fisher's. I have no idea what she meant by "Only a Dummy" as the headline for the above. When I tried to submit my own headlines, something weird always happened. As an example, my headline "A Chic Spring Line for Buyers" — making fun of a spring crop of new exhibitions — was changed to "A Cheap Springtime for Bagels."
Oh, Heraclitus was right. You cannot step into the same river twice. Furthermore, if that river is history then its name is Lethe. Here, however, is not the place for my theory of how false memories — or screen memories — function in history and what they represent, as well as what they hide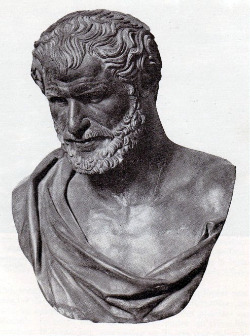 .
FOR AN AUTOMATIC ARTOPIA ALERT E-MAIL perreault@aol.com
NEVER MISS AN ARTOPIA ESSAY AGAIN!
John Perreault is on Facebook.
You can also follow the ever-witty John Perreault on Twitter: johnperreault