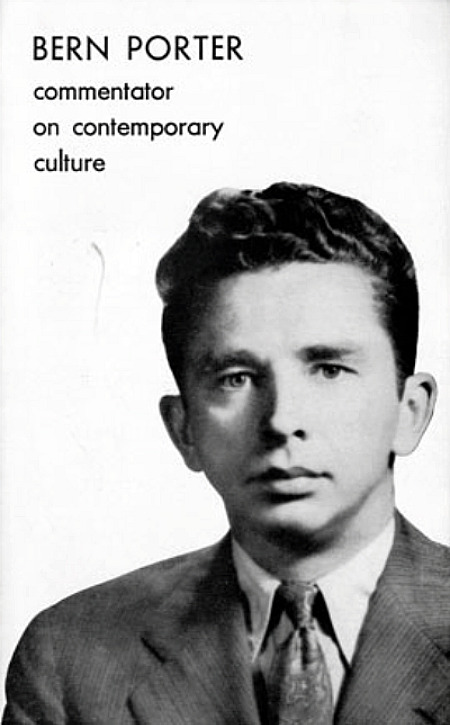 Bern Porter: Commentator on Contemporary Culture, 1946. Self-published pamphlet.
OUT IN FRONT
An Illustrated Lecture About New Fashions in Everyday Things
Design and clothing, light and music, architecture and sculpture, art and psychiatry, photography and poetry are a part of contemporary expression and living.
In describing them BERN PORTER unfolds a new world, a new way of life
(other subjects available upon request
Bern Porter [1911-2004] contributed to some of the most important scientific innovations of the past century, including the cathode ray tube, the Manhattan Project, and NASA's Saturn V Rocket. He was also an artist, poet, and publisher. He published work by Henry Miller, Kenneth Patchen, and Dick Higgins, among others, and authored numerous books, including compilations of collage he dubbed "Founds." His personal work is heavily influenced by the guilt he felt regarding his role in the development of the atomic bomb. As the self-proclaimed inventor of mail art, Porter was also very involved in the Correspondence Art Network.

–Introduction: Lost and Found: The Work of Bern Porter from the Collection of The Museum of Modern Art Library.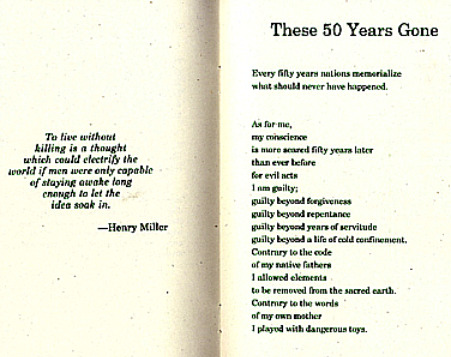 The Fifty Years Gone
Every 50 years nations memorialize
what never should have happened.
As for me
my conscience is more scared 50 years later
than ever before
for evil acts I am guilty;
guilty beyond forgiveness
guilty beyond repentence
quilty beyond years of servitude
guilty beyon a life of cold confinement.
Contrary to the code
of my native fathers
I allowed elements
to be removed from the sacred earth.
Contrary to the words of my mother
I played with dangerous toys.
Bern Porter, Commissioned by the City of Hiroshima, 1995.
Making Book(s)
Occasionally a small exhibition can be of greater import than a blockbuster. Yes, really. Sometimes, one of the lost threads of how we think through art may be suggested. History can be regained and explained by displaying seven vitrines of ephemera, pamphlets, books and, paradoxically, a tidy online summary. Such is the case with "Lost and Found: The Work of Bern Porter," to July 5, 2010, at MoMA (in the mezzanine of the Cullman Education and Research Building). Single images of pages from some of Porter's printed books — Do's, Don'ts, Founds, and Gee Whizzles — can also be seen at Ubu.org, one of our favorite sites.
In spite of collector's editions, printed book were ultimately democratic because their costs could be shared by numerous users. Books are not so democratic anymore, or soon won't be, as all texts and pictures migrate to the internet. Physicality is left behind. Page-turning lingers in ghostly form or is subsumed by scrolling — that most ancient way of navigating texts.
Of course, with so much data about the Porter exhibition online, you may wonder if you should bother to see the display itself. It is minimal. It is in the basement of the MoMA's Education Building. Call it the mezzanine if you want, but this is still below ground level, east of the lovely sculpture garden. Let's face it, the exhibition is not only hard to find, it is a bit forlorn. I immediately thought: make blowups of some of the pages and collages for the walls. Make interactive pdfs of some of the books. Of course, the latter could also be online.
See the exhibition?
Short answer: Yes. Although out of necessity everything is entombed in cases, you might gain a better sense of the objectness of Porter's books and his "founds." And certainly a better grasp of their scale. Scale as well as texture is what goes missing on the internet. You experience more bookness and more paperness by seeing the material firsthand.
You would think that artists' books in small editions or single-copy, one-off tomes would fill a need. They do, but only for a few. Artist books are necessarily a minority concern. All books are hard to exhibit, never mind own and preserve. Without hands-on use they are just bound pages: matter but not mind. With use, they are destroyed by greasy fingerprints and air and moisture and dust. Books, therefore, have a built-in poignancy, particularly now. All books will soon be rare books.
Much art capitalizes on nostalgia, expressing this lowly sentiment through absence as well as through imitation. Any painting made with a brush is a reference to all paintings so made in the past. A nostalgia for the handmade is the new unconscious. D.I.Y. is only the icing on the cake — the code for cheap, the neologism for craft, the retooling of amateur, and the surface of a vast dislocation of our senses. In artists' books handmade parodies of mass production become their opposite.
And how are we to deal with Mail Art? Increasingly, the only mail we know is e-mail. What does it mean to be the inventor of Mail Art, as Porter proclaimed? That which was meant to be generous and decidedly anti-market is now hallowed as unique. We have unexpectedly created the preciousness of the anti-precious.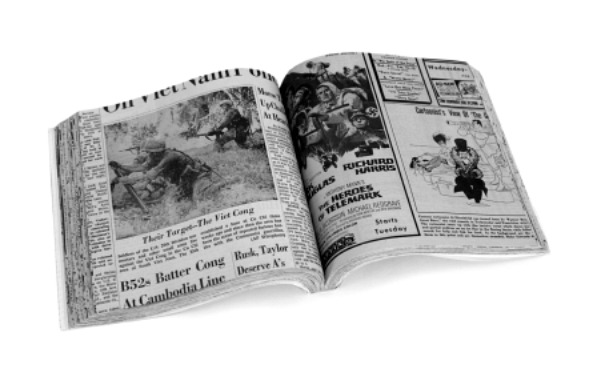 Finding One's Way
Porter's best works are Aphasia: A Psycho-Visual Satire on Printed Communication [see above] and Scandinavian Summer: A Psycho-Visual Recollection in Six Languages of a Journey Through Norway, Sweden, Finland, Russia, Denmark (both 1961). They are one-off bound books made of oddly cropped pages from newspapers (Aphasia), or pages and ads, flyers and whatnot (Scandinavian Summer) collected each day on a five-country trip.
They "unprint" their sources, then juxtapose the fragments. They are like books of wallpaper samples: you do not have to see the whole page to see the pattern. They also recall what magazines became. The best of them were almost all ads, only occasionally punctuated by copy — the copy itself referring to the ads. The mystery of why people bought fashion, design, art and home-decoration magazines has long been solved. The ads do not get in the way of the copy. They are the copy.
Much later a book of found news, headlines, and ads called Horizontal Hold: A Satire on Television (1985), done in collaboration with someone calling himself Todd Transformer, was actually printed. According to the introduction, "Bern made the initial collages & mailed them to Todd, who embellished some, added his own pages, and designed them into this book. At the time of this printing the two have never met." The MoMA text has more to say:
Despite his involvement with the invention of television, Porter never owned one. He was disappointed when he realized that the medium was not going to be used as an educational resource, but instead be controlled by advertisers and the entertainment industry. The book conveys his disillusion through phrases such as "public accessexcess tv, [stet]" "mind control," and "she stood inanimate," paired with clippings of television actors, ads, and people with wide fake grins staring blankly into screens.
It is easy enough to see Porter's use of found images and texts as descended from Cubism and therefore Kurt Schwitters, who took the incorporation of everyday items to an extreme. When Porter was first working after World War II, the Merzbau fragments were not as well-known as they are now. If they had been familiar, perhaps Porter would have dipped into the same river as Robert Rauschenberg. Well, perhaps not.
It may be more illuminating to see Porter as a writer, certainly as a practitioner of Found Poetry. Early on he initiated stand-alone found texts presented as poetry. Words also play a large part in the ads he clipped and saved, and juxtaposed.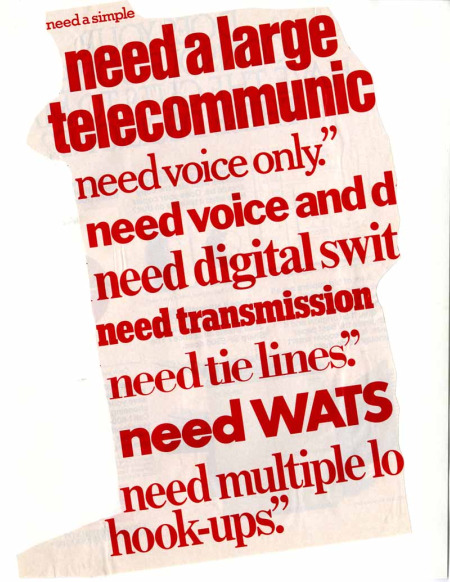 Porter: Page from The Book of Do's, The Dog Ear Press, Hulls Cove, Me.(1982).
One can easily construct an appropriate and distinguished list of precedents for Found Poetry in both literature (Mallarmé, Eliot, Pound) and art (Picasso, Tzara, Schwitters). But Duchamp's Readymades are the major inspiration. Nevertheless, in spite of the inventiveness of Porter's — and a bit later John Giorno's — daring "lack" of inventiveness, Found Poetry is often used as a grammar-school writing exercise but seems otherwise beyond the pale. Are the conceptual references too difficult for university literature departments? They are not a problem for the American Academy of Poets, which is academic in name alone.
Found Poetry is one of the most neglected of literary innovations, sometimes relegated to a subset of concrete poetry. This may be appropriate for poems that use the original typefaces of the borrowed texts, but is otherwise misleading and not precise enough.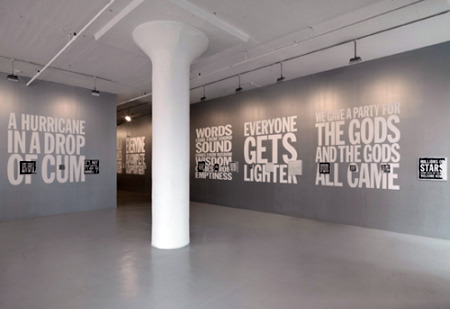 Giorno's recent exhibition at the Nicole Klagsbrun Gallery was made up of of splendid, off-the-page found poems, some silk-screened directly onto the walls. He has published widely and was the creator of Dial-A-Poem, which was included in the "Information" show at MoMA in 1970. Yours truly was one of the poets you could dial.
Here is Giorno performing one of his poem with his art works in the background:
Now if you look online at the Sackner Archive of Visual and Concrete Poetry and scroll down to the list of persons in the collection you can see how categories and callings morph and how they may be only in the eye of the beholder. Porter and Giorno are here. On the other hand, the Sackner Archive includes works by John Cage, George Brecht, Jenny Holzer, and Barbara Kruger, but not Lawrence Weiner or Joseph Kosuth.
Could someone please curate a large exhibition that would put together all word-game players across all categories?
In regard to this cross-pollenization, or what I call drinking-at-the-same-fountain (the one signed "R. Mutt" by Duchamp), we will also note the forthcoming Brian Gysin (1916-86) exhibition at the New Museum. He invented the cut-up method of literary composition used by friend William Burroughs to compose Naked Lunch and other legendary novels and influenced a generation of poets thereafter. John Giorno, mentioned above, will be in the live poetry reading lineup in honor of Gysin.
Just as the dance world seems to have left some important honorific tasks to the art world (Joan Jonas at MoMA, Trisha Brown forthcoming at the Whitney), poetry and avant-garde literature may also be engulfed. Someone has to pick up the slack, and the art world is relatively well-financed (compared to literature and dance) and insatiable.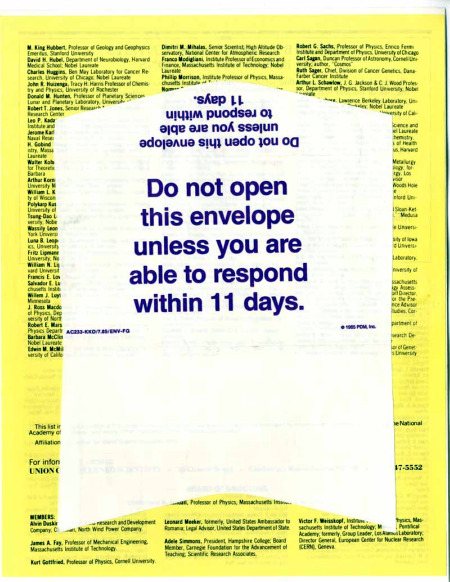 Porter: Page fromThe Book of Don't's.
Polymath
Coming from science to art and poetry, Porter predicted a convergence that never happened. Science is a sore thumb. Rather than calling him an artist or a poet, we might think of Porter as a creator or inventor who worked across diverse and conflicting categories: science, art, publishing, poetry.
In the compendium I've Left (1971), along with "spray-on suits sold in vending machines that can be disposes of in the toilet" and "360 degree theaters in which the audience acts and light and heat produce emotions" Bern also proclaims his take on poetry:
I spewed poetry without words, without sounds, without punctuation, without meaning. Poetry Died. In its place arose dots and dashes in full color, cinescope [sic] projected with mail-slot screens; intermittent spurts of chemically-dyed ether, alpha-radiated Geiger recordings emanated from my diaphragm with every third vowel crystallized. Textual poetry was at last off the typed ms, off the printed page and jet soaring.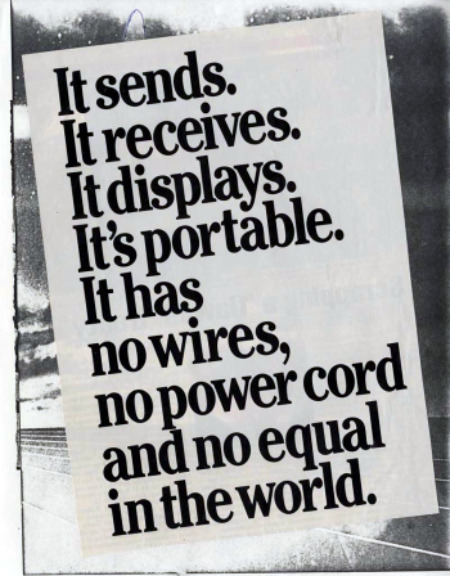 Porter: Page from Gee Whizzles.
And what does he write therein vis-à-vis art?
Art has been neglected. Nothing has happened in the field for centuries. 'Get the subject off the canvas and out into the air.' I said. 'Reverse perspective.' 'Discard frames.' 'Let the matter crawl around on the wall.' 'Kick in the wall and let the stuff stand alone.'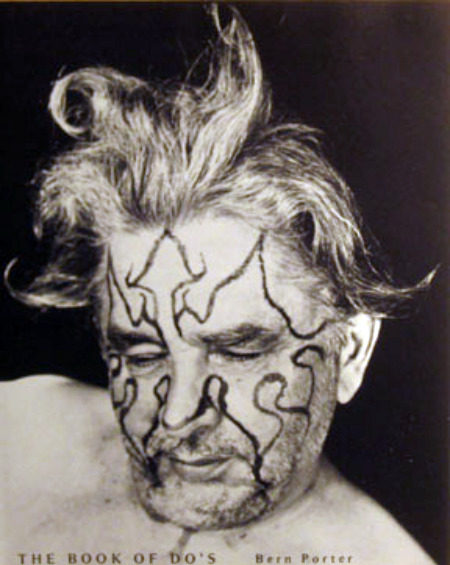 What kind of man was Porter? In 1969, when his "economic opportunities" report for the Knox County Planning Commission of Maine was rejected, his response was to run for governor. He lost. In his last years, his home reportedly was a warren of magazines and newspapers. Was he a hoarder or were these just art supplies? Here we can let him have the last word, through his rant from the last act of a play he had written:
10pt">
FOR AN AUTOMATIC ARTOPIA ALERT e-mail perreault@aol.com
John Perreault is on Facebook.
Follow Artopia on Twitter at johnperreault