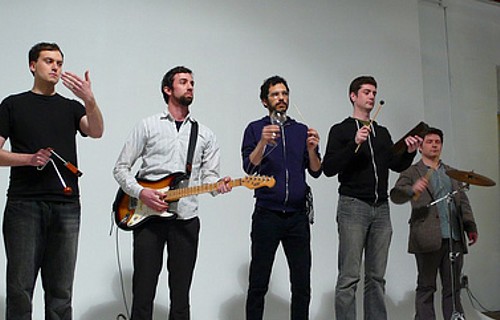 Fluxconcert Performance
The End of The Art World, Again
Art galleries are closing down. Well, perhaps not enough of them. And, let's face it, museums are dull. As an exercise in nostalgia, we now have O'Keeffe, Kandinsky, and are looking forward to Man Ray, and (in Philadelphia) Gorky. But only Man Ray at the Jewish Museum promises revelations — concerning his hidden identity. Wait a minute, we all knew he was Jewish, didn't we?
Oh, we are on to those museums, peddling proven pleasers. And then the new penny-saving trick is to offer fake exhibitions of single artworks or stuff from storage. The public is not fooled. In fact, if this is all museums can come up with, why offer special exhibitions at all? You know why: catalogs, posters, pencils, notebooks and other themed items might bring in some cash to our over-extended, cash-hungry institutions, now abandoned by those who once coveted the tax benefits of charitable donations.
Yet again, the art world has had its day and is withering away, right before our eyes.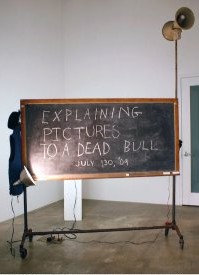 So everyone is anxiously awaiting the success of The Bruce High Quality Foundation University. The apparently all-male Foundation is an anonymous collective founded to honor the fictional, dead artist Bruce High Quality. The Foundation's art world zombie movie (Isle of the Dead) was a summer hit on Governors Island, as was its art-education slide lecture last July, called Explaining Pictures to a Dead Bull, which refers to the classic Joseph Beuys 1965 performance How To Explain Pictures to a Dead Hare.

The awful truth is that although an MFA seems to be required for artists showing at the New Museum and other once avant-garde venues, very few art majors graduate to self-sustaining art careers or, in fact, teaching gigs; actually, they never have. The numbers don't add up. Just compare the number of artists who make their livings from their art and/or the number of available teaching jobs to the number of MFAs, year after year. Well, dear art students, the odds are against you. And unless you duped your parents into funding your whole adventure, what you will reap is not art-world stardom, but debts beyond belief. That is why when one now eats out in New York, the waitperson is likely to have an MFA. Critics and curators have long known that they must watch what they say in restaurants. Loose lips sink art-world ships.
Otherwise on the mark, The Bruce does not point out that most art critics now depend upon the largesse of academia to survive. Not everyone can achieve a staff position at the New York Times, has a private income, or is amoral enough to function as a private art dealer. This is why art critics are silent about the MFA scam. Most of them teach and cannot afford to give away the show.
What then should be the function of art education? What are the proper goals? What should be taught?
Classes at The Bruce High Quality University:


OCCULT SHENANIGANS IN 20TH/21ST CENTURY ART

WHAT'S A METAPHOR?


BUILD YOUR OWN UNIVERSITY



PHILOSOPHY OF MOTION PICTURES



ART HISTORY WITH BENEFITS



ENVIRONMENTAL MUSIC PERFORMANCE



LIBRARY AS DETECTIVE AGENCY



EDIFYING

FUTUROLOGICAL POETRY
* * *
Fluxus Redux
Given the current art-market flux and the loss of faith, an art movement that was anti-object, cross-media, anti-establishment, and didn't have anything to sell — a generation before Conceptual Art, which, after, all did manage to sell out — is going to be instructive. When the auction houses lose half their sales, panic ensues, and dangerously insouciant, aggressively idealistic art looms.
But no, the '60s will not return. The Republicans, as long as they have a shred of power, will never allow that to happen. And the Democrats, because they are insanely committed to bipartisanship even when they have a majority, will always placate the Elephants as well as Elephants in Donkey drag.
The point is that you do not need a top-heavy, investment-driven art market for art to thrive.
With the exception of works by the truly original George Brecht, Fluxus was pretty much an outgrowth and a minimalization of Happenings and/or a music phenomenon. The latter has not been owned up to by music historians, who somehow have always preferred the charming Ned Rorem to John Cage, that total Zen Buddhist maniac.
Since many Fluxus practitioners came from music backgrounds and/or were influenced by Cage, it is not surprising that the koan-like instructions for those lean, mostly solo performances are referred to as "scores."
Some important artists and/or composers sometimes associated with Fluxus: Joseph Beuys, Nam June Paik, LaMonte Young, Yoko Ono.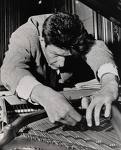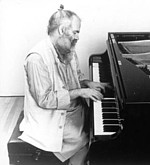 Joseph Beuys John Cage LaMonte Young

Yoko Ono
* * *
Fluxus Among Us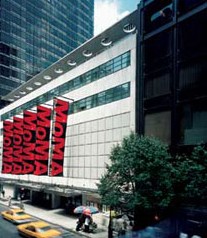 Item: MoMA Accepts Gigantic Fluxus Collection,
The Museum of Modern Art in New York recently accepted a gift of over 3,000 scores and other Fluxus items from collectors Gilbert and Lila Silverman. Insiders await the decisions that will determine which little slips of paper, which words, which sentences, which blurry photos and disintegrating films will be part of the permanent collection and which will be stored in the archive. But never fear. According to the MoMA Press Release, the Silvermans' curator, Jon Hendricks, will work with MoMA staff "to integrate the Fluxus collections with the Museum's holdings."
* * *
Lana Z. Caplan: Painting to Hammer a Nail, 2006.
Series of photographs based on Yoko Ono instruction pieces..
Item: Seattle Museum Artist/Guard Fired for Interpreting Yoko Ono Artwork.
Yoko Ono's Painting to Hammer Nail includes the instruction to "pound a nail into the painting." On display as part of "Target Practice: Painting Under Attack 1949-1978" at the Seattle Museum of Art, visitors complied, nailing announcements to the wall. Guard/artist Amanda Mae decided to add her own interpretation — removing and cataloguing the various announcements — and was fired for her efforts. Read the gruesome and surprising details on Artnet. Curator of Yoko Ono Exhibitions, Jon Hendricks (!), according to Artnet, wrote to Mae, urging her to have "greater respect for the artist … you have to consider art in a much deeper, more profound sense than you do."
* * *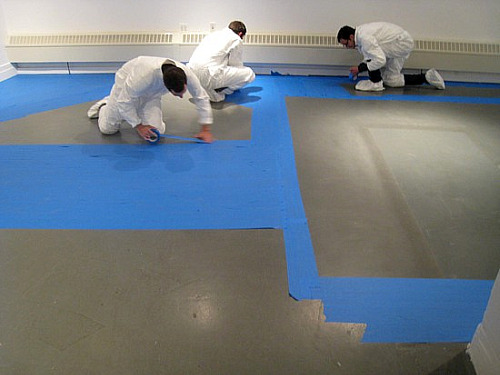 <
Perry Garvin: Floor Covering
Item: Director of Fluxconcert Goes Out on a Limb.
Fluxconcert, an Instruction-Based Performance Ensemble, presents programs of re-creations of historical Fluxus pieces and newly created Neo-Fluxian instruction-works. You can access to YouTube snippets and full-length programs on Vimeo on the informative Fluxconcert website.
Last Friday, artistic director of Fluxconcert Perry Garvin and two other young men — all wearing disposable white coveralls and shoe-protectors — performed one of Garvin's Floor Coverings. At Fluxconcert concerts, the "scores" are often readily available, as this was here. A sign read: "Cover the floor of a room in blue painter's tape."
The piece was performed in an empty gallery at the 111 High Street building in DUMBO. during Friday's monthly art crawl.
For non-New Yorkers and those outside the art-world loop, Down Under Manhattan Bridge Overpass is a swanky real estate development on the Brooklyn shoreline that features spectacular views of Manhattan and the Brooklyn as well as the Manhattan Bridge. Here, owners of fancy condos are served by design stores and high-end food purveyors. There are empty bars galore; inhabitants, wearing proper outfits, prefer to jog after work rather than drink. This tiny "neighborhood," however, has not yet discovered noodles. In Manhattan's East Village, noodles are the new pizza. In DUMBO., pizza is the new pizza.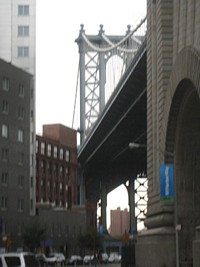 You could watch Garvin and his two-man crew neatly laying blue painter's-tape on the floor by looking through the hallway window or stepping inside for a better view. The presentation was elegant indeed.
Even more uplifting was what Garvin decided to do when, after an hour, he used up all the blue tape. He ran out, but the local paint store, curiously enough, did not carry blue tape. On the spot, Garvin reinterpreted his own score by deciding that "covering the floor" did not mean that he had to end up with a totally taped floor. Instead, the performers began to peel off the already laid-down tape and applied it, piece-by-piece, to the previously untouched sectors. Later, Garvin confessed that he had "seriously misjudged the amount of tape we would need."
Here I need to add that there were two other excellent performances nearby.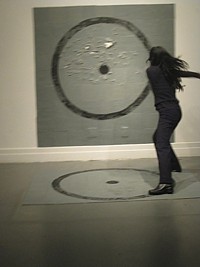 1. Kata Mejia at the Randall Scott Gallery performed Castigo — "a performance-installation in which a space is created that allows for the artist to express her
anger and symbolically punish the criminals who three years ago in Colombia kidnapped and killed her brother." At intervals, the artist belt-whipped a targetlike wall piece for 30 minutes at a time, shouting with each stroke, leaving a decimated emblem.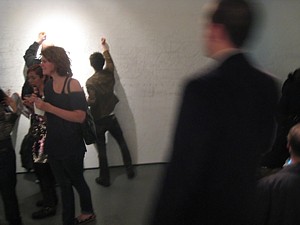 2. In another 111 High Street gallery, Illegal Art handed out sharpened pencils to visitors, who were instructed to make continuous lines across all the gallery walls. Founded in 2001, Illegal Art is "a collaborative of artists whose goal is to create interactive public art to inspire self-reflection, thought and human connection. Each piece is then presented or distributed in a method in which
participation is simple and
encouraged."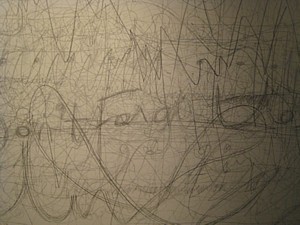 * * *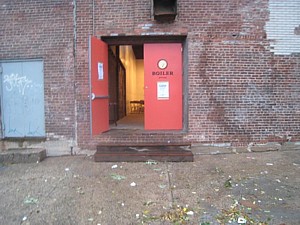 Pierog's The Boiler, Brooklyn
Item: Fluxfest Waves the Fluxist Flag
Fluxfest at Pierogi's The Boiler (on Sept. 11, with not a mention of 9/11) had the genuine Fluxus offhandedness and the historically correct disregard for ceremony or performance-niceties such as a printed program. The latter would have allowed the patient audience — outnumbered by the performers, as is also traditionally Fluxian — to ascertain authorship, date of creation, and performer.
Thus, 13 or so friendly Fluxians from here and abroad, most of whom had not met before, presented an hour-and-a-half of Fluxus pieces, old and new. For the record, they were listed in WAGMAG, the Brooklyn Art Guide (which I had picked up at 111 High Street) in anti-alphabetical order: Allan Revich, Reid Wood, Mark Bloch, Christine Tarantino, Carol Starr, Reed Altemus, Tamara Wyndham, Don E. Boyd, Melissa McCarthy, Keith A. Buchholz, Bibiana Padilla Maltos, Bradstifter, Mary Campbell, Pronoblem and more!!
Balloons were inflated, water poured from one plastic cup into another in a circle of plastic cups, jellybeans dispersed, toy instruments given out — as were miniature versions of U.S. tender. Various classic Dada texts were read, including a poem by Louis Aragon called Suicide, which consisted of reciting the alphabet. (It is one of my all-time favorites.) But in another rather anti-Fluxian demonstration, a woman asked if anyone could love her as much as she loved herself. Obviously not. So shopping bag in hand, she stormed out, never to return.
The best was saved for last. The interlocutor, one of five participants wearing black hats, tacked a piece of paper on the wall behind him, then left. Other Fluxians got up, read what was on the piece of paper, and also left. Then members of the audience, myself included, did likewise. I copied what was on the piece of paper: "Word Event/Exit/ George Brecht, 1961."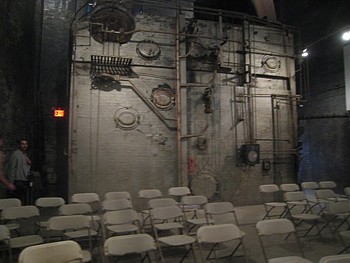 * * *
Recreations
Questions raised by the reenactment of historical performance art — as in Fluxconcerts and pertaining to half the pieces in Fluxfest — are challenging. In Artopia, we subscribe to the ancient principle promulgated by our favorite Greek philosopher, Heraclitus: "No man ever steps in the same river twice, for it's not the same river, and he is not the same man." I think this dictum also applies to women.
Last year in Colorado, I recreated my 1971 Whitney Museum performance called Critical Mass. This time, I did not make the large black "A" myself, as I had originally; the Laboratory for Art and Ideas (where Critical Mass 2008 was performed) saw to that, saving a lot of money on shipping and insurance. Also, I let the Lab staff choose the 25 remaining objects, one for each letter of the alphabet. As in 1971, I sat on the floor and tied all the objects to myself using black string, crawling off the performance space with the objects trailing behind me in a jumble.
But: The performance space was not the fourth floor of the Whitney. The Colorado audience stood around with their wine glasses, whereas originally an audience of 200 or so sat on bleachers. Critical Mass 2008 took all of 20 minutes — then was reduced to less than five minutes for YouTube. Critical Mass 1971 took over an hour and had a sound component, now lost.
But: The performance space was not the fourth floor of the Whitney. The Colorado audience stood around with their wine glasses, whereas originally an audience of 200 or so sat on bleachers. Critical Mass 2008 took all of 20 minutes — then was reduced to less than five minutes for YouTube. Critical Mass 1971 took over an hour and had a sound component, now lost.
The artist in 2008 has short hair and a nicely groomed beard and wears a Brooks Brothers suit. Is Critical Mass 2008 a new piece? For the same survey exhibition — In Plain Sight: Streetworks and Performances, 1968-1971 — did moving the hot- dog stand of Hannah Weiner's Wieners from outside to inside make it a new work too?
What we must decide is whether reenactments are inevitably something new because their social, cultural, and artistic contexts are different. And, if performed by the artist, we have to remember that he or she is different, too.
Is Bach always Bach, no matter when or where or played by whom? In Artopia, we prefer period instruments and historical performance-practice. But does something similar apply to performance art? What would happen if I decided to act out a piece called How To Explain Art to a Dead Elephant?
Then there is the question of interpretation of instructions. Ancient but still surviving Fluxians, I am told, have become quite academic. They do not look kindly upon loose improvisations or contextual shifts, whereas by their very brevity, Fluxus scores are often ambiguous or — the term I prefer — "open."
Soon we will see a restaging of Allan Kaprow's famous 1961 Yard tire piece at the new Hauser and Wirth Gallery (opening Sept. 24). Yard is bound to be much more precious and artistic than it was the first time around. I hope the tires used will be vintage 1961. Also, "re-inventions" of Yard will be proffered by William Pope.L., Marion Hayes, and Josiah McElheny.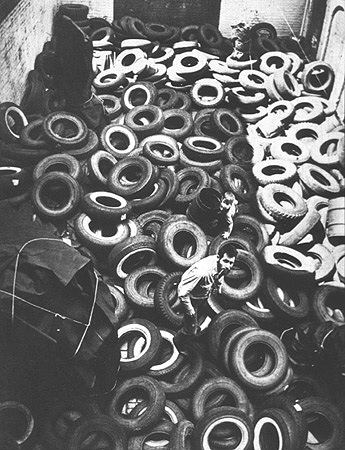 Recreations
When Japanese ceramists centuries ago tried to recreate a certain kind of expensive, very flashy Korean folk pottery, they created something all their own, now thought of as quintessentially Japanese. Keep in mind that when an elite group of late-16th century Florentine aesthetes who called themselves the Camerata thought they were recreating Greek theater — which was, yes, sung — they accidentally created what we now call opera.
Surely, whether it is Dada, Fluxus or Conceptual, anti-object art is irritatingly perennial. Art, in any case, is an unbearable paradox since it is material and yet cosmic — vestment and in vesture, too easily turned into investment.
Artopia hopes that Neo-Fluxus does not usher in just another turn of the wheel, wherein art rebels become blue-chip stars, forever producing meaningless commodities for the art racket. To become an art success, scandal is the first step, again and again. Rumor has it that The Bruce High Quality Foundation is already being offered a museum retrospective.
One reason the art world is still mostly for males is that it all runs on Oedipal steam. Killing Daddy results in new Daddies. The art world is still more Freudian than Jungian and denies Electra. How can we break the cycle?
FOR AN AUTOMATIC ARTOPIA ALERT CONTACT perreault@aol.com