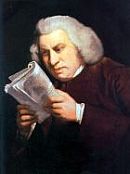 Samuel Johnson Had It

(And So Did Howard Hughes)
Samuel Johnson suffered from the need to engage in threshold rituals, was prone to repetitive step-counting and continual praying.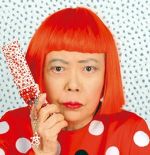 Yayoi Kusama can't stop painting dots and loops. At one time she also covered chairs, sofas, and entire rooms with stuffed "penises."
Obsessive compulsive disorder is obsessively referred to by the mental health profession as OCD. Are capitalized initials easier to remember than words? Are capital letters more — or less — frightening?
OCD, it is now agreed, is an irrational response to anxiety.
But since Kusama's response turns out to be art, perhaps we could think of Johnson's threshold rituals and his step-counting as predecessors of Acconci-like performance art.
Oh, it's the same old story: art and insanity, neither of which is all that easily defined or diagnosed. Insanity must at least be debilitating and prevent normal life, whatever that is. In contrast, art must be life-enhancing and, if sometimes puzzling, it should be psychologically, cogitatively, emotionally and mentally rewarding — and, in the last analysis, of interest to other persons, not just your mother or father.
Art, alas, is social.
It is demeaning and stupidly romantic to confuse art and insanity. If you equate the two, you cannot easily reverse the terms. It may be true to say that art is insanity — if art is defined as an activity without practical purpose — but you cannot flip the formula. No one would think that insanity is art — except yours truly, who would say it can be art like everything else, but it is usually very bad art. Here we part company with the Surrealists, who, when you come to think of it, were hardly crazy, which is why the adage "crazy like a Surrealist" has replaced "crazy like a fox."
Kusama, whose recent work is at Gagosian (555 W. 24th St., to June 27), forces this topic. The exhibition is well-worth taking in, particularly if you missed the MoMA exhibition in 1998 or have never bothered to think about artmaking or the looking at or the purchasing of same as an Obsessive Compulsive Disorder (OCD).

Kasuma: I Want To Live Forever, 2009
Always a Bridesmaid, Never a Bride?
Kusama, now 80, can afford to live in a psychiatric facility near her studio in Tokyo. She returns there every night. In New York City she was once second in media fame only to Andy Warhol. Now she is the world's second most-famous victim of OCD. Soccer star David Beckham is the first.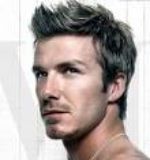 [Beckham] has told media that he has to count all of his clothes, and that magazines have to lie in a straight line. If there are three soda cans in his refrigerator, he will throw one out to make an even pair, and if there are any more at home they have to be placed in a cupboard. He has explained that the reason he gets more tattoos is that he feels addicted to the pain of the needle. In hotels, any books that are on a shelf must be placed in the drawer….. Daily Mail, April 3, 2006.
Kusama has been quoted as saying: Art is my medicine.
We now know that OCD — like asthma, 1 in 50 Americans have it — can be cured or at least helped by ERP (Exposure and Response/Ritual Prevention). In order to prevent contamination by penises or stand-ins such as paint brushes, you may need to constantly wash your hands over and over until they are raw. However, you can slowly be cured by learning to deal with the anxiety by touching an object three-times removed from the offending thing, then another two-times removed, then you can come to grips with the offensive, anxiety-provoking enemy itself. First you touch a reproduction of a painting in a magazine, then you touch a real painting. Then you can touch a paint brush.
Although OCD is universally described as an attempt to control high anxiety, it seems to be primarily a neurological condition immune to psychotherapy. There are chemical solutions. And if all else fails, surgery. Can surgery cure art collecting? Can the scalpel relieve you of the need to make art?
This, of course, brings up a really forbidden topic: art as therapy [AAT] or ATT, the Art Therapy Taboo.
Artopia is built on the rock-solid principle that art heals. Furthermore, unlike the misguided idea that a representation of violence can cure you of violence, art can actually cure you of art. Sometimes, however, the punishment is worse than the crime.
If the NAS (the No-Art Sign) — vis-a-vis the forthcoming three-year art srike — were not now the OAI (the Official Artopia Insignia), then the caduceus would be.
You know; the winged staff with two intertwining snakes. Our founder's astrological sign is indeed Mercury. The staff is you-know-what; the two snakes are snakes in the grass; the wings are wings.


Casting Our Nets Wide and Far
Shortly after arriving in New York, Kusama had an amorous relationship with the otherwise reclusive Joseph Cornell. Later it was Donald Judd who was her inamorata. Why did Judd, at the time a practicing art critic, find so much to praise in her early "net" paintings? They are allover, thus genetically out-of-Pollock, proto-Minimal and use the same looping gesture over and over (i.e., process-oriented, systemic), looping one color over a one-color ground, thus leaving little bits or irregular dots between the overlapping looping. Amazingly this creates a complicated, misty, and somewhat mystical surface. The paintings are more radical than the sugary Jules Olitski and ahead of late Richard Pousette-Dart. One of them sold for $5,100,000 at auction in November 2008, which is reportedly the highest price ever paid for the work of a living woman artist, topping Rosa Bonheur in her heyday.
But — and here's the rub– we now know the Infinity Net paintings were the results of OCD. Kusama was merely trying to keep her deep-seated anxiety at bay. Although it appears her anxiety had a sexual basis, perhaps she was also anxious about not being famous enough — which is, by the way, what we now label UAD, the Universal Artist's Disease.
Was this also true of the zany Pop Art polka dots that followed and the naked street protests in which Kusama painted dots on fully exposed butts and breasts to protest the war in Vietnam? These are not beautiful — as the Infinity Nets definitely are — but they are certainly fun. And who will ever forget Kusama's penis chairs and sofas and rooms (!).
Kusama, Accumulation #1, 1962 (not in exhibition)
In the Sixties, Kusama was a Fame Queen of the highest order. She even produced a prescient gay wedding at Judson Church. But it was the street events that back home in Japan got Papa-San's goat. Some resulted in police wagons loaded with stoned, dot-covered naked youths. Some resulted in tabloid headlines End of monthly stipend. End of career.
Yes, we were unfairly inattentive back in the '60s, thinking of Kusama as just another Japanese rich girl, like Yoko Ono, determined to become famous in New York. Once she was gone and out of the way, we hardly missed her.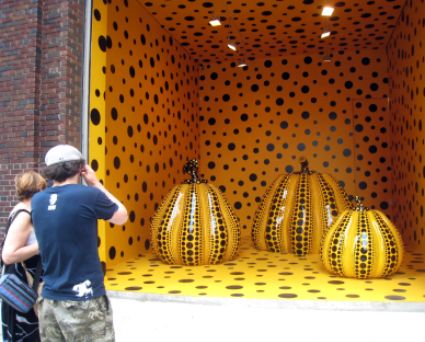 Kusama: Untitled (Installation), 2009
I Want To Live Forever
The current exhibition is a mixed bag. The untitled, tourist-magnet installation, a dotted three-sided room open to the street, contains three gigantic "pumpkins." Inside, the Infinity Nets trump all else: the five-panel Day-Glo red-on-yellows I Want to Live Forever and the black-on-black (TT00X09) being my favorites. And we are always partial to white-on-white, having ourselves produced toothpaste paintings of that august color combination.
But the easily overlooked mirrored room called Aftermath of Obliteration of Eternity has its virtues too. A guard allows a few people in at a time. And although I joked with said guard about what the elderly couple were doing inside for so long, when you close the mirrored door behind you, you are in outer (or inner) space.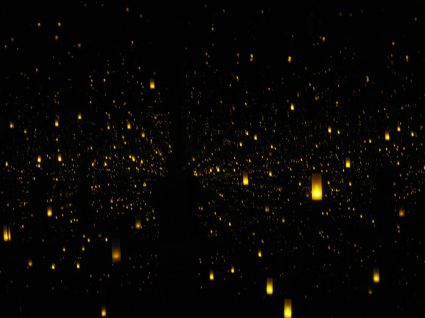 Unfortunately, the self-portrait that greets you when you enter the gallery and the eye-painting deep inside the gallery are kitsch. Though they are art-size, if they were sketchbook-size, they would truly look like they came out of your neighborhood loony-bin.
Kusama (or her handlers) may be uneven, but she is not a joke. She too needs editing.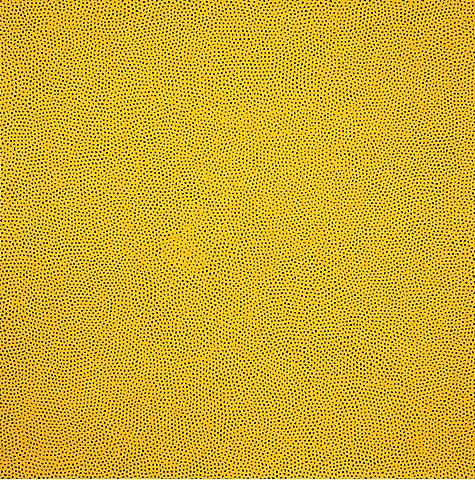 Kusama, Infinity Net TBBBTY, 2009
Dot.com Tour de Force?
For what it's worth, please read Alexi Worth's "Kusama Dotcom" — IS SHE MAD OR MERELY CUNNING? WHILE THE ART WORLD DEBATES, YAYOI KUSAMA CLIMBS BACK ON TOP — in the spring 2008 New York Times T Magazine.
What to do if your subject clams up? Writers and would-be writers, here is a lesson in journalism. After the introduction, after the author, on "page" three has watched an Araki photo-session with Kusama posing in her now signatory bright red wig, we read:
I told her it seemed odd to me that a woman whose art was so often comic, and even outrageously funny, should smile so seldom. "I don't know what you're talking about," she answered. There was no anger in her voice, but she whispered something further in Japanese to an assistant. The assistant leaned over to me: that was it. The interview was over.
But not the article, which goes on for seven more "pages."

Off the Shelf

For a deep dip into '60s psychedelia watch Kusama's Self-Obliteration (1967). Although the scenario and art are by Kusama, the well-known experimental filmmaker Jud Yalkut is credited with the period-style underground cinematography — full of superimpositions, and sometimes irrational zoom-ins and fast zoom-outs — and the editing.
The first YouTube segment has a dotted nude on a dotted horse, and a poetic sequence of Kusama painting dots on water. Sections two and three will test you even further, since each is self-consciously wilder and wilder and then ends in the orgiastic. I keeptrying to recognize friends of my youth, but with no luck. Peter and John, where are you? The two guys who were married at Judson Church were Kusama street-event regulars, but now all that pasty-white flesh looks alike.
Part I:
Part II:
Part III:
.
Art Is the Cure
We must get used to the idea that art history is unstable. It is a process, not an idea. It is constantly being over-written, unwritten, rewritten. Artists are buried (Francis Bacon); but artists are also reborn (Kusama). In the latter case, it is particularly poignant that an artist can be reborn while still among the living.
Art is not the symptom; art is the cure.
Never miss an Artopia installment! For an Automatic Artopia Alert,
contact: perreault@aol.com