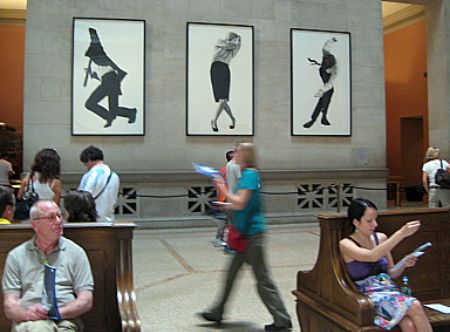 Not Every Picture Tells a Story
"The Pictures Generation (1974-1984)," now at New York's Metropolitan Museum through Aug. 2, proves that pictures will not cure you of photography, any more than the hair of the dog will cure you of rabies.
The exhibition offer as many insights about photography as it does about spinach.
The so-called "Pictures Generation" was never an art movement; it was hardly a trend. That two of the artists so packaged way back in the dim past have emerged as art-world superstars — Cindy Sherman and Richard Prince — may be more of an explanation for this investigation than anything else.
Why these two and not any of the others? In the first room of the exhibition, which features early work, Sherman's self-portraits jump from the wall. Or is this hindsight? Prince is virtually indistinguishable from the common lot.
Yes, there are photographs in "The Pictures Generation," and certainly Louise Lawler and Laurie Simmons are represented by their dull photographic fare. On the other hand, Sherman is as much a performance artist/ makeup artist as a photographer. She makes faces of her own face. She paints herself out of her pictures; she is myriad. She is the actor-artist.
Because of the context, both David Salle and Robert Longo — artists I usually have no interest in — turn out to look better than they have in a long time. Two paintings by Salle stand out because in a world of processed images raw paint always wins. Longo's iconic "Men in the Cities" Triptych, removed from the accumulation upstairs, holds its own in the Met's huge lobby — which is a lot to be said for drawings, even big ones.
Otherwise, too much early work. Too much weak work. And we are left to sort through the mess. Art critic/art historian Douglas Crimp's "Pictures" exhibition at Artists Space in 1977 was, in theory, seminal — launching the "Pictures Generation." That very dull little show, however, occasioned Crimp's influential Artforum essay. The concept at the Met seems to be that the assembled motley crew — most of whom were not in Crimp's exhibition — represents a kind of postconceptual image-making, retaining "concepts" from Conceptual art but illustrating them with images from the mass media.
None of this was new in 1977, with one possible exception: out-and-out appropriation — as it came to be called — by Sherrie Levine. She re-photographed Walker Evans' classic photos from reproductions in a book.
Otherwise, we could just as easily say we are looking at Pop Art Two.
Too bad the recent Walker Evans show at the Met is now closed.
The Pictures Generation isn't a generation like the Lost Generation or even like Generation X; it is packaging, which is ironic, considering the claims made. Critique of capitalism? Exposure of the image nation? Give me a break.
Does the Artopia 10% Rule for mediocre surveys still apply? Yes. Out of 30 artists, Barbara Kruger, Levine, and Sherman are the only clear winners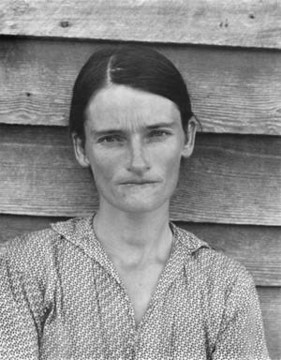 .
Previously:
Oldenburg at the Whitney

Please scroll down.
Ernesto Neto at the Armory Please scroll down.
Forthcoming:
Art Strike Announced, Available on-line:Tuesday, May 26.
Never miss an Artopia installment! For an Automatic Artopia Alert,
contact: perreault@aol.com