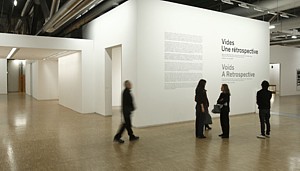 Being and Nothingness
What is the void? It is not a vacuum, nor is it emptiness. Whatever it is, it is decidedly not plural ….
Voids: A Retrospective is an exhibition that just closed at the Centre Pompidou in Paris, but it will make one more appearance — at the site of the co-producer, the Kunstalle Bern in Switzerland. In its own way it is as important in our century as were certain exhibitions in the second half of the last: When Attitudes Become Form at the Kunsthalle, Bern, and Earth Art at Cornell University, both in '69.
This daring exhibition consists of nine empty rooms. Arranged chronologically by the date of their initial incarnations of the void, the artists are: Yves Klein (1958); Art & Language [Michael Baldwin, David Bainbridge Terry Atkinson and Harold Hurrell] (1966-67); Robert Barry (1979); Robert Irwin (1970); Laurie Parsons (1990); Bethan Huws (1993); Maria Eichhorn (2001); and Roman Ondák (2004).
Never mind that the use of the word retrospective is suspect. The term in English usually means an examination of the career of a single artist, not a survey or group show. I attribute this — along with many other interesting anomalies in art and life — to shaky translation. Not all words in different languages have exact equivalents. Or is this bending of a term meant to alert us to the unusual nature of the exhibition, the poetry of the concept?
The curators, who should receive full credit for their authorship, were John Armleder (an artist himself), Mathieu Copeland, Larent Le Bon, Gustav Metzger (artist pioneer of auto-destructive art), Mai-Thu Perret (artist) and Clive Phillpot (esteemed former librarian of New York's MoMA). 
Making something out of nothing is hard work.
Before I go on to summarize each room — you can find more information plus excerpts from the catalogue on the Pompidou website  —  I must opine, as no doubt many have, upon the cleverness of reexamining well-regarded but perhaps misremembered exhibitions. Would we still be impressed by a recreation of MoMA's 1970 Information? Or further back, the historic Armory show of 1913?
I don't think we should let sleeping dogs lie. You can read and read and pore over press reports, contemporary art criticism, and scholarly footnotes, but actually seeing the selfsame artworks now would be … well, a trip. To expand Heraclitus's aphorism that you cannot step into the same stream twice, if you have changed, then the art will have changed too. How could it be otherwise? I am thinking specifically of Klein's empty gallery.
The eight other rooms represent something else. They are exhibitions that have drifted from view, as it were, but nevertheless clearly are descendents of Klein's breakthrough. Some are daring, some are academic riffs, but all are worth looking at. Oops. I mean not looking at. I mean thinking about. We cannot let mere perception stand in the way of ideas.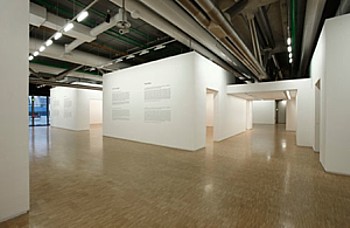 Empty Rooms — Empty Mind

                       
In terms of the void, only Yves Klein, who studied Judo and Zen, got it right. If he had been an Islamic mystic he would have been associated with the Path of Blame. His void was a scandal. Subsequent voids — all empty galleries — are merely about art, in one way or another. Just as Klein's faked photo of jumping out of a window was the essence of the void, so too was his empty gallery over 50 years ago. It was the first of its kind and, I think, remains the only one that is truly a void. It destroys his own oeuvre. It is a hole in the fabric of art. It is at the center of art. It has replaced the readymade. It is pure thought and pure emotion.
The Specialization of Sensibility in the Raw Material State Into Stabilized Pictorial Sensibility opened April 28, 1958 — well, sort of opened, since the Iris Clert Gallery, freshly painted white, was illuminated but locked. No one was allowed inside. But Klein was not as forensic as his apologists would like him to be.
There was at least one more Klein "void."  According to a Pompidou text: "A few months before his death on June 6, 1962, he produced his last 'void,' taking down paintings hung in one of the rooms of the musee d'Arte Moderne de Paris for the Salon Comparaisons."
Of course, in English there is a pun: To "void" is to shit. Had Klein been digesting Manzoni? Did he know enough English to perceive the pun?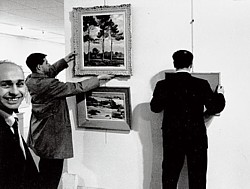 Yves Klein's last void.      
Other Voices, Other Rooms
The trick to creating a new artwork that is an empty gallery — so late in art, so after the fact — is to force upon it a unique context or meaning. Labels and titles are the frames of these three-dimensional frames, these so-called voids. We bring to them all we know rather than confront what we do not and cannot know. We sense that under certain circumstances the void is palpable, but ultimately we are confronted by lessons in context.
Art and Language's Air Conditioning Show was meant "to question deeply rooted convictions about the nature of art and its relationship to its discursive and institutional context."
Robert Barry's Some places to which we can come, and for awhile "be free to think about what we are going to do." [Marcus], "invites the visitor to consider the exhibition space nor for what it is or what it has to show, but as a place to meet and reflect."
Robert Irwin's Experimental Situation posits that "a gallery is never truly empty, as every space has specific qualities that we can perceive."
Laurie Parsons' untitled exhibition, apparently her last, was her consideration of "the gallery itself, rather than continue to unquestioningly use it as a context." Parsons removed the exhibition from her resume, so "to respect Laurie Parsons' original gesture, there is not label bearing her name in the exhibition room." *
Bethan Huws's Haus Esters Piece (Museum Haus Esters, Krefeld) is a kind of readymade: "… struck by the beauty of the Mies van der Rohe building … [she] decided to leave it empty, with a text available for visitors."*
Maria Eichhorn's Money (originally at the Kunsthalle Bern) is an empty room that resulted from her research into funding of the exhibition and her decision to devote the budget for her show to the renovation of the building.*
Roman Ondák's More Silent than Ever is "supposed to be equipped with a hidden listening device.*
Note: All rooms with an asterisk represent work by artists new to Artopia and who are now Artopia-approved.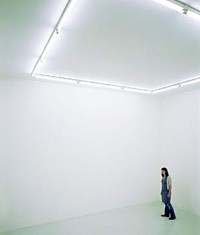 Roman Ondak, More Silent Than Ever, 2006
Null and Void
The emptiness frames itself, having been relieved of all other duties. An art space devoid of objects is much more effective as art than an empty frame hung on a wall, probably because it is not an object functioning as a sign, but a space serving as such.  
The only thing that comes close to the empty-gallery feat are Robert Rauschenberg's all-white canvases of 1951. Or, yes, John Cage's 1952 silent composition 4'33".  Is there an equivalent in literature? I know that somewhere someone has produced a novel that is all blank pages. If not, I will do so immediately. Aram Saroyan, when he was writing one-word poems, "published" a ream of blank typewriter paper.
Is there a dance equivalent to the empty room? I presented such an anti-dance, anti-artifact called SOLO (A Dance) in 1969 in a small Manhattan theater on West 3rd Street on a program with Vito Acconci and Bernar Venet. To the music of Swan Lake and then to a tape of jackhammers, I moved to specified positions on the stage between the lowering and raising of the stage lights. I moved in the dark, so no one in the audience of six — count them, six — actually saw me move. Scott Burton, who later created "living sculptures" theater pieces, worked the lights.
Vacancies
Concerning the show at the Pompidou, I have these nagging doubts. Were the rooms really empty? Was one room more empty than another? Were the rooms of different sizes? Did Klein get a bigger empty room than Art and Language? Did one room have more aura or more mana than another?
Did the preparators repaint all the rooms to obliterate the fingerprints and dirt- shadows of previous exhibitions?
I love the memory of a painting left on a wall when the painting is removed. I love the way a pedestal marks the floor.
This, of course, is related to the sadness of empty, recently vacated and not yet renovated rooms that I can view to my heart's content by searching Craigslist. I know this is a really depressing hobby of mine, but I can't stop looking. Someday I will make small paintings of them.
.
Not All Empty Rooms Are Alike
As already mentioned, Voids is traveling to Bern —  which probably means the labels and the catalogs are merely sent — but it should have had a wider itinerary. Why did other institutions refuse to take the exhibition? Not enough space? You'd think that during a time of empty budgets  a show of empty rooms would be perfect. No crating! No shipping! MoMA's cramped sixth floor would be perfect for showing nine empty rooms. For other large-scale works, MoMA our Mama, taking advantage of the real-estate downturn, should acquire the public library branch now up for sale across the street and the forever-empty former site of the American Craft Museum next door.
… And then I had the idea that I should pick up where Klein left off. As an artist I should just do empty rooms, but absolutely nothing else. And no trimmings or labels would explain the joke.
Taking a page from Ad Reinhardt-influenced Severe Minimalism, there would be no progress, no development. In some sense, once you had seen one you had seen them all. But in another sense, even rooms of the exact same dimensions would be quite different, because of differences in date, in geographical and institutional location, and because I would be a different age and of a slightly different disposition at the manifestation of each void. The rooms would be numbered, I guess, and include the name of the location: Empty Room #22, Philadelphia Museum of Art; Empty room #32, Gagosian Gallery, London; Empty Room #335, SFMOMA; Empty Room # 388, LACMA. Empty Room #498, the Rose Art Museum at Brandeis.
And then best of all, outdoing Severe Minimalism, my Empty Rooms would finally and totally obliterate originality.
Careerwise, my voids would easily be accepted into permanent collections, because no storage or climate control would be required. No security. No insurance. They could not be damaged by flood or fire. They could not end up at fire sales or in dumpsters. Of course, forgeries would be numerous, but loans to other institutions would be a snap, leaving aside whether or not you could charge for such a loan. I think you could, and in fact should, to guarantee the proper respect.
Furthermore, I now also claim authorship or hereby "sign" all empty galleries in art  museums during the downtime between exhibitions when they are unavailable to the public.


And sales? I see no reason why collectors who in their daily lives deal in credit-default swaps and other derivatives would have any problem with owning an empty room, an empty gallery, an empty museum, or emptiness itself. Think of the investment potential. Think of how easily my voids could be smuggled from country to country.
But when I awakened from my dream I felt strangely empty. Would I have the discipline to continue creating one empty room after another? Would I be able to resist making things? If I were only concocting voids, what would fill the void in my life? Would I have to face The Void?
FOR AN AUTOMATIC ARTOPIA ALERT WITH EACH NEW ESSAY PLEASE CONTACT:  perreault@aol.com