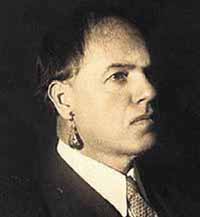 Life Is a Gas
David Burliuk was a living, breathing art paradox. At first glance, his life was more interesting than his art. Or was his life, rather than his paintings, his real art? There's an intriguing exhibition honoring him at New York's Ukrainian Museum, 222 E. 6th Street, to March 1. The exhibition, which originated at the Winnipeg Art Gallery, is entitled "Futurism and After: David Burliuk 1882-1967."
Burliuk is the nearly forgotten Zelig of art history. Born in the Ukraine, as a young man he high-tailed it to Munich and became a member of the Blue Rider group (1910), which as every art student knows included our hero Wassily Kandinsky.
Certainly this association sent Burliuk on his way toward abstraction, but, alas, it also sealed what I see as a deadly relationship to the folkloric — the Slavic folkloric being the worst of all such obsessions. Artopia even dislikes Marc Chagall and certainly does not countenance any artwork that depicts dancing Cossacks. The founder of Artopia had a Polish grandmother.
Under normal circumstances this might provide an opening to discuss the current gas controversy between Russia and Ukrainia, but like everything Slavic it is far too complicated to fathom. It is not just Gazprom versus Naftogaz.
Ukrainia, according to Moscow, has been siphoning Russian gas from the pipelines that cross its borders, and therefore in retaliation was denied the passage of the same amount of gas they are accused of stealing. And then all gas was stopped. That means factories dependent upon Russian gas were being closed in Prague and other cities at the other end of the pipelines. Just to punish Kleptokrainia?
On the other hand, the Russian Bear — strapped for funds because of the recession-driven drop in demand for all oil and gas — has more than doubled the price of its natural resource and does not like the idea that Ukrainia might join NATO. At this writing, outside E.U. observers will be put in place to help resolve the "dispute." Nevertheless, the New York Times reports are muddled and repetitive. Truly, if you make a muddle that no one can understand, you can do what you want.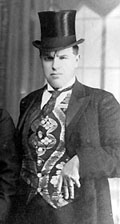 A Patchwork Vest
Back in time — and back in pre-Stalinist USSR — Burliuk became a leading light of Russian Futurism, among other things initiating art performances called "poezoconcerts" now represented only by handbills and a few, very rare, very fuzzy photographs. Then after spreading the word to Siberia, it was a hop, skip and jump to Japan, where he became the major influence on Japanese Futurism (1920-1922).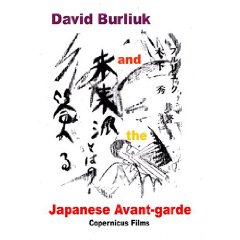 Did we ever study Japanese Futurism? Where has it been all of these years? Thanks to this sudden interest in Burliuk, the spotlight can now move to the Sanka (Third Section) group, not named after a brand of instant coffee (which did not yet exist) but after a quasi-mythic "wandering, mountain-outcasts" subculture of Japan. This was followed by the Group MAVO (1923-25), which initiated cross-dressing art performances – men in women's shoes! — and like Sanka showed their paintings and assemblage in department stores in order to connect art and life. Check out on YouTube part of the DVD called David Burliuk and the Japanese Avant-garde.
Burliuk initiated the first exhibition of new Russian art in Japan, which included works by Malevich and Tatlin (both comrades of his). Burliuk was quite a character. Of the 473 works by 28 artists, 150 were by himself.
And then he and his family (his wife Marusia and two young sons) landed in New York during the Great Depression where — contrary to the idea that he may have deserted the USSR to escape the Communists — he worked from 1923 to 1940 as the art editor and proofreader for Russian Voice, a Communist newspaper. And this was when he was promoting what he called Radio-Style! And publishing a magazine called Color & Rhyme, which I myself would love to see.
Paradoxically, also at the Ukrainian Museum until Jan. 11 was
"HOLOMOR: Genocide by Famine," which documented what both the U.N. and the E.U. officially recognize as Stalin's intentional famine (1933-34), inflicted mainly on the collectivization-resistant Ukrainian farmers. According to recent estimates, seven to 10 million peasants died.
In Homage to the Invisible
Burliuk begins his 1926 Radio-Style manifesto by answering his own question: WHO IS DAVID BURLIUK? He is
…the father of Russian Futurism and one of the founders of the Cubo-Futurist movement in France and Germany…David Burliuk is on of the pioneers of the NEW UNIVERSAL ART… I now assume the name of RADIO-FUTURIST, founder of the UNIVERSAL CAMP OF RADIO-MODERNISTS in the City of New York.
If this wasn't enough, In 1941, burly Burliuk moved to Hampton Bays, Long Island, where he was the ringleader of the Hampton Bays Group, which included Rafael and Moses Soyer, Milton Avery, and Arshile Gorky. Whatta guy.
The Ukrainian Museum is in Little Ukrainia, now imbedded in the East Village. A few blocks away, at the 24-hour actor, artist, poet, student hangout Veselka on Second Avenue and 9th Street, you can still sample tasty Slavic staples such as pierogi, blintzes, borscht, and kielbasa.
But before you chow down, your art duty requires you to see the ink-on-cardboard portrait of Burliuk by Gorky (1930), a bust of him by Chaim Gross, and a bust of Marusia Burliuk by Isamu Noguchi. You can also admire Burliuk's garish, cubistic patchwork vest; a case featuring seven of his trademark single-drop earrings, and his glass eye; in another room there is a display of his easel, his paint brushes, his paint box and pallets.
And the paintings? They are all over the place. One of the problems is that they are all from the artist's estate, i.e., borrowed from his granddaughter. A bigger net and a sharper curatorial eye would have improved the show.
Outstanding is his Squares, a small, totally abstract paint from 1910. But I also liked Man With Two Faces (1912). Harlem River (1924) is his Radio-Style masterpiece.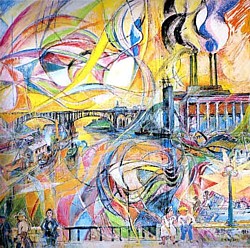 David Burliuk, Harlem River, 1924
Slugging my way through the folkloric and big-face Socialist Realist pap and Neo-Impressionism, the next real knockout is the large Children of Stalingrad (1944), with portraits of Lenin and Stalin. Oddly enough, both the Neo-Romantic portrait of his son Nicholas (1942) and Marusia (1965) are quite wonderful. I was also charmed by Burliuk's effort to repaint van Gogh chestnuts.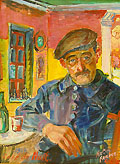 David Burliuk, Cafe de Nuit, 1949
I do think, however, that there is a bigger, better case to be made for Burliuk. He was so uneven that I immediately began thinking I had better weed out my own paintings now in storage and many old poems that should never see print. Burliuk, the enthusiast, the promoter, the clown, was not a good critic or curator of his own work.
Even a cursory Google search reveals some paintings that deserve greater visibility. He needs to be better packaged. In any further investigation of Burliuk loans from Russia, although they might be difficult, will be essential.
But would downplaying his folkloric trope — in play even when he was painting the locals of Hampton Bays and North Sea — would we be denying him, betraying him? I don't think so. In truth, art is made by art history as much as by artists. Art history is not neutral.
Here are some Burliuks that are not in the exhibition: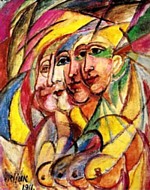 Heads, 1911. Stolichny Bank, Moscow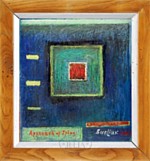 Approach of Spring, 1913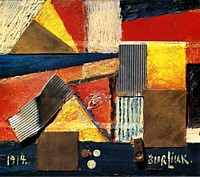 Collage, 1914. The Russian Museum, St. Petersburg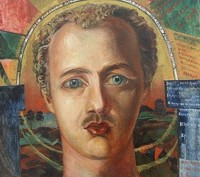 Portrait of Kamensky, N.D. [Russian Futurist painter, poet, and aviator]
The great thing about Burliuk, as limited as his talents may eventually turn out to be, is that his career reminds us of a time when some artists were determined to be rambunctious and free.
Everyone is now allowed to wear patchwork velvet vests, single chandelier earrings, and even women's shoes, but that is not enough.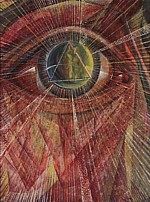 Eye-of-God, N.D.
So, since this is Artopia, I will end on an upbeat note with another quote from Burliuk's Radio-Style manifesto. Here in its entirety is a section called THE PRESIDENT OF THE WORLD'S ESTHETICS:
The Radio-Epoch – is the epoch of Cosmopolitanism. The voice of a song sung in Chicago is now heard in Australia and in the Steppes of Russia. The moment is not far distant when all the inhabitants of the earth will listen all at once to the declamations of the GREAT.

The President of ESTHETICS of all the world has already been elected. But he himself is not yet aware of it. Perhaps – it is you – you who are reading these lines? A palace of transcendent beauty is already prepared for you.

Life has no meaning when one lives only for the sake of meat cutlets and the rewards of material success. Life assumes a meaning then, and only then, when the soul enters into the possibility of new art.
FOR AN AUTOMAIC ARTOPIA ALERT FOR EACH NEW INSTALLMENT PLEASE CONTACT perreault@aol.com