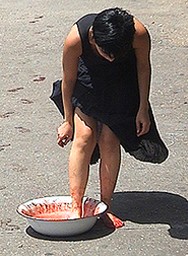 Regina Jose Galindo: Who Can Erase the Traces? ,2003. Street performance with blood, leaving footprints.
"Global Feminisms," an exhibition of artworks by 87 women artists born since1960 is now at the Brooklyn Museum (through July 1) and will inspire debate on many topics. Is Body Art now the feminist language? Is the feminist historical survey WACK! now at the Geffen Contemporary at MOCA L.A. and scheduled for P.S. 1 next year enough of a reason for "Feminisms" to avoid all art elders in the name of globalism and youth? Isn't thematic age-ism still age-ism?
Wouldn't it be better to look at video art and digital movies – and even most photo-documents — on our computers at home? Does the paucity of paintings and sculptures show women artists as up-to-date, economically and manually challenged, or merely following what the boys do? Is self-mutilation a justifiable expression of fear and anger? Does anyone really care about family and motherhood as art topics unless, as here, the terms are expanded to include contemporary realities?
But one topic is beyond dispute.
Women artists are still not fairly represented in galleries, museums, and art media. Maura Reilly says it all: "…despite the decades of postcolonial, feminist, anti-racist, and queer activism and theorizing, the majority continues to be defined as white, Euro-American, heterosexual, privileged, and above, all male."
Reilly is co-curator of "Feminisms" — with the eminent and provocative art historian Linda Nochlin — and is on-staff curator of the new Elizabeth A. Sackler Center for Feminist Art at the Brooklyn Museum. In her catalog essay, Reilly goes on to cite Voice art critic Jerry Saltz's lament that only 16 out of 410 works on display on the 4th and 5th floors of MoMA in '05 were by women artists. The Guerrilla Girls have discovered that only 3 % of the artists in the Met's modern art sections are women. Ninety percent of the Met's solo exhibitions were of work by white male artists. The Brooklyn weighs in at 23%, which is less than the Whitney's 30% but more than both the Tate and the L.A. County Museum at 2% each. Furthermore, only 17% of the artists shown in New York galleries, according to Saltz's count, are women. The perception that things have gotten better for women artists is false. The numbers in some cases have gotten worse since the '70s.
Is it because postcolonial, anti-racist, and queer theorizing in the past two decades have lessened feminist impact? Is it because women artists have bought into the male power-structure, tricked by the plums offered a handful of women artists — some of dubious worth? No, but I think that without direct action and continued vigilance, sexism is impossible to beat. We are talking about power and money, not just gender. For too long gender prejudice has been the excuse for economic and spiritual monopoly.
Therefore, in lieu of a review, Artopia calls for a Women's Art Strike. That action must have only one goal: fair representation of women in the galleriesand museums.
If 60% of the students in art schools are now women, then 60% of the artists in galleries, art magazines, and museums must also be women. Do only men have artistic talent? Can we afford to cut off the vision of more than half the human race?
For one day, women artists, dealers, curators, critics, collectors, art gallery receptionists, auction-house staffers, tour guides, art historians, teachers, and students must refuse to participate in an art world dedicated to promoting the work of male artists. Don't show up for work; don't visit any gallery or museum. Don't buy any art. Most of the artists in galleries and museums may be male, but a big percentage of the backup is female – as is the audience, if not the customer base. Male supporters of women artists should also join in, but I fear that among critics it will only be Saltz and yours truly.
Could a Women's Art Strike shut down the art world? You bet.
* * *
Note: Judy Chicago's still-provocative – and brilliant — Dinner Party is now on permanent view as the centerpiece of the Sackler Feminist Art Center at the Brooklyn. I praised The Dinner Party when it debuted in 1979 and when it was shown again in 2002. For the latter, you can go to: Chicago.
* * *
Also for those who can't wait for WACK! and for Cindy Nemser's memoirs to find a publisher, that feisty feminist art critic and historian is back. Once publisher and editor of the seminal Feminist Art Journal, Nemser has curated a stopgap exhibition of women artists at the Tabla Rasa Gallery (224 48th Street, Brooklyn) through March, featuring the works of second wave feminists Sylvia Sleigh, Audrey Flack, Hannah Wilke, Judith Bernstein and a few others. Because of her contribution to feminism and art, Brooklyn Borough President Marty Markowitz recently declared March 21 as Cindy Nemser Appreciation Day.