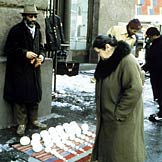 David Hammons, Bliz-aard Ball Sale, 1983
Paint It Black
The reclusive "genius" David Hammons is showing terrific new work. It's right up there with his snowball piece, his rock haircut, his African-American flag, his dark and empty gallery. His current provocation is at L & M Arts, 45 East 78th St., through February 28.
I hesitate to tell you what's in the show since it was the surprise of it that initially turned my head. But you might as well know.
Six fur coats.
Six luxurious fur coats presented on headless manikins in big, empty townhouse rooms, as if on display in a minimalist Upper East Side shop.
Here there's woodwork and polished-wood floors of the best kind. Yes, this is the way galleries used to be, before Soho and before Chelsea introduced the reverse snobbism of sealed concrete floors. When you try to enter the elegant L & M space, a discreetely uniformed guard opens the door. He's surprisingly friendly. Good casting.
The first room is empty, and you might think that this is the lit version of the great Concerto in Black and Blue that Hammons perpetrated in the cavernous Ace Gallery way back in '03. Viewers negotiated the pitch-black rooms with tiny blue-bulb flashlights. But, no. In the second room we are confronted by fur coats that have been modestly streaked with paint.
Later I'll find out there's another coat, as the security man accompanies me upstairs. Guess the bottom line is that no matter how I dress up for my uptown forays I always look slightly suspicious. The lonely, lovely chinchilla upstairs has been attacked with a blow torch.
Are the fur coats meant to be worn? I doubt it. As artworks they are probably too expensive to wear. But there isn't even a price list. How on earth am I going to write about this show?
* * *
Are there any photographs that I can use for Artopia?
I am afraid not.
Can I take my own?
We'll have to call David. He didn't even provide us with a checklist.
Good luck, I said to myself, knowing that the artist avoids telephones
It's all so fresh, don't you think? Compared with what we usually show.
Well, not exactly. You did show Yves Klein.
Yes, that's true.
* * *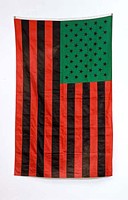 Hammons, African-American Flag, N.D.
Like Hammons' 1983 streetwork in which he offered snowballs for sale; like his sculpture made of discarded wino-wine bottles; like his sculptures made from hair swept from Harlem barber shops; like his representation of Jesse Jackson as a white man ("How Ya Like Me Now?"), the fur coats are blunt, but surprisingly multivalent. His use of barbershop hair was more than a black artist making a black identity statement and his African-American Flag more than a Black Power joke. Likewise, his new fur coats are more than an anti-fur diatribe, if they are indeed that. I remember when animal activists used to go around spray-painting mink coats worn by ladies emerging from department stores, museums, and churches. But I also remember pre-PETA times when art collector and fur designer Jacques Kaplan issued a line of painted furs.
Given the Upper East Side showcase and his use of paint, could Hammons also be saying that art is the new mink coat?
Further Thoughts, More Contexts
Does Hammons play the art game by his own rules, or is he only playing it with a slight twist? If you really don't want to have anything to do with the art world then you should never show your work in an art gallery or a museum. Period.
I found this 1986 quote attributed to Hammons:
"The art audience is the worst audience in the world. It's overly educated; it's conservative, it's out to criticize and not to understand, and it never has any fun. Why should I spend my time playing to that audience?"
Well, David, the art audiences wasn't overly educated in 1986 and it isn't overly educated now. Furthermore, the art audience always has fun. It's the artists who mope about. Spending money on art is fun; competing with other collectors is fun. Go to any art fair and see.
On the other hand, artists need the art system to distribute and preserve their art, otherwise the art is just personal ritual. Personal ritual and its residue might be a higher form of what now passes for art, but there is no real way of proving this. Masterpieces need to be seen. And in any case it is generally agreed that art is a form of communication and/or research.
And, oh, yes, art is about art.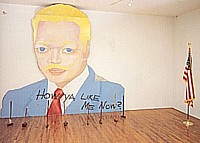 Hammons, How Do You Like Me Now?, 1988.
The Hammons M.O.
He is unreachable by telephone. Through an intermediary he might agree to an exhibition but he doesn't reveal what the art might be. This means, from his point of view, no one can control or inhibit him and he has the upper hand. On the other hand, he takes the risk of operating without a net. There is no feedback. No one can say: Hmmm. Mr. Hammons, maybe X is not one of your best ideas.
Judging by the catalog to a 1993 exhibition called "David Hammons, In the Hood" at the Illinois State Museum in Springfield (his birthplace), he might have just this once profited from some curatorial expertise. In the Hood and Six Sisters, consisting of five white slips affixed to a wall, and Basketball Drawing, made by bouncing a basketball off the wall around a sacred heart emblem, look great. Middle Passage, using gold necklaces, is too explicit, as is the elaborate installation called Spitting Image.
We see demonstrated in the catalogue how the curator-of-record of the Springfield show (Robert Sill) struggled to accommodate Hammons' practice. Thrift shops functioned as art-supply stores and the artist came with a bag of goodies, probably including the red, black and green Flag. The Jesse Jackson billboard image – which must have been shipped from somewhere — was probably as startling in Illinois as it was in D. C., but the brand-new Rosa Parks billboard ("Thank you, Sister Rosa Parks"), situated outdoors, seems banal, even in Abraham Lincolnland, no matter how fine the sentiment…
I once thought I had Hammons in my clutches, having written about his Harlem hair sculptures first seen at the Just Above Midtown Gallery and then in April Kingsley's pioneering "African-American Abstraction" exhibition at P.S.1.
It was 1985 when he was in Creative Time's "Art on the Beach" at the sandy site that was to become Battery Park City. His The Delta Spirit House (done in collaboration with Angela Valeria and Jerry Barr) had to be disposed of at the end of the exhibition run.
I honestly can't remember how I got hold of him or if he called me – which is hard to imagine. Nor can I remember if it was his or idea or mine to float The Delta Spirit House across the harbor and down the Kill Van Kull, and then set fire to it in front of Snug Harbor. I was then the Snug Harbor Cultural Center Director of Visual Arts. I remember thinking this Viking funeral would be a good way to salute Robert Richard Randall, founder of Snug Harbor, and also the "aged, decrepit and worn out sailors" who passed their final days watching the tugs go by on the Kill.
It never happened. We lost touch.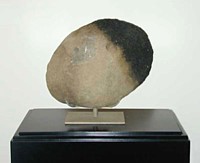 Hammons, Haircut, 1992.
Resistance Can Become Existence
Hammons is walking a tightrope, trying to have it both ways. Appearing to be going his own way and yet dependent upon the art world, as every traditional, albeit Duchampian, artist must be. If he doesn't play ball he risks more and more unauthorized retrospectives just like last year's show of photocopies and computer printouts at Triple Candie that received so much press. Such is the Hammons magic that many think he himself was behind the sampling. Was he? Makes no difference, I say. Or: wouldn't put it past him.
He has, however, survived the '80s and the '90s, which is saying something. That half a million from the MacArthur Foundation might have helped.
My theme, in case you haven't caught on, is resistance to the art world. Some now refer to the art world as Moloch. You can indeed be eaten alive. I can hear the chorus now: as if I should be so lucky! Some of us are sleepers, some of us are double-agents. Nevertheless, the art world, with its smiles and deals, is the monster we love to hate, is us.
FOR AUTOMATIC ARTOPIA ALERTS WHEN NEW ESSAYS ARE POSTED:
CONTACT: perreault@aol.com
Also note that the new search function allows you to search all previous entries/