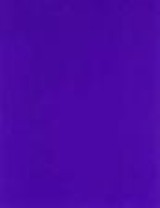 Yves Klein, Untitled Monochrome
Souvenirs of the Future

Georges Mathieu: What is artfor you?
Yves Klein: Art is health!
What is one to do with Yves Klein? A museum-quality painting survey at the L & M Arts Gallery ( "Yves Klein: A Career Survey;" 45 East 78th Street, to December 10) and seven late fire paintings made of torched cardboard at Michael Werner (4 East 77th Street, to December 23) move this wild man back into the spotlight — at least here at Artopia, where we are busy forging a new canon, a new central strand in the spiral-braid of art history, a new future. Klein (1928-62) was the French Joseph Beuys, a statement that will be shocking to many, since Klein lacked Beuys' gravitas.
But who was ours? I say Barnett Newman. Duchamp evidently took a look at alchemy; Beuys nodded to esoteric Christianity. Klein embraced the Rosicrucian Conspiracy. And Newman knew the Kabbalah.

Klein's Monochromes now look great, but that's only because minimalism long ago caught up with his voids and outrageous concepts, going beyond his meanings. Klein was playing with the elements, and perhaps the elementals. His art, like Duchamp's, looks good because presentation is better than representation and because beauty is not the opposite of thought. It is, in fact, the highest form of subversion. He actually took a patent out on his particular saturated blue and deemed it International Klein Blue, applying it with rollers.
Klein, by all accounts, was a showman. He sold air, water, fire. As a young boy he imagined that he could sign the sky. He did sign the sky. He made paintings using the naked bodies of his female models, in public.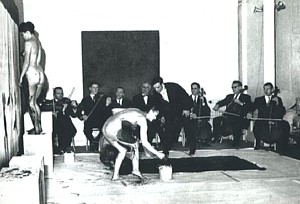 Yves Klein: Monotone Symphony Peformance, 1961
He composed (1949) and conducted (1960) The Monotone Symphony. To hear it go to: Ubuweb(click on MP3) He had himself pictured leaping out of a second-floor window. Did this publicity stunt stand in his way? No, on the other hand, that image of him jumping into the void made him immortal.
In hisChelsea Hotel Manifesto(click on same at bottom of opening page) he wrote: "Having rejected nothingness, I have discovered the void."
His only real handicap was that he was marketed as part of the so-called New Realism group, not that there is anything wrong with being associated with Arman (who has just passed away). New Realism could, however, be taken for French Pop Art and Klein, in spite of making p.r. one of his art materials, attained a level of profundity not attained by Pop, French or otherwise.
He too was an alchemist. Although outwardly it would seem that Dada and the aesthetic cannot mix, under certain saintly circumstances they do combine to form a mysterious third substance.

Americans were not ready — neither for exhibitions at Leo Castelli and Iolas in New York and the Dwan in L.A., or later for his posthumous retrospective at the Guggenheim. The retrospective inspired the Times' John Canaday to announce that "the prodigious exaltation of non-sense is the really troubling thing about this exhibition." Whereas I myself thought it was Frank Lloyd Wright's building that was troubling, as a site for paintings; brackets that made Klein's sublime IKB's float in front of the curved wall were not exactly the right solution. Even with their curved corners they need good-old-Western rectangular walls.
The blue paintings look very different now: luscious. But in Klein's work, you should not avoid the void; art is not a question of content versus form, and/or form versus content, but one of parables and paradoxes, using the visual to conjure the invisible.
If nothing else, Klein is the postwar paradigm of the artist who does not limit artistic practice to painting or sculpture or performance, but exercises within all three. Or exorcizes all three.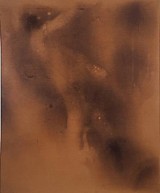 Yves Klein: Untitled Fire Painting, 1961
Time's Purification
Klein achieved a Black Belt in Judo in 1952 (from the Kodokan Institute in Tokyo) and then went on to found his own Judo school in Paris, making a living teaching Judo from 1955 to 1959. As poet/artist who until quite recently had what actors call "a day job", I am always interested in how artists make a living. Joseph Beuys – another art hero – was for many years a professor at The Dusseldorf Academy of Art until he was dismissed for "breach of the peace" when he and his students protested the Academy's demand that he limit class enrollment. Marcel Duchamp worked at a library in Paris, later became Brancusi's U.S. agent, advised collectors and sold art privately, then married well.
Klein's Tokyo stint contributed to the notion bandied about that his monochromes were Zen-inspired, when in point of fact he had begun making monochromatic paintings well before his studies in Japan.
As the exquisite exhibition at the L & M Gallery may indicate, Klein's art has now undergone time's purification. Hardly anyone now would deny that the monochromes and the body paintings are beautiful. The spectacle has been removed. They are no longer performance art residue. The charlatan-like spiritual edge is subsumed by pure product.
Perhaps each decade gets the Klein it deserves. In the Sixties and Seventies we liked him because of, not in spite of, the faked image of him jumping from a building. And because of the Immaterial Transfers: he traded gold dust for particular chunks of space; the gold dust then dumped in the Seine. And then there was the legendary The Void exhibition: an empty gallery fronted by Republican Guards; the packed opening replete with blue cocktails. If the French art dealer Iris Clert is remembered at all it is for this one-week exhibit (and for Robert Rauschenberg's telegram to her stating: This is a portrait of Iris Clert if I say it is). Was the gallery empty? Not really. It had his aura. He had sensitized it by repainting it white.
But even the Anthrometries, made with paint-speared female nudes, are now almost painfully elegant. At first glance they have lost what once was construed in the late 70's as anti-woman exploitation. But they have also lost the touch of the Goddess.
We no longer seem to need to know that he was influenced by Rosicrucianism. Rosicrucianism, probably a joke, was a hoax that came true. Did Christian Rosencreutz actually exist? Was there in the 18th century really an elite of "invisibles"? Does it really matter, since the Rosicrucian manifestos enflamed the imagination and stood for liberty. Now ofcourse we scorn mail order "Rosicrucians" and celebrate the inspired scholarship of our beloved Frances Yates whose The Rosicrucian Enlightenment will provide some clues to the conspiracy.
Do we need to know that Klein was made a Knight of the Order of Archers of Saint Sebastian? Or, to be contrary, do we really need to know if such an order exists? Someone decked out in Archer regalia appeared at both the opening of The Void and Klein's wedding.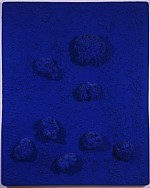 Yves Klein: Untitled Monochrome (with sponges)
Mutants Unite
But before Klein is belatedly initiated as one of the art immortals, can we undo Time's Purification? In re-reading critic Pierre Restany's book on his friend Klein, (Abrams, New York; revised 1982) I was reminded of that author's invention of New Realism (Arman, Tinguely, Cesar, Klein, etc). Has Klein, whom Restany called a "mutant", finally shed this cocoon?
Was Klein's seven years of truly inspired art production of the moment or of the momentum? Do we not still yearn for his architecture made out of air? Even if it was hot air? In 1962 he died of a heart attack after seeing the sensationalizing Yves Klein segment of the dreadful Mondo Cane at its Canne Film Festival debut. His last work was his one-way-into-the-void Pneumatic Rocket.
What I suggest is that we have an official Yves Klein Day. But this should not be the anniversary of his fatal heart-attack at the age of 34, but instead November 27 — coming up soon! This is the date of his one-day newspaper, issued in 1960, disguised as the Sunday Edition of France Soir:
Here is Restany's description:
Under the headline "A Man in Space," and the caption "The Painter of Space casts Himself into the Void," a photograph, a mysterious photomontage, shows us Yves Klein hurling himself in soaring flight from the mansard roof of a suburban house. The black-and-white reproduction of a monochrome proposition is accompanies by the caption: "Space Itself."
And then there was Klein's editorial, as quoted by Restany:
I have decided to present an ultimate form of collective theater, a Sunday for everybody…By presenting Sunday 27, 1960 from midnight to midnight, I thus present a holiday, a genuine spectacle of the Void.
All of this is in Restany's book on Klein which also documents an artist/critic relationship. Restany, along with inventing French New Realism, apparently got Klein to focus on the color blue and to insist that his paintings had nothing to do with Malevich. And how did Klein pay him back? When he was mentally formulating the faculty for his projected School of Sensitivity, his artist friend Tinguely was to be in charge of sculpture, but Pierre was in charge of press.
In truth there needs to be a dialectic between essence and context. But are the paintings the essence? I'd vote instead for the photomontage leap.
So how will you celebrate Yves Klein Day this November 27? Paint yourself blue? That's now too Blue Man Group. Jump from a second story window? Two dangerous. How about gazing into the sky while reciting "I AM the Void"?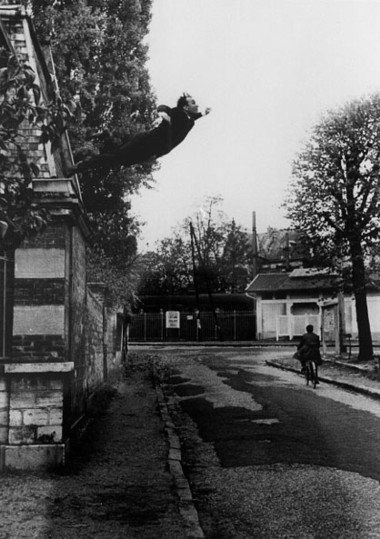 Yves Klein: Leap Into the Void, 1960
For e-mail Artopia Alerts of new entries contact perreault@aol.com.