Abramovic: How To Explain Pictures to a Dead Hare, 2005.

Notes on Performance Art

Conventions rule. The iron hand of custom, as outlined last time around, keeps the art world under control. We must have art that stays the same for each visit, over time. We must have catalogues. And catalogues cannot be written about art before it exists. Biographies and pictures of previous works are not quite the same thing as a thorough, thoughtful analysis or…postmortem.
The ephemeral, both in museums and in galleries, is suspect. Both writers and readers are at a disadvantage: unless the event is repeated, any review or essay cannot be checked against the art. The art is only a memory. Besides, who is going to buy a performance, and, if so, what would you buy? A photo? Or some horrible videotape or DVD that in itself won't last? And what could be more ephemeral than performance art?
Performance art takes place in space (sometimes a specific space) and time (usually a specific time, time being a material too). At its most pure, performance art is executed by the artist. The body at hand is the sculpture.
We are left with photographs and words. Or moving images, none of which are quite the same as the….what? Boredom? Fear? Titillation?
Like theater because there is a person and an audience, but unlike theater because the person is not pretending to be someone else, the most rigorous performance art eludes art history and, apparently, art criticism. But then again, both art history and art criticism are dependent on goods, both fresh and preserved.

In the '50s and '60s it was enough to dismiss events, Happenings, performances as theater rather than art. Certain formalists thought art should be pure: pure paint, for instance. No poetry, no confusing illusions or extra dimensions, no theater. And certainly no politics. It was a puritanical trope, as if there were no theater in a Pollock drip painting or a de Kooning parkway, no poetry in a Motherwell elegy.
Marina Abramovic's "Seven Easy Pieces" comprised seven performances staged at the Guggenheim (November 9-15), in evenings that went a long way toward the redemptive. With the exception of Matthew Barney's 2003 extravaganza (the films were better than the props), the Guggenheim has not exactly been pushing the envelope. We think of it more or less as a giant rental space for would-be crowd-pleasers. But now there's hope.
I first heard of Abramovic when she was Abramovic and Ulay, of Yugoslavia and Germany respectively. The couple stood naked in a small doorway and the audience had to squeeze through. Later, just before they broke up, each stated to walk from opposite ends of the Great Wall of China and met mid-point. Then too she was on the famous 1979 Crown Point Press trip to Ponope in Micronesia: John Cage, Laurie Anderson, Chris Burden, Pat Steir, yours truly, etc. But I don't think we exchanged more than two or three words, since I was more interested in wading into a lagoon full of sea cucumbers.
At the Guggenheim, Abramovic's test of will-power (hers and the audience's) offered not merely the usual Performance Art Challenge, but also the frisson of appropriationism, since five of the performances were recreations of work by other artists. The gold standard was represented by Joseph Beuys' 1965 How to Explain Pictures to a Dead Hare and Vito Acconci's 1972 Seedbed. In How to Explain Pictures to a Dead Hare, Beuys (a beloved art professor in real life) did just that, his face covered with gold leaf. In Seedbed, Acconci delivered a monologue while masturbating unseen under a false floor in a Soho gallery.

After prepublicity for the Guggenheim's Abramovic festival, San Francisco conceptual/performance artist pioneer Tom Marioni sent a letter to the New York Times to clarify shoot-myself, crucify-myself Chris Burden's refusal to allow Abramovic to replicate any of his performances. Marioni wrote: "The performance art of the early 1970s was concrete. We made one-time sculpture actions. If Mr. Burden's work were recreated by another artist, it would be turned into theater, one artist playing the role of another."

I agree. And, let it be known, I have nothing against theater per se, in any of its forms, as long as I don't have to sit there and watch it.
Some found Seedbed the most disturbing of all the pieces. But, remembering Acconci's original, I did not. Parents with infants in strollers waited on line to expose themselves and their offspring to a rambling spiel. A monologue is a monologue. Well, said a friend, a woman masturbating is not as threatening as a man. Why, I asked, is a man masturbating so threatening?
Just in time — actually a few weeks later — a woman friend told me at Thanksgiving dinner that near the Jefferson Market Library a man in a van had been blithely having a go at his gigantic member in full public view. She called the cops on her cell phone. But why, asked another guest (a man), he was just having a bit of fun or was feeling lonely. She shot back across the turkey leg and the mashed potatoes: Would you want your daughter to see that? I don't know, said her male partner. Exactly how big was he?
Abramovic also replicated one of her own performances, the 1975 Lips of Thomas, which I skipped because I do not like to see anyone cut herself (or himself) with a razor blade. The question here is whether or not in this piece she was pretending to be Abramovic.
Her great moment, however, was the last performance on the seven-evening course of events: Entering the Other Side, A Living Installation. Lifted to the level of the first ramp, inside a shiny-blue evening dress that fell over and concealed the multitask platform that had been used for the previous Performances, she reigned supreme. She was at the center of the Guggenheim, which is rather like, as you know, being at the center of a snail; and she deliberately, slowly eyed the worshipping crowd, arrayed below and on the ramps above. Now that was something to see.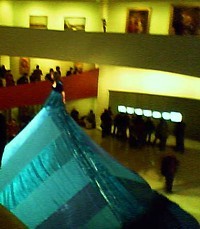 Abramovic: Entering the Other Side, 2005.
* * *
In any case, Abramovic's "Seven Easy Pieces" certainly set me thinking about performance art again.
Performance art started in the late '60s.
Performance art, since it is ephemeral and unsaleable, was perfect for making an anti-commerce statement and was a kind of call to arms and/or affirmation of art's higher calling. Categories and genres? The hell with them. MFAs? No one thought them pertinent. Galleries? The devil's work, through and through.
Unfortunately, performance art could not pay the rent. This is why so many performance artists (like Beuys himself) depended upon and still depend upon academia or, as an alternative, living a living death as manufacturers of art products of one sort or another, trying to capitalize on former glory. Marina Abramovic is not one of these. She has remained loyal to the cause, and so Artopia honors her for that.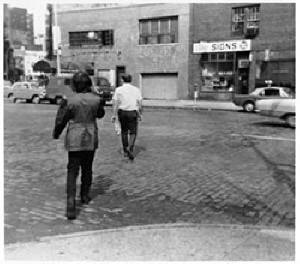 Vito Acconci, Following (Street Work), 1969.

Hidden History

I, a poet, artist and art critic, was a member of the street works and performance cadre in N.Y. City, 1967-69. The others were poet Vito Acconci (then the editor of a magazine called 0-9), writer/artist Eduardo Costa from Buenos Aires, writer Scott Burton, Pop artist Marjorie Strider, poet and underwear designer Hannah Weiner, and Acconci's sister-in-law, poet Bernadette Mayer. There were many others who participated in streetworks and performance art events: poets Anne Waldman and John Giorno come immediately to mind. At the final mass Street Work in 1969 there were up to 500 artists and poets involved on the streets of the new art district of Soho.

The cadre, which met weekly and sometimes daily, plotted the strategies and the venues, which ranged from designated streets during designated hours (my idea) to universities (Hunter College and N.Y.U.), the Whitney Museum and also, out of town, the Wadsworth Atheneum. The Center for Inter-American Relations and the Architectural League also sponsored some projects. Inspired by Earth Works, I invented the term street works. Marjorie Strider came up with performances and performance art. Scott Burton, whose bent was more theatrical, came up with theater works.

Acconci and I had already been offering what we called poetry events at venerable literary venues such as St. Marks Church. We shared the goal of getting poetry off the page. Strider, at one time married to Michael Kirby (who wrote the book on Happenings), had participated in some of Claes Oldenburg's Happenings in the '50s.

Happenings, however, had long been subsumed by object-making, in the case of all but the steadfast Alan Kaprow. What were Happenings? Kirby defined them as non-matrixed artists' theater, with Futurist and Dada precedents. How were performances different from Happenings? Or for that matter from Fluxus events, such as those of our hero Joseph Beuys' lecture to a hare?

From my point of view, performances were sculpture. When it became obvious to me that they were becoming theater (and not just sculpture in a theater context), I sealed my participation with Oedipus, A New Work, in 1970, which was — ironically — documented in The Tulane Drama Review. I was also uninterested in some of the sado-masochistic routines of some performances as they morphed into body art.

Performances, unlike Happenings, were always executed by the artist himself or herself, not by surrogates. When Scott Burton in the '70s began to use gaunt, often naked stand-ins to pose on his furniture, I thought he was entering a realm more influenced by Robert Wilson than Beuys. Performances were probably closer to Fluxus events than to Happenings, except that performances were time-and-space sculptures rather than task-driven koans. We eschewed the whimsical and the Zen.
Scott Burton: Untitled Bronze Chair (Street Work), 1972.
Whatever Happened to Performance Art?
After performance art'sconvulsive origins, that which did not become stand-up comedy became the loss-leader or the out-and-out freebie that advertised more saleable products. Back then, during the poetic genesis of performance art, we even called this the Oldenburg Effect. I doubt that Oldenburg planned it that way, but stage props from his Happenings became highly desirable sculptures. I know for a fact that furniture sculptor Burton was enamored of this strategy and lost no time moving from chairs as props to chairs as sculpture. In the world of Fluxus events, one could buy chalked up blackboards from Joseph Beuys "lectures." And once it became clear that masturbating under a specially constructed, ramplike gallery floor (Acconci) or having yourself shot in the arm (Burden) could make you famous, all sorts of lesser stunts proliferated throughout the '70s and into the '80s.
Now it is safe to say, notwithstanding all these fine points of nomenclature and classification, that artists schooled on Beuys, Acconci, Burden and Burton et alia offer up performances as sidelines, in the same way artists once made watercolors. Or use them as attention-getters, like sculptor who kicked off his career by videotaping himself shooting and killing a dog.

The art school rule is to start with an idea and then use the most suitable form, whether that form be video, performance, or even painting. And you are no longer just a painter; you are an artist, in order that one's work may embrace all media if necessary. The only problem is that, although there is no shortage of media, there is, as usual, a severe shortage of ideas. How many good ideas are there?