My East Village
Not that I want to give any secrets away, but I live in the East Village. To be even more specific, our tenement digs — in light-hearted moments we call it our jewelbox pied-a-terre — is in the heart of a small and growing smaller Ukrainian enclave. This Little Ukraine is also, judging by my building, peppered with Poles, and at least one half-Pole, namely John Urzendowski Perreault.
Nevertheless, this storied Ukrainian neighborhood can also be seen as one big N.Y.U. dormitory or Generation Zero launching pad. This is Manhattan, this is New York. Five-hundred-square-foot walkups now go for a few thousand a month; youths huddle inside them in multiples, unconsciously imitating the familial nesting of immigrants from Kiev and Bialystok who were trying to escape the Cossacks, the Commissars, or just plain poverty. Now youth in Prada comes to the East Village, not to escape Pravda, but to escape boredom, or merely parental oppression. Some actually hang out in a bar called KGB.
Then, of course, there is the street fair twice a year, catering to suburbanized, bridge-and-tunnel Ukrainians and everyone else in the market for kielbasi, stuffed cabbage, and Ukrainian Easter eggs. The stuffed cabbage always calls out to me: John Urzendowski Perreault, we call to you; eat; get indigestion. Your Slavic roots call out. And although, of course, these are not as good as Polish stuffed cabbage — too sweet! — I gobble them up from a paper plate, feeling guilty of some sort of ethnic betrayal.
Fortunately, on these special street-fare days everyone is Ukrainian, in much the same way that on St. Patrick's Day everyone is Irish. On March 17, the jocks and their jock-bunnies line up to get into McSorley's Old Ale House (est. 1854) across from the 1976 St. George Ukrainian Catholic Church. Neighborhoods are not exclusive; neighborhoods are layered.

East of McSorley's is Village Mingula Burmese Cuisine; and west is Surma, The Ukrainian Shop where you can buy all the Easter eggs and embroidered shirts you want. Elsewhere there's the Ukrainian Home and various Ukrainian restaurants; not the least of which, having passed into the realm of poets and actors, is the 24-hour Veselka on Second Avenue and 10th. While eating your pirogis or your BLT, you can play the game of trying to guess who is the poet, who is the actor, as if someone couldn't be both.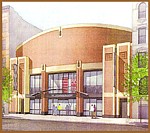 Ukrainian Museum
Nota 50 Pound Easter Egg
But the good news is this: now we have the Ukrainian Museum (222 E. 6 St., between Second and The Bowery), the next block over from the Ukrainian Church. One of those N.Y. "mystery streets" joins 7th and 6th: Taras Shevhenko Place, named after the Ukrainian national poet. NYU, the university that owns the East Village, wanted the name changed; NYU lost.
Just in time to celebrate the new, nonpuppet regime in Ukraine we have the possibility of an up-to-date take on that beleaguered nation's long-threatened culture. The Ukrainian Museum, formerly hidden in plain sight on Second Avenue, is now ina brand-new building on the site of a former wholesale meat-butchering establishment on 6th Street.
Here is a partial list of storefront shops still in place on East 6th Street between Second Avenue and The Bowery:
DecaDance (records), VIP Unisex (hair), Ruby (hair), Martin (dresses), fumi (dresses); and since everything seems to come in pairs: Finyl Vinyl (records). There is, however, only one Laundrobot and only one museum. I switched to Launderama around the corner on the Crazy Green of Second Avenue (the title of a book of poems by Frank O'Hara) after too many lost socks at what I began to call Laundroboot.
The Bowery, The Bronx, The Ukraine. A Japanese student once stopped me on Astor Place to ask where Bowery Street was. I pointed him to St. Marks Place where Third Avenue turns into The Bowery, but could not have explained why it is The Bowery and not Bowery Street or Avenue or Place or Lane. Where does that funny "The" come from? Does it signify an area not quite codified, definitely uncivilized, wild and untrampled like the outback, the veld?
The Ukraine?
We are now encouraged to say Ukraine, although aside from two brief moments, this nation without a country did not become independent until 1991. In ancient times,there were the Sythian hordes swarming through; then the Rus, who were invited in to keep order andwere actually Scandinavian. Then this flat and fertile land was tossed back and forth between its European neighbor to the West, Poland, and its runaway, out-of-control daughter, Russia, to the East. Butam I forgetting the Austro-Hungarian Empire? Hitler's occupation? Ukraine, according to journalist Anna Reid's horrific Borderland (Westview Press), means just that. But border between what and what? Not just between Poland and Russia. Between bad karma and the K.G.B.?
And, by the way, what is a nation? Is it defined by place or language? Or culture? Is it a people? Borders are unstable. Identity is unstable.
But in the flatlands, the suffering went on and on until Viktor Yushchenko's recent Orange Revolution, during which I knew my neighborhood was still Ukrainian because of the orange ribbons tied to every tree, parking meter, and lamp post. Handsome Yushchenko had been poisoned, his face forever pocked. Orange, of course, means something very different to the Irish, who used to be in attendance at McSorley's before women were allowed.
Now Ukraine under Yushchenko's orange leadership looks firmly to Europe, turning away from Stalin's purges and his artificial famine that killed seven million farmers who were resisting "collectivization." Away from the Cossack massacres of Jews.Away from pogroms.Away from the Chernobyl disaster (by the way, only 50 miles from Kiev). Away from the past.
The new building housing the Ukrainian Museum is open, welcoming, clean-cut, straightforward. It seems almost Scandinavian in its use of wood and light. Is this a veiled reference to the little-known Viking heritage of Ukrainians?
At last there is something really topnotch to represent Ukrainian culture, something other than the street fair. It was as if all we had been allowedto know about Italian culture were filtered through the San Gennaro street fair in Little Italy.
And what is the first exhibition at the Ukrainian Museum at its sparkling new site? Easter Eggs? Embroidered shirts?
Alexander Archipenko!
Archipenko, Woman Combing Her Hair, 1915

Torsos in Space; Plexiglas and Bakelite, Too

Archipenko (1887-1964) made amazing and very early contributions to Cubism. Who does not know, at least from textbook pictures, his sculpture, the 1915 Woman Combing Her Hair? Here we are treated to a rare and informative survey of this Ukrainian-born artist's entire career (through September 4). The reliefs and free-standing sculptures are serenely displayed and lit in perfectly designed galleries. The wall texts are in English and Ukrainian, a language we rarely see.
Much of Archipenko's early work has been lost; so for the reliefs we have to make do with his bronze and varicolored, variously patinated remakes of the pioneering mixed-media pieces. Then there's Juggler (1912-1914) and Dancer (1913-1914), inspired by the Parisian Cirque Médrano. Dancer, although in the Guggenheim collection, was too fragile to move, and is represented by a projected computerized rendering, showing the sculptures moving arm. Archipenko, it seems, was a bit of a Futurist too. His Changeable Display Apparatus or, as patented, his Archipentura painting machine of 1927, is here represented by graphics; apparently slats could be manipulated to create a variety of configurations.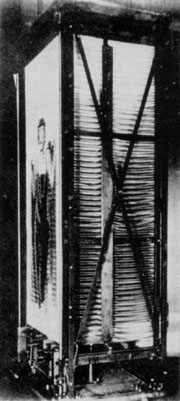 Archipentura, 1927 (lost?)
After he had moved to the U.S., Archipenko, ever enamored of materials,in the late '40s experimented with Plexiglas, inventing a special device to carve blocks of the stuff. Several of the innovative Plexi sculptures, with his specially designed light-bases, are included here.
Cubist painting translates three dimensions — some maintain four dimensions — into two dimensions, utilizing multiple points of view. Does it really make sense then to translate the translations back into three dimensions? This is the built-in paradox of Cubist sculpture.
Archipenko attemptedto translate Picasso's Cubisminto three-dimensions: first on the wall, then off the wall. And then, with a touch of genius, he put holes in his figures. Faces are depicted by voids. Or, as he proclaimed: "It is not exactly the presence of a thing but rather the absence of it that becomes the cause and impulse for creative innovation."
These signature voids I take to signify three things: an update of the Greco-Roman headless statue construed as essentialization of the body; loss of identity because of mass culture and the facelessness of radical urbanization;and/or how we see ourselves without benefit of mirrors or photography. In terms of the latter, I may see all other parts of the front of my body, but I cannot see my own face.
The metaphysics of art starts with the physical. To whom the body belongs and where it is, in space and time, is particularly important for sculpture. The body, not just the eyes, looks at art.
You can evaluate an artist by how he or she adds to or subtracts from the past or, as is true with Archipenko, his present. Archipenko added voids to Cubist sculpture. You can also place some value on influence, for good or even for bad. Henry Moore and Barbara Hepworth have never been among my favorites, but one cannot help think they got the holes in their sculptures from Archipenko's holes. I could call this the banality of influence.
Then I noticed all of Archipenko's sculptures, even the Plexiglas ones,are frontal. They have fronts and backs. Good sides and bad sides. They "face" forward. They may be seen, fittingly, as reliefs in the round. Is this because Archipenko's sculptures developed out of his reliefs, or because he remained throughout his career committed to the body as a subject?
In terms of sculptural values (truly modernist ones), the figure in any shape or forms or degree of abstraction is a betrayal, not because of the sin of representation, but because of the unavoidable frontality that the figure imposes. One side or another is always favored. Thus — if you can deal with these apparent paradoxes — a table or a stool is more modern than a chair or a desk. A vase is more modern than a dress, a shirt, or a coat. Flagpoles, obelisks, pyramids but not houses are extremely or fully three-dimensional.

Torso, 1936. Terra-cotta.
There are other revelations. It turns out that Archipenko's best works after
Woman Combing Her Hair
are his several
Torso in Space
sculptures. Three are included here on the second floor of the museum;
Torso in Space (1935)
is bronze with a rich green patina; another
Torso in Space
of the same yearin cast aluminum; and the best and largest of all,
Torso in Space (1936)
made of terra-cotta "metalized with bronze." The headless, almost-but-not-quite-totally-abstract "figures" recline and float in a way you can feel with your entire body. These great works should be in every sculpture textbook; every history of modern art, along with
Woman Combing Her Hair
.
And then there are the late reliefs. My favorite is Cleopatra (1957), made of wood, Bakelite (!), beads, a found bracelet, and paint, too. Oh, that Archipenko, he certainly had a way with materials.
How have I managed never to have seen these Bakelite reliefs before? Where were they hiding? Where was I hiding?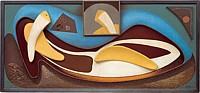 Cleopatra, 1957

The Future of Ukrainian Futurism
Now that the Ukrainian Museum is up and running, what will be forthcoming? Can we ever expect a survey of the Ukrainian/Jewish-American Janet Sobel, born in Kiev, who showeddrip-paintings at Peggy Guggenheim's Art-of-This-Century gallery before Jackson Pollock became famous for his? Does Malevich, who was born just outside Kiev, count as Ukrainian?
And I'd really like to see an exhibition of Ukrainian Futurism and Panfuturism ("The liquidation of art is our art!") led by the sensational, relentless and fearless poet Mykhail Semenko (1892-1937), martyred by one of Stalin's firing squads.
In the Ukrainian Museum's gift shop, I purchased Oleh Ilnytzkyj's Urkrainian Futurism (Harvard University Press, 1997) and found hidden history, information, analysis, and also some illustrative Semenko fragments:
The All-Ukrainian
Gut
It's coming – it's coming at us
Shame and disgrace –
(eyes bulging)
not a moron
but a poet –
businessman, —
* * * * * * * *
"Give us […]
your ideas!"
Mouth foaming
legs wobbling
And the snout of a pig […]
The all-Ukrainian gut
displayed
its toothless gullet…

Or from the late twenties:
Subway, Metro, Untergrund, Underground –
what wonderous monsters—plus a thousand-tone crane!
This is not just urbanism, but some kind of industrial hysterics
meant for our Soviet yokels.
Or in 1925:
Hey,
Moscow, Moscow,
you spilled blood
and you sucked blood,
not once nor twice.

Since the East Village, because of the Poetry Project at St. Mark's Church, is the poetry neighborhood as well as the Ukrainian neighborhood, wouldn't it be fitting to arrange for some bilingual readings of Semenko's futurist poems: his rants and cable-poems? He even invented poem-paintings and poem-posters and the first readymade poem ever, consisting of the names for the days of the week.