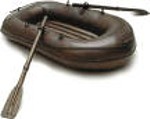 Jeff Koons, Lifeboat, 1985
Whatever Happened to the East Village?
1960-62
I don't just mean the neighborhood, although I first lived there on Avenue D and 8th Street when it was still called the Lower East Side (or as someone tried to re-christen it, the Loser East Side or the Looser East Side), when there were jazz bars like Slug's and you could rent a huge, top-floor, walk-up corner flat, with heat too, for $60. I even had a separate room for my hand-cranked mimeograph machine. I was not generating anarchist tracts, but a poetry magazine and giving birth to my poetry career.
I am not being self-indulgent. Just remember: Autobiography is simply a more interesting way of organizing information.
This was in the early '60s, before everything west of Tomkins Square acquired that beloved bombed-out look, generated from a malign neglect that opened the doors to the low-end drug trade and a universe of muggings and burning tenements. There's not even an inkling of that now. The Second Avenue subway may not have been built, but bland in-fill has erased the vacant lots once strewn with rubble. There are even a few buildings with doormen.
1978-2004
I moved back, but closer to Second Avenue, 28 years ago and continue my happiness of place. The Dom and the Fillmore East have long been closed. The quality of the legendary egg-cream at Gem's Spa may have declined, but my neighborhood is still open 24 hours (as is the legendary Veselka restaurant, which at the turn of the 19th century was a saloon where Sophie Tucker got her start). 24/7 bite-stops and grocery stores, and newsstands still abound. We need a 24-hour bookstore a 24-hour laundromat and a few other things to guarantee historic designation as the neighborhood that never sleeps. Nevertheless, a shrinking yet historically ever-changing pool of students, actors, poets, and artists still call this neighborhood home, no matter what it's called, yuppies, or whatever they are now called be damned.
How the Lower East Side between 14th and Houston and the Bowery/Third Avenue and Avenue D became the East Village and why — and why Loisada never stuck instead — is more about real estate than art. Or, do I have it all wrong? Some would maintain that art is in fact mostly about real estate, but we'd better not go there.
1981-87
Fueled by the inflated Reagan economy, drugs, sex, ambition, and idealism, for what now seems like one brief moment or a blip on the screen of art history, the East Village was the future of art. It's what I call Mickery-and-Judyism: Let's all get together and put on a show. I am always a sucker for that, but as a long-time East Village resident who somehow did not manage to get born into a trust fund, I hated it. I particularly hated it when limousines from uptown clogged the streets and fouled the artist-run storefront galleries with Chanel No. 5 and the smoke from illegally imported cigars. It's hard to look at art, no matter how funky or cutting-edge, when there is all that Rolex glare.
And then when the bubble burst, when AIDS hit big-time, and Soho rents dropped, the East Village galleries moved or closed. The whole thing didn't even last as long as the hippies or the yippies or the yuppies.
The New Museum, now temporarily housed within the dubious cocoon of the Chelsea Museum of Art, is presenting a concise examination of East Village art called East Village USA (556 W. 22nd St., to March 19). I am not sure it increases the East Village legend, or inadvertently destroys it. Probably a little of both. It is a documentary survey, not a critical presentation.
The East Village cannot be associated with a specific art movement the way Tenth Street stands for Abstract Expressionism. It was an art scene encompassing styles as various as the "abstraction" of Peter Halley and Philip Taaffe; the ultra-Dada appropriations of Mike Bidlo (represented here by Not Pollock (Number 27, 1950), 1983); the hetero-camp of Jeff Koons' bronze Lifeboat,1985; Nan Goldin's tough photography; graffiti artists of not much account; and even Rodney Alan Greenblat's cartoony furniture. Thus, almost all points between the conceptualesque to the infantile were covered and are covered again in New Museum curator Dan Cameron's energetic, jammed-together sampling.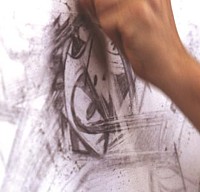 Mike Bidlo Not Pollock (Number 27, 1950), 1983)

The East Village Incubator
This is what I like about the East Village period: artist empowerment, pluralism, energy, collaborativeness. Many if not most of the storefront galleries, although never referred to as co-ops (as in the 10th Street days) or vanity galleries, were started by artists themselves. The most memorable was Meyer Vaisman's International with Monument, which launched Vaisman himself, Haim Steinback, Koons, and Halley. You can't argue with the long-term results, for these are artists who have survived the East Village periodization. There was even a gallery run by a couple of art critics. Some would say that the whole thing was more than a little bit like the lunatics running the asylum. I say more power to the lunatics. If you had to choose between the mad investors now running the art world or the artists who once called the shots, whom would you choose? A case can even be made for giving some power back to the poets and art critics, now sadly eclipsed by publicists.
Other winners, I can now proclaim, would be Kiki Smith, Bidlo, Goldin, Keith Haring and, although still underestimated, Taaffe. Should I give you my list of, let us say, also-rans? Better not. The art world is full of occulted superstars; sometimes, although rarely, there are miraculous resurrections .
But for the record (although I may regret it later), I have always been enormously bored by Jenny Holzer, George Condo, Laurie Simmons (except for her recent doll-house toy), and Ross Bleckner, who was hardly East Village. Martin Wong? Well, I remember liking his homoerotic painting in homage to firemen. But nothing else, alas, sticks in the brain, other than his dull paint-surface.
Here is another shocker: David Wojnarowicz, although nominated for sainthood, had almost no visual-art talent, and was better as a writer. Jean-Michel Basquiat? Let's wait until his Brooklyn Museum show this spring. I have my fingers crossed, although Julian Schnabel's bio-pic (Basquiat, 1996) has almost permanently done him in. Schnabel went on to a far better movie (Before Night Falls, 2000), but Basquiat, temporarily at least, seems to be trapped in a world in which Andy Warhol is forever impersonated by David Bowie and everyone gives bad line-readings.
In case you are wondering, I always hated graffiti art and still do. I am not against art-in-the-streets per se. I really can't be, since I sometimes still do Street Works myself. But graffiti always struck me as dumb, visual pollution, and moving it indoors, in most cases, only made it worse. I can get behind signatures as paintings since, satirically, paintings are signatures, but I don't think that's what the artists had in mind. Any art promoted by Norman Mailer (and many years before the Fun Gallery) can't be good.
There are also a lot of films and videos of night-club acts here too, which give a feeling of the party part of the period, but do little else. Jack Smith's delirious Flaming Creatures (1962-63) is meant to be a prelude, I guess. But what indeed had Smith wrought? Orgy scenes in Ken Russell movies? Well, maybe Guy Maddin, so we will have to thank him for that. But not the rants and nightclub acts at the Mudd Club and Pyramid.

Quo Vadis?
For all its faults, the East Village Moment now seems like a kind of art Eden compared to the art business now. Artists lived, worked and played in close proximity to each other. And then, as often happens in real life, everything went wrong.
As already noted, financial collapse and AIDS ended the experiment. Drugs may have gotten out of hand. But greed also played a part. The landlords jacked up the prices of those storefronts serving as galleries so that Soho rents suddenly seemed reasonable, at least in terms of square footage. And the apartments, once fixed up, became more and more costly. Cold-water flats became air-conditioned nightmares. Weird young people of both sexes, carrying briefcases to the Astor Place subway, suddenly appeared on those morning one might have been up early enough to see the doomed parade.
Some of the artists, when real art galleries called, simply moved on, and we do not blame them. Just remember this: Williamsburg has not produced an equivalent scene, or any list of artists of great repute. So far it is not the art incubator that the East Village was — and, in fact, is over. I go there for the second-hand bookstores and to see what the recent escapees from Yale graduate school are wearing. Aluminum siding is not an advance over tar-paper brick. It is, after all, an ugly neighborhood and I hear the rents aren't even cheap. Polish food, thank you, I can get in my own neighborhood in Manhattan.
Then where is the art incubator? There is not one or even two, but many, spread all over the globe. When in the deep-dark past I yearned for art's decentralization, I was thinking of it decentralized all across the U.S.A. not all across the globe. My vision wasn't big enough.
Nowadays, collectors fly-to-buy. Art fairs proliferate. The Miami Art Fair is, I am told, a must for Euros as well as greenbacks and pesos. For artists, I still think you pretty much have to make your way in either New York, Berlin, London or perhaps…Beijing? Berlin is fading; Beijing is rising (this week, anyway).
For artists and dealers, radical decentralization is great. Every trip is a tax write-off. Artist are fond of saying, Don't ship the art, just ship me. And if you are a collector who turns over artworks (to improve the collection of course, out of one side of the mouth, but to make profit, out of the other) you are also a "business" and can write off a chunk of expenses. One friend, who has seen it all, thinks Chelsea is going to collapse and the art fairs are going to take over: low overhead, no unfriendly desk-jockeys to put off the paying customers. But who will take care of those manila folders of reviews and press releases? Those mailing lists and secret collector-profiles? The slides and digital files? Just post it all on the internet. Well, maybe we had better not do that with the secret collector files or, come to think of it, with the actual sale prices and all the records of what the artist pays for announcements, catalogs, shipping, framing, et al.
On the other hand, figure out someplace that artists, dealers, and collectors want to hang out, then give them a business excuse to go there, and you are suddenly rolling in dough. I propose a Rio Art Fair. I'd go in a New York minute. And since I love Iceland, a Reykjavik Art Fair. Or maybe Maui (sorry, they already have a film festival). It can't be any of the regular places like L.A. (everybody already goes there once or twice a year) or Basel (so yesterday). How about someplace really exotic: Napier, New Zealand? They have plenty of art deco buildings there, and a beach. And winter is summer there.