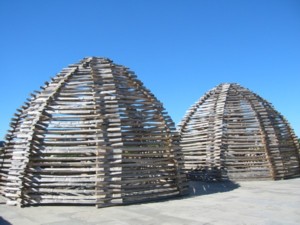 Andy Goldsworthy: Stone Houses, 2004
What Was Earth Art?
At times Earth Art was dirt or stones dumped in a gallery, but mostly we visualize artworks made outside the gallery, outside cities, on and of the land or the earth. Key works, such as Robert Smithson's Spiral Jetty (1970), were created in the wilderness. Richard Long took walks in Great Britain. His first walk in 1967 was described as "a straight line in a grass field, which was also my own path, going 'nowhere.' " He also aligned stones or arranged them into circles in barren landscapes.
But after awhile, sculpture parks, college campuses, and even mining sites became fair game. One work that comes to mind is Dennis Oppenheim's breathtaking blow-up of his own thumb print superimposed on the earth skin of Art Park outside of Buffalo, New York — a barely disguised former toxic waste dump. Much Earth Art was ephemeral or almost inaccessible, so photography reared as its vehicle of communication or, in fact, became the art: set-up photography in which the setup was made with bulldozers.
Most of all, Earth Art contested the idea that art had to be shown in galleries or museums in order to be art; that it had to made of traditional art materials; and, although some Earth Art sculptures were funded by gallery owners (Virginia Dwan) or by entities such as the Dia Foundation, most were unsaleable, uncollectible, and theoretically exempt from commodification. Although Earth Art kingpin Smithson would have fumed at any pro-ecology content, whether intentional or not Earth Art implied a concern for the environment that was much ahead of its time, if only by calling attention to the landscape as a canvas or a surface to be carved into, rearranged, or variously inscribed.
A case can be made that Earth Art is not unrelated to our very own 19th centuryHudson River School. Recently on a writing assignment upstate, I visited Olana, landscape painter Frederic Church's "Persian" retreat, now fortunately a state-run museum (apparently in a perpetual state of restoration). The house itself is not to my taste, but I was impressed by the siting and the site, the latter landscaped by the artist himself. From the house you have a sweeping view of the Hudson below and of the lake Church constructed to mirror the bend in the river. Though Smithson seemed to prefer more rugged landscapes — akin to the blasted 'scapes of Caspar David Friedrich (1774-1840) — he, like Church and his mentor Thomas Cole,was in his own way chasing the sublime and its terrifying beauty: doing in sculpture what Barnett Newman claimed for abstract painting.
There's a Smithson retrospective now at the Museum of Contemporary Art in Los Angeles, to Dec. 12, traveling to the Whitney next summer. And you can see Richard Long's new indoor work atSperone Westwater(415 W.13th St., to Oct. 23).
In the incredibly beautiful Long show, a three-part plywood floor piecerecalls his famous lines and walks, and a fine slate sculpture is in one of the farthest rooms. But the best works are hispaintings, made from Cornish chinaclay and river Avon mud, executed on plywood. As someone who has himself "painted" on plywood, I warmed to them immediately. Painterly but nonexpressionist clay strokes are taped off into rectangles, circles and a few other minimalist forms, in juxtaposition to the waterlike grain of the raw plywood. They were all done in the gallery over the Labor Day weekend!
When Smithson died in a plane crash in 1973, it seemed that Earth Art had stopped. So fast was the art market churning, one fashionable art style after another, that Earth Art seemed like just another blip on the Artforum screen.
Nevertheless, James Turrell kept working on his volcano site; Ana Mendieta was adding the body to Earth Art; and then Agnes Denes — now with a retrospective at the Chelsea Art Museum (556 W. 22nd St.,through Nov. 6)– harvested her Wheatfield planted on the landfill created by the excavations for the World Trade Center in 1982. Conceived in 1982, but not finished until 1996, her Tree Mountain in Finland,consisting of 11,000 trees planted on a huge cone of soil, also deserves to be placed in the Earth Art canon.
The way art moves and changes is a lot more complicated than we are led to believe. It is not a river, or a steady march from amoeba to Einstein. Against the single-line evolutionary model, I am now fond of visualizing art history (and a lot of other things, including my own life as a poet, critic, artist) as a braided spiral, as indicated last week.
Pluralism in art was originally pushed aside for commercial reasons, for surely it is easier to sell something if it can be presented as the inevitable end-point to a single evolutionary line: e.g., Matisse to Pollock to Olitski. The single line is also derived from simple-minded interpretations of Hegel and then Marx; Manifest Destiny in U.S. history; and the evil idea of the one and only, one true religion.
But because no model is as easy to visualize as the single line, antipluralism is also a failure of the imagination. In contrast, try the braid; you'll like it. It is a little harder to visualize, but the effort is worth it. It might bring you closer to the truth. Pluralism, the present condition of art, is a knot; according to knot theory (an odd byway of mathematics) all knots can be unraveled into continuous braids. Once you can visualize the braid as a model, then turn it into a spiral.
My braided spiral, in which landscape is one strand, suggest that not only does Earth Art persist — passing behind and interacting with one style-strand or another — it will return, transformed. We are waiting.
* * *
I am sorry to say, we have not been waiting for Andy Goldsworthy, who has been inexplicably honored by the Metropolitan Museum of Art with a rooftop display of his new Stone Houses ( 1000 Fifth Avenue at 82nd St, through Oct. 31). Alas, not all spirals spiral up. There is such a thing as a slippery slope. Was he chosen because he seems to be popular or, given the Metropolitan's U.K. (but middlebrow) bias, because he is British?
The Metropolitan rooftop-sculpture venue is in itself quite wonderful, but now that the notion of works made specifically for the site has been passed by whatever committees are in force, we must expect artists better than someone who is the Andrew Wyeth of Earth Art.
Here, Goldsworthy's stacked stones from Scotland are surrounded by a kind of beehive made of split rails from New England. What this has to do with the Met roof or the spectacular Central Park below escapes me. The pair of sculpturesis inert.
In any case, to verify my suspicions, I also looked at Goldsworthy's picture book, called Time (Abrams, 2000). His Street Work rain shadows might have once been promising. He lies on the ground or on a sidewalk; it rains, he gets up leaving a dry silhouette. However, in the context of the Earth Art pioneers, they too pale. Some may find his photographs of ephemeral squiggles, fences and piles curiously poetic. (I do not.) The photographs are attractive in a calendar-art sort of way, but there is no ambiguity, no depth, no darkness, no complexity. Concepts and forms are weak. But I also have to add that there is really no charm, either.
I also watched Thomas Riedesheimer's popular documentary called Rivers and Tides, 2001, now on DVD available from docudrama.com. The film is efficiently photographed, nicely edited, and the music by Fred Frith suits the vaguely New Age relationship the artist subject has to nature. There are no cyclones, earthquakes, plagues, tidal waves or hurricanes in Goldsworthy's nature. The most drama we get is a tide in Nova Scotia gently dispersing his laboriously constructed pile of driftwood.
But, oh, I almost forgot. There is, near the end of the film, what appears to be a waterfall of blood, but it turns out to be only pulverized ironstone, dropped into the water upstream — because, you see, Goldsworthy is attracted to the color red and the ironstones because, as in our blood, the red is caused by iron.
Fluffy bits of wool-gatherings, arranged along the top of a stone wall near his Scotland home? Let's not dwell on them. Nor on an Alpine cow rubbing its side on one of Goldsworthy's Teletubby-shaped, pine-cone "guardians."
Not every artist working outdoors has to attempt the sublime. We sometimes like the casual, although we are appalled by the twee. Although Goldsworthy endeavors to philosophize about how he needs his art-making to know himself, there's a lack of self-consciousness and sophistication in his work.
He goes on and on about rivers and how they are not about water but about flow. Flow, flow, flow. Everything is flow. Well, Mr. Goldsworthy, the stone fence you had wallers make for you at Art Park, those lines of dandelion heads through a field of blue flowers, the image that "bleeds" through your clay-covered wall in the south of France, the string of pegged-together leaves that goes floating down a brook — these may look like "rivers" to you, but they look like snakes to me, snakes removed from the power of myth.