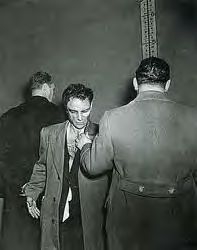 Anthony Esposito, Accused "Cop-Killer", January 16,1941
Gunman Doesn't Want His Picture Taken.
For the first time since Bruno Richard Hauptman, police today permitted photographers in the line-up room at headquarters. The subject was Anthony Esposito, under indictment with his brother, William, for the murder of a business man and a policeman in Tuesday's tragic Battle of Fifth Avenue. The detectives, manacled to Esposito, didn't want their names or picture in the papers. They obliged by turning around, holding the gunman by head and arm so he couldn't duck. The yardstick is n the line-up platform, where Esposito had stood, refusing to answer questions. "He looked like a sullen surly, snarling animal," Weegee reported. "He stumbled and sagged overt to one side like a drunk."
PM, Story and Photo by Weegee (in Miles Barth, Weegee's World, Bullfinch Press (Little, Brown), 1997.
What Photography Was
Two of Weegee's most shocking photographs have one thing in common. Someone is smiling. Drowning Victim, c. 1940, one of Weegee's many Coney Island photos, shows medics trying to revive the victim, most of the bare-chested crowd at a polite distance, hazy pier in the mid-distance parallel to the irregular line of the inquisitive but concerned faces.
But a young woman in a one-piece bathing suit (de rigueur for the time) kneels up-close, as if pressed to the left shoulder of one of the stethoscope-wearing men in white, and smiles radiantly, photographically at Weegee's 4 x 5 Speed Graphic. She is not exactly one of the fiends of Abu Ghraib, but that smile in its own way is almost as evil.
More famous (i.e., more often reproduced) is Their First Murder, October 9, 1941. Weegee, out of sight, is crouched down to the right of the unseen corpse, his camera pointed upward to the faces of the turbulent crowd. Click. But why is the blond boy on the left smiling? Most likely because…he is thrilled to be photographed. Or as Joe Pesci's Bernzie, based on Weegee, says in the 1993 The Public Eye, "Everybody likes their pictures took."
Even now. Because of our own experiences with digital imaging and what a little PhotoShop can do, we no longer believe in photography as truth. We compose ourselves for the camera. That's not me you see, but my image of me.
Nevertheless, we believe in celebrity.
Or, as Weegee himself wrote in the introduction to his first book, Naked City: "People like to be photographed and will always ask 'What paper are you from, mister, and what day will they appear.' "
Even gangsters and murderers. Even transvestites emerging from paddy-wagons. Of course, slum kids asleep on hot-weather fire escapes, corpses, dead-drunk bums, and lovers or moviegoers (photographed with infrared light) have little to say about being caught by the camera.
Drowning Victim, Their First Murder and over 220 vintage Weegee photos can be seen at the elegant Ubu Gallery ( 416 E. 59th St., through July 23). Ubu, like C&S last week, provides an anti-Chelsea high. Converted garages with concrete floors are not the only way to look at art. Converted townhouses and duplexes still have a certain cache. On top of that, Ubu specializes in the real avant-garde — the Dadaists and the Fluxus types — and has one of the best websites of any commercial gallery.
Leave aside for the moment Cindy Sherman's scary and wonderful clown self-portraits at Metro Pictures (519 W. 24th St, through June 26) and Andreas Gursky's tricky big photos of pseudo infinity at Matthew Marks (522 W. 22nd St, through June 26), and wait awhile for John Coplans' grizzly self-portrait nudes at Andrea Rosen (525 W. 25th St., through June 25). Weegee The Famous, as he liked to call himself, was the first postmodern photographer. In almost every picture, although invisible, both he and his camera are the stars. Trapped in photojournalism, he was able to explore deception, image manipulation, narrative, and, through captions and deep captions, was able to write himself into the picture. He also authored a wartime noir New York, peopled by waifs, corpses, lovers, bums and swells.
The Rise of the House of Usher
Usher or Arthur Fellig (1899-1968), aka Weegee, was a free-lance photojournalist, so talented that in spite of his brash, unwashed ways, his unapologetic self-promotion, his market-driven focus on tragedy and pathos, he was even in his lurid prime (probably 1935-1945) recognized as an artist. "Weegee: Murder Is My Business" was at the Photo League in 1941. He was included in "Action Photography" in 1943 at the Museum of Modern Art and in "Art in Progress" the following year. Published in 1945, Naked City, his own selection of his photos, clinched it. The book went through three printings in six months…and is still in print.
Ubu's fittingly tabloid-format, newsprint handout has a helpful essay by Virginia Heckert and a few evocative photos, Their First Murder among them. This is how a Weegee must have looked when it was first printed…
But because I am interested in Weegee as a writer, I turned to the 1998 International Center for Photography catalogue called Weegee's Worldto retrieve the full caption used in the newspaper PM, where it was published:
Pupils were leaving P.S. 143 in the Williamsburg section of Brooklyn, as of 3:15 yesterday when Peter Mancuso, 23, described by police as a small-time gambler, pulled up in a 1931 Ford at a traffic light a block from the school. Up to the car stepped a waiting gunman, who fired twice and escaped through the throng of children. Mancuso, shot through the head and heart, struggled to the running board and collapsed dead on the pavement. The older woman is Mancuso's aunt, who lives in the neighborhood, and the boy, tugging at the hair of the girl in front of him, is her son, hurrying her away.
We know Weegee wrote his own captions for PM. He kept a typewriter in the trunk of his 1938 Chevy. An anonymous photo in the ICP catalog shows him, back to camera, sitting on a stool, typing with one finger on his typewriter on a shelf of the propped-open trunk of said vehicle.
The ever-present cigar stuck in his mouth…The car… Even his name…No one is born with a name like Weegee. It was derived from either Squeegee Boy, when he "squeegee-d" wet photos in the N.Y. Times darkroom, or from Ouijii, as in Ouijii Board, since he had an highly publicized (by him) knack of arriving just in time to photograph still-warm corpses, whether dry-divers (suicide jumpers), bottom feeders (harbor jumpers) or punks.
Weegee was his own artwork, or The Persona Non-Grata Personae. He wasn't so much a self-made man as a self-made legend. A ghoul on the loose with a heart of gold…and yet…and yet at the end of Naked City he could advise: "When you find yourself beginning to feel a bond between yourself and the people you photograph, when you laugh and cry with their laughter and tears, you will know you are on the right track….Good luck."
Luck had nothing to do with it. The camera, in Weegee's hands, photographs itself. What do you think all those thousands of people are looking at in the now very famous Crowd at Coney Island, "Temperature 89 degrees. They came early, and stayed late," July 22, 1940?
This, however, is Weegee's story published below the photo of that jam-packed beach:
Saturday was very hot. So I figured Sunday ought to be a good day to make crowd shots at Coney Island. I arrived at the beach at Coney Island at 4 a.m., Sunday. The beach was crowded mostly with young couples lying on the beach covered with blankets. I took pictures of them. When I asked them their names they all said, 'It's just me and the wife,' as they pointed to the girl on the sand. I went back to the city.
Or take The Critic. During wartime, two ermine-wrapped, jewelry-sprinkled ladies arrive at the opera oblivious to the mouth-open stare (or jeer) of a humble woman in a cloth coat. According to Weegee's assistant Louis Liotta (thank you, Miles Barth, for your ICP essay), Weegee staged the photo, by planting a wine-besotted Sammy's-on-the-Bowery regular and having Liotta push her into the frame, thus allowing the LIFE caption: "The fashionable people were laden with jewels. Most bejeweled were Mrs. George W. Kavenaugh and Lady Decies whose entry was viewed with distaste by spectator." Both here and in Naked City the photo is cropped by a third to remove three spectators on the left. However,Weegee's title inhis bookbecame simply The Critic. Weegee edited; Weegee cropped. Weegee changed his captions at will.
Weegee writes his PM captions, and Naked City extended "tough guy with a heart of gold" comments to direct and sometimes even to misdirect your attention, but also to fill in what isn't there in the picture. Take I Cried When I Took This Picture. The uproar could be over a dead cat or a lost purse…but it isn't.
An anguished woman with a rag clutched over her head like a big babushka, mouth-open, head thrown back; a similarly hysterical child grabbing onto her…What is going on? If you didn't know the date, it could be Bosnia. When have you ever seen a first-person photo caption before? Is the caption meant to excuse the photographer for taking such a picture of suffering? Or is it to call attention to the photographer as witness, as author?
The Daily News extended caption (as recorded in the ICP book) goes like this: "Mrs Henrietta Torres and Her Daughter Ada watch as Another Daughter and Her Son Die in Fire, December 15, 1938. Mrs. Henrietta Torres and her daughter Ada, cry an look up hopelessly…," etc. In Naked City, Weegee pares down the extended caption to: "Mother and daughter cry and look up hopelessly as another daughter and her young baby are burning to death in the top floor of the tenement…firemen couldn't reach them in time…on account of the stairway collapsing."
We need to examine Weegee as a writer. Did he get the use of the ellipsis, signifying a long conversational pause… rather than an omission, from Celine? Doubtful. Dos Passos? Is his style strictly out of the pages of The Black Mask and pulp detective novels?
Other paths of inquiry:
Study the captions. He sometimes changed them when using the photos for different purposes. Attach different captions to the photos; they become different photos. They project new meanings.
Study photographs of Weegee. Although I maintain that because of his distinct style he is in every photograph he ever created, no other photographer until Cindy Sherman and her photo-performances has had so many photographs taken of himself or herself…
Weegee playing poker with the boys at Acme Newspapers.
Weegee and other photographers at Police Headquarters.
Weegee in his hovel near Police Headquarters.
Weegee as clown, covering circus from the inside.
Weegee and poster for Jules Dassin film The Naked City.
Weegee advertising Secrets of Flash Photography
Weegee "caught" in a paddy wagon.
Weegee photographed in various pictures with Gregory Peck, Marlene Dietrich,
Tony Curtis, Leslie Caron.
Weegee dressed up as a king, the photo inscribe "To all my subjects."
Stick a Kid on a Pony
Born in the Ukraine, Weegee at the age of 11 was dragged to the U.S. by his parents escaping the poverty caused by the withdrawal of the Austrian army. (They had been suppliers to that army). Little Weegee grew up on the make in the streets of the Lower East Side. He sawed a violin for silent movies, but sound came in. He assisted a street-photographer and then with a rented pony became presciently self-employed: find a kid in her Sunday or Saturday best, stick her on the pony, click. Then pitch the photos to the happy parents. Click, click. One click led to another.
By 1935, Weegee was a freelance photographer. He had a deal with PM, the liberal tabloid, but didn't like assignments; instead he followed the NYPD short-wave. Plus, he had an eye for what would communicate, what would sell newspapers. He worked at night, and his flash bulb made all faces dead-white and gave all eyes (that were open) the deer-caught-in-the-headlights look. His dead gangsters were graphic in more ways than one.
In any case, with a set focus and f-stop and a flash, he knew how to tell a story…fast. New York had more dailies then, newsstands and newsboys everywhere. His hard-boiled camera owed a great deal to the gangster films of the '20s and '30s; these influenced both him and the postwar film genre now celebrated as film noir.
But the biggest fiction of all, largely his own doing, is that he was some sort of cigar-chomping idiot savant, a tough guy of the camera. At some point he must have realized that as market-driven as his images were, he was making art. He hung around the left-wing Photo League, where although not a member, he often gave slide lectures built around his dark, dark photos. At the Photo League he certainly was exposed to the work of Berenice Abbott, Lewis Hine, Lisette Model, Aaron Siskind, and W. Eugene Smith. You can't tell me that he didn't know who Dashiell Hammett and Erskine Caldwell were; they were famous authors and consultants to PM.
What makes Weegee's photographs art is their blatant subjectivity. The dead gangsters, once shot to death, are framed and shot again or flash-gunned for a sorry effect, hat or gun in the foreground… This is where the sidewalk ends…
Kiss tomorrow goodbye.
Much has been made of Weegee's influence on postwar film noir, forgetting that he, like noir, was probably influenced by German Expressionist movies and then the Hollywood gangster cycle. His dead gangsters are of the Crime Does Not Pay genre; his corpses are more tightly framed than any Warner Brother sidewalk stiff — but the lighting is suspiciously similar. The flashbulb was Weegee's biggest weapon. The usually off-center isolation of the corpse creates sorrow and horror. To weegee could be a serviceable verb, as in the sentence: He was getting weegee-ed. Where are you now, Mr. Wiseguy? You are now Mr. Anonymous. On cement, covered in newspapers until the cops arrive?
Is that woman placing the final page over your snooker, or is she lifting it because she is nosy? You must have been a hood of some sort, for Weegee hardly ever photographed the innocent dead. You are now dead meat on the street. Your hat. Where is that hat? Your gun? Or, in the final indignity, you are covered with newspaper pages, perhaps from the same newspaper that will immortalize your death, allowing Weegee, your photographer, an additional self-referring note.