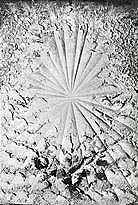 Jay DeFeo, The Rose, 1958-66
INTO THE LIGHT
Is a halo by any other name still a rose? Are the titles Deathrose or The White Rose the same as The Rose? Jay DeFeo's masterpiece — for it is indeed that, with a vengeance — had these titles until she settled upon the last. Her painting, so thick it could be considered a relief, is roselike in so far as it radiates from a live rather than a dead center, but it explodes rather than unfolds. If anything, the painting suggests halolike rays of light or big splinters of glass, but not anything as harmless as petals.
Given DeFeo's Beat credentials (for a quick Beat update, a picture of the artist and the sound of bongo drums, go to Beat Museum), The Rose could be an H-bomb blast or the mystic's white light, more than merely a black-and-white rose. But wouldn't it be off-putting if DeFeo (1929-89) had settled on Deathrose or, to make up a few titles, The Bomb or The Halo as the final title of her nearly 2000-pound painting? A painting that took eight years to make, to the exclusion of all other art efforts? A painting that is still not dry after having been buried under plaster from 1974 to 1995 behind a classroom wall of the San Francisco Art Institute? A painting that destroyed the artist's career?
The Rose (1958-65) is the centerpiece, as it were, of "Beside the Rose," at the Whitney Museum until Feb. 29. The exhibition is in the small lobby gallery but worth a special visit. I first saw The Rose when it was featured in Lisa Phillips' "Beat Culture and the New America" at the Whitney in 1995 and I am thrilled to see it again. This time around it is accompanied by the pre-Rose The Eyes (1958) and post-Rose Crescent Bridge I and II (1970-1972). The first is a large, hypnotic drawing of the artist's eyes; the second, a pair of paintings of — I am not kidding — DeFeo's false teeth.
How can you not love an artist who would make paintings of her own false teeth (and later photographs them in different settings)? How can you not love an artist who in 1959 would allow herself to be photographed by the neo-kabbalist Wallace Berman naked in front of The Rose with arms and legs stretched out in the da Vinci pose? Who couldn't love an artist who would allow Berman to paste the Hebrew letter tzadi on her gaminlike chest? Did DeFeo know what the tzadi means?
According to a footnote in Daniel Matt's new translation of The Zohar (Stanford University Press), the tzadi represents the androgynous origin of the male and female sexes: "The tzadi must remain hidden so that this secret will not become widely known and provide the world a pretext 'to impugn the divine union.' "
Oh, they were wild in the '50s. And they were wild in Second Temple Jerusalem or 13th century Spain, or whenever The Zohar, the key work of Jewish mysticism, was written or compiled.
This tzadi photo collage and other photographs of DeFeo in front of her painting can be seen in the worthy book Jay DeFeo and The Rose, 2003, University of California Press (access to photo portfolio which includes the Wallace Berman tazadi photo collage is at UC Press). The book includes essays by, among others, ex-Whitney director David Ross (the hero who rescued The Rose), Bill Berkson, Lucy Lippard, Greil Marcus, and Carter Ratcliff. Almost every essay, whether factual or conjectural, includes great and justifiable praise:



As an image of creation, The Rose knows only the contingency of sheer matter on the rise. (Bill Berkson).




Jay DeFeo and her work confound historiography. The contributors to this book have had the pleasure of grappling with the power and mystery, place and context of this extraordinary work of art. (Jane Green and Leah Levy).




Few artworks demonstrate such single-minded intensity as The Rose. …The strength and inventiveness of her finest art will be seen as rivaling that of the greatest artists of the twentieth century. (Walter Hopps).




DeFeo's Rose is the queen of all feminist and nonfeminist roses. Its presence testifies to the devotion of its maker to art. (Lucy Lippard).




DeFeo is Dr. Frankenstein; The Rose is her monster. (Greil Marcus).




… the great painting that has virtually defined her reputation. (Marla Prather).




The Rose has a status befitting a legend. (David Ross).




It is a pure experience and a sacred thing, a great work of art. (Martha Sherrill).




It is an artifact of a civilization that, at its best, finds its ultimate values in irreducible individuality. This is the truth celebrated on a heroic scale by DeFeo's monumental work of art. (Carter Ratcliff).
Yes, The Rose is a special artwork, a masterpiece. DeFeo was a special artist. So what is there left to say? Plenty. For instance, The Rose, like the unfinished blank canvas in Balzac's The Hidden Masterpiece and the ur-monochromatic abstraction in Henry James' story The Madonna of the Future (both available as free downloads fromProject Gutenberg) is an allegory about creativity. Balzac's arch prose-piece (also sometimes called The Unknown Masterpiece) lays out the tale of a painter who, in his pursuit of the ideal, in the end produced "a mere mass of incoherent scratches and daubs, a jumble of dead paint." James' latter-day rewrite, which even refers to the Balzac tale, has his American in Florence produce nothing but a blank canvas.
Of course, both these tales of artistic obsession outwardly involve a pursuit of the ideal female form. In Balzac, a perfect model is offered and leads to the exposure of the truth and, of course, the artist's death. In James, the artist, referring to his hidden masterpiece, says: "I detest this modern custom of premature publicity. A great work needs silence, privacy, mystery even." Guess what happens when the nasty Jamesian narrator discovers that the much adored model for the Madonna is now an old and rather fat embroiderer and forces poor, deluded artist Theobald to realize that the canvas in his hovel is only the naked screen of his imagination?
Unlike these two fictional paintings, The Rose is real. And it is not a blank canvas or a failure. There are, I am told, still some diehard Bay Area Figuration devotees who insist that DeFeo was a fraud and that the painting never really existed or that it had become one big blob of ooze. Haven't they seen artist Bruce Connor's classic film The White Rose: Jay DeFeo's Painting Removed by Angelic Hosts? Have the boring paintings of David Parks and Richard Diebenkorn blinded them to real art? Now that The Rose has been restored (reportedly to the tune of a quarter of a million dollars) and is in the Whitney Museum's permanent collection, can anyone deny its existence? Paintings may be reborn, but bad attitudes never die. This is why The Rose blooms in New York and not San Francisco.
It took DeFeo eight years to complete The Rose, during which she worked on nothing else. It was big for its time, eventually 128 x 92 x 11 inches, and twice as tall as the artist. It blanked out a bay window in her studio on Fillmore Street. And when it had to be moved from its niche because DeFeo and husband Wally Hedrick were being evicted, the only egress possible involved cutting out the wall beneath a window and then hoisting the monster to the street.
But the myth would not be complete without the information that the artist produced no other artwork for three years, and that her career, such as it was, went into eclipse. She had been chosen for trend-spotter Dorothy Miller's "16 Americans" at MoMA in New York but would not ship her yet incomplete masterpiece. Everyone wanted to buy it. But then there was silence. It was too big, too heavy, too delicate. And finally it was buried in plaster for safekeeping.
Although DeFeo did indeed begin working again, her moment had passed. The fickle art-world spotlight keeps right on moving. No more paintings? Well, how can you develop a market if you have only one big painting that no one can see and no one really wants anymore?
But this is, I remind you, Artopia, where art matters. Inspired by the science fiction subgenre of alternative histories (think Philip K. Dick's The Man in the High Castle), I'll be teaching a seminar this summer called A New Agenda for Art at the Anderson Ranch in Colorado. We'll explore and create alternative art histories for art, thus analyzing how art history is constructed. What would have happened if Jackson Pollock had lived to a ripe old age? What if Julian Schnabel or Jeff Koons had not been able to show their work? What would have happened if Los Angeles or Tokyo had become the art world center?
In terms of DeFeo, imagine an art world in which she had sent The Rose to MoMA. Would she, like Jasper Johns, Robert Rauschenberg, and Frank Stella, who were also in that now-seminal exhibition, have ended up represented by Leo Castelli? And if so, would The Rose now be as important? Imagine a DeFeo career consisting of thousands of roses and not one painting of her own false teeth.
Imagine an art world in which David Ross had never been the director of The Whitney and there was still no museum willing to subsidize the restoration of The Rose and then put it in its permanent collection. Would the legend of The Rose become even greater? Or would The Rose have faded away?
Better yet, imagine a San Francisco art world in which Bay Area Figuration had never caught hold. Where the works of DeFeo, Connor, and Berman were purchased instead of the paintings of the virtually talentless Parks and the banal Diebenkorn. Would DeFeo have lived any longer, been any more productive? Would The Rose, safely on display in the San Francisco Museum of Art, have become a meta-masterpiece, an art lesson?
* * *
Life imitates art; or art imitates literature. The obsessive search for perfection in an artwork transmigrated from Balzac and James to Marcel Duchamp's The Bride Stripped Bare by Bachelors, Even and later to de Kooning's Woman I. The Bride was never completed; rather was "completed" when the glass cracked in transit. De Kooning repainted Woman I every day for two years. According to Harold Rosenberg in The Anxious Object, de Kooning "knew that the project on which he had embarked in this Woman could, if pursued to the end, finish him as a painter. He spoke of wanting to spend his entire life on a single painting — Woman would then be indeed 'painting as a way of living.' "
We are no longer enthralled by Duchamp's inability or unwillingness to finish The Bride, and nothing looks more finished now than one of de Kooning's "Women." Just as in the movies there must always be a blond goddess and a dark-haired temptress (cinema's most obvious archetypes), in art there must always be a killer artwork, a masterpiece that takes forever to make and nearly destroys the maker. That slot had been vacant for far too long. Fortunately, The Rose is now in place.
The subject of such an artwork must be archaic and sexual. Intention has nothing to do with it. The Bride is about the alchemical, Rosicrucian The Chemical Wedding of Christian Rosenkreutz (1616), whether Duchamp consciously thought of this or not, or even knew of such a text. The de Kooning Woman — which, he maintained, he always found humorous — is Robert Graves' White Goddess personified. The Rose is … well, it won't work unless you yourself figure it out or are correctly stymied. Logic can take you only so far.
The Rose is what we need now. It reaffirms that artworks of major significance are created without market considerations, are initially totally unsaleable, are beyond the pale, are messages from the id or the beyond. Like Duchamp's Bride and de Kooning's Woman, The Rose could at first be seen only in the artist's studio, had a cultlike status, was hidden. Adding to the hidden masterpiece template, The Rose had a period of occultation and then was reborn, accruing even deeper meanings.
What I would really like to see is The Rose permanently installed in a re-creation of the bay window that was originally its home and womb, blocking the view, but with light streaming in on it from both sides. Was that the real artwork? Or was it born when borne on hoists through the caesarian opening? Or, blasphemy, was it most real when hidden under plaster and behind a wall? Is it, now that it is stabilized and in a museum, slowly, slowly dying? See it before too many viewers have robbed it of its aura. See it before it becomes art history rather than art.