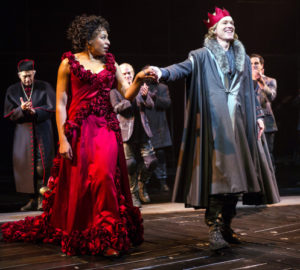 In today's Wall Street Journal I review Chicago Shakespeare's Tug of War: Civil Strife and the Broadway premiere of Simon McBurney's The Encounter. Here's an excerpt.
* * *
The most important Shakespeare production of the year to date is taking place not in New York or London but at Chicago Shakespeare Theater. "Tug of War," Barbara Gaines' marathon staging of six of the history plays, got under way four months ago with "Foreign Fire," a six-hour condensation of "Edward III," "Henry V" and the first part of "Henry VI." Now comes "Civil Strife," in which Ms. Gaines squeezes the second and third parts of "Henry VI" and "Richard III" into an identical and equally eventful span of time interrupted at midpoint by a break for dinner. Like "Foreign Fire" before it, "Civil Strife" is overwhelming, the kind of show that blasts its way into your head and stays there for days afterward.
In both installments of "Tug of War," Ms. Gaines bends Shakespeare's plays to her own moral purpose, reshaping his chronicle of a nation convulsed by foreign and domestic strife into a tightly edited modern-dress pacifist pageant accompanied by a four-piece rock band. Yet you rarely feel that she has misused Shakespeare by politicizing him, any more than Laurence Olivier misused "Henry V" in 1944 by turning it into a resplendent piece of whip-the-Nazis Technicolor propaganda. Both interpretations, for all their palpable differences, are firmly rooted in the text, whose poetry is protean in its implications. And while "Tug of War" cannot help but simplify the individual plays out of which it is carved, it also gives you the priceless opportunity to view those same plays not as free-standing panels but as parts of a giant historical mural. To do so for the first time is to feel as though you're finally grasping what Shakespeare was up to….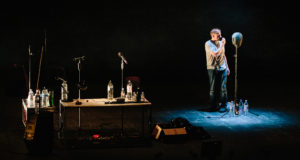 "The Encounter," Simon McBurney's new one-man show, requires the audience to wear headphones throughout the evening as Mr. McBurney, the co-founder and artistic director of Complicite and one of England's foremost avant-garde theater artists, recounts the real-life experiences of Loren McIntyre, a photojournalist who got lost in the Brazilian rain forest in 1969 and had a mystical experience—that's an oversimplification, but I don't know what else to call it—after meeting up with a native tribe. At first glance "The Encounter" feels like a radio play accompanied by thick layers of sound effects, some live and others pre-recorded. (The first part reminded me of Glenn Gould's similarly complex CBC radio documentaries.) Then the set, an anonymous-looking radio studio, comes to hallucinatory life, and suddenly you find yourself swept up in Mr. McBurney's high-tech dramatization of McIntyre's bizarre yet somehow believable tale….
* * *
To read my review of Tug of War: Civil Strife, go here.
To read my review of The Encounter, go here.
The trailer for Tug of War: Civil Strife:
The trailer for The Encounter: